 We came here today not to bury Justin Bieber, but to praise him. While the Canadian pop star's fancy high-stepping proved to be out of bounds to the sold-out football crowd at Toronto's Rogers Centre for the 100th Grey Cup game, we're dropping a penalty flag on the boos his performance received.
The pop idol, who recently received the Diamond Jubilee Medal from Prime Minister Stephen Harper in a pair of overalls, was a divisive half-time show attraction for the Canadian Football League championship game which was won 35-22 by the Toronto Argonauts over the Calgary Stampeders.
Throughout the first half of the football game any mention of Bieber drew boos from the well-lubricated and decidedly middle-age audience. But by the time he was set to perform, those boos were matched by the trill screams of a few hundred young Biebermaniacs who had been ushered onto the field to form a makeshift audience around the hastily erected stage.
Story Continues Under Gallery..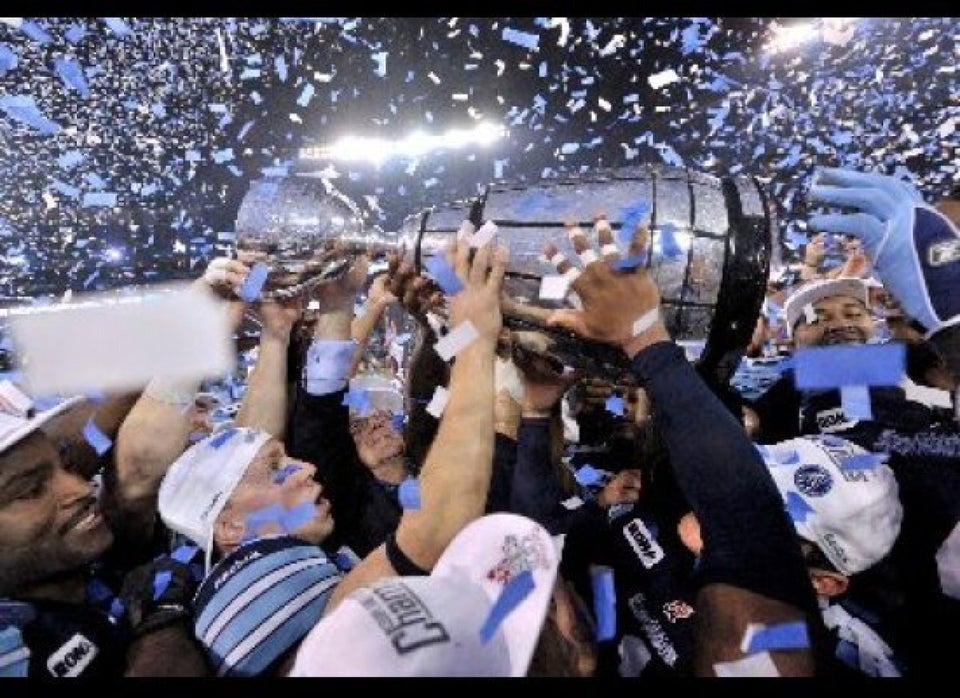 Grey Cup 2012
Bieber, dressed in a black tank top and a style of low-hanging pant designed specifically to offend parents, played "Boyfriend" and "Beauty and a Beat" during his half-time set. The reality of it is these songs aren't the sort of hits that'll rank as wedding classics in 20 years. Still, the 18-year-old singer put on a dynamic show with enough strobbing lights to worry epileptics and elaborate dance routines throughout each song that showcased a genuine athletic ability suitable for a sporting event.
Canadian Football League officials had been defiant about their selection of Bieber as the marquee half-time show performer.
"We want to get young people watching it," CFL commissioner Mark Cohon told Canadian Press about the booking decision earlier in the week. "The decision was strategic to making sure we get young people to think about the next 100 years, that this is about getting a new audience to get into the Grey Cup and the CFL."
It's hard to fault that logic, either. Sports fans were already invested in the game, so the question for CFL brass was "How do we get non-traditional audiences to tune in as well?" The fans of Justin Bieber are definitely not what you'd think of when it comes to Grey Cup audiences and tapping into that loyal base will probably yield benefits for years to come.
Certainly Bieber knew he was a controversial choice to perform the half-time show, but he said and did all the right things, tweeting afterwards that it was an honour to perform.
More importantly, he followed that tweet with this bit of advice:
If that doesn't at least give sports fans reason to begrudging respect Bieber -- a kid who realized he was going into a potentially hostile environment, but gamely came to play -- then those people are ignorant in a way far beyond not being able to pick up on an obvious sporting analogy.
Besides, there were other better reasons to boo.
Guess Who legend Burton Cummings' garbled the national anthem to the point where the jokesters at Comedy Records spent the rest of the game live tweeting imagined conversations between Cummings and Bieber along with zingers like this.
To be fair to Cummings, during a pre-game performance at the Grey Cup Festival's Molson Canadian House, he had forewarned the audience by telling them he was having a hard time remembering the French part of the anthem.
The half-time show also included young-skewing, for0the-TV-audience acts like viral pop star Carly Rae Jepsen and pop-rockers Marianas Trench (whose lead singer co-wrote "Call Me Maybe.")
Jepsen played a medley featuring her breakout hit and current single "This Kiss." Jepsen was politely received because a) she's hard to dislike, and b) her shimmering pop had a timeless air that probably made the stadium audience think they were listening to a Pat Benetar cover act.
And despite the Bieber booing party, it was probably Vancouver band Marianas Trench who added the least to the festivities. The band played "Stutter" off their Ever After album to little response. We're going to go ahead and declare their booking a combination of bullying, trickery or "we'll throw them in for free" on the part of 604 Records (partially owned by Nickelback's Chad Kroeger), the home of both Jepsen and Marianas, to get them on the bill.
The anomaly of the half-time set was 74-year-old folk legend Gordon Lightfoot, who kicked things off with a solo performance of his song "Canadian Railroad Trilogy" on a simple riser in the middle of the field. This year the CFL took the Grey Cup on a 70-day nation-wide train tour of towns, cities and whistle-stops, so there was some clear synergy with the song choice. Still, though, nobody besides a small segment of bedraggled folkies know that song and Lightfoot could've easily swapped in something more populist and stole the show.
Effectively illustrating the generation gap between the Bieber and Lightfoot generations, soon after the elder musician performed Twitter lit up with "Who is Gordon Lightfoot?" tweets, echoing the indignation that rippled across social media last year when Arcade Fire won Album of the Year at the Grammy Awards.
This wouldn't be the first time Toronto fans booed a pop star for daring to appear at a testosterone-heavy event. With AC/DC and the Rolling Stones headlining SARStock in 2003, a not-yet-cool Justin Timberlake was booed *and* had stuff thrown at him during a brief mainstage set.
Nor is it the first time Grey Cup organizers have booked controversial half-time artists. Last year, the CFL booked Nickelback, an act you'd figure would be right in the pocket for rock-loving football fans, but those same fans petitioned the league to NOT have the band perform. Meanwhile, in 2005 the league came under fire for booking the Black Eyed Peas, an American act, instead of a homegrown artist.
The CFL may have scored a touchdown with a new demo, but it's also not free from guilt. After all, "Justin Bieber Booed By Canadians" is an irresistible headline for American gossip news websites and to any-press-is-good-press your way into U.S. media conversation on the back of an 18-year-old is a little suspect.
What we really should be taking out of this is that on the big game day Justin Bieber came to play. Despite being the biggest pop star on the planet, and getting a lot less out of this booking than the CFL was, in a hostile building with a hostile crowd he performed, and did so better than some of his more veteran peers. That's the sort of clutch playoff performance that deserves cheers not boos.
Popular in the Community