Justin Trudeau's support for more pipelines and oilsands drilling is at loggerheads with his image as Canada's progressive heartthrob prime minister, according to a top environmentalist.
In an op-ed published Monday in The Guardian, 350.org founder Bill McKibben called Trudeau a "stunning hypocrite" on global warming.
"[W]hen it comes to the defining issue of our day, climate change, he's a brother to the old orange guy in DC," McKibben wrote, referring to U.S. President Donald Trump. He said Trudeau was "hard at work pushing for new pipelines through Canada and the US to carry yet more oil out of Alberta's tarsands, which is one of the greatest climate disasters on the planet."
Oilsands ― a mix of sand, clay and bitumen, a viscous oil ― are considered by many to be a "dirty" fossil fuel. The controversial Keystone XL pipeline, which Trump jump-started days after taking office in January, would funnel a daily load of 830,000 barrels of oilsands fuel to refineries in Texas, producing emissions equal to putting 5.6 million new cars on the road, according to estimates by the environmental non-profit Friends of the Earth.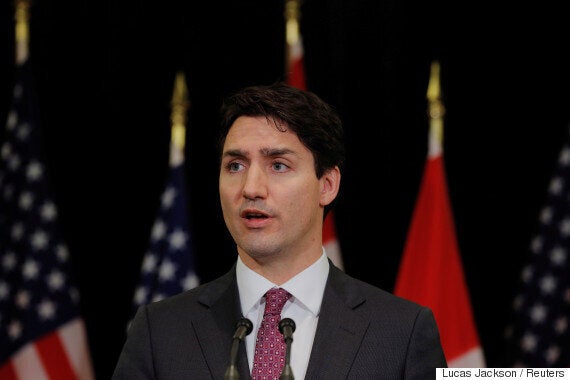 A spokesperson for Trudeau did not reply to a request for comment.
In 2015, former president Barack Obama rejected pipeline-builder TransCanada's application to construct the Keystone XL after a seven-year deliberation. Trudeau cheered Trump's decision to reconsider the pipeline.
"I reiterated my support for the project. I've been on the record for many years supporting [Keystone XL] because it leads to economic growth and good jobs for Albertans," Trudeau told reporters on Jan. 24, when Trump signed an executive action inviting TransCanada to reapply.
"We know we can get our resources to market more safely and responsibly while meeting our climate change goals."
To be sure, the Trudeau administration has made significant moves to reduce carbon emissions from fossil fuels. In November, Environment Minister Catherine McKenna announced plans to phase out most coal-fired power plants by 2030. Some coal power stations would remain, equipped with carbon-capture technology that has yet to be proved reliable. Nevertheless, the Canadian government forecasts carbon emissions falling by 5 megatons ― equivalent to taking 1.3 million cars off the road ― if the plan is fully implemented.
"[W]hen it comes to the defining issue of our day, climate change, he's a brother to the old orange guy in DC."
In December, Trudeau announced a nationwide minimum price on carbon of about $10 per metric ton. By next year, the Liberal government plans to roll out either a tax on fossil fuels or a cap-and-trade system to exact the levy.
Still, McKibben urged Trudeau's gushing fans to "stop swooning" over the prime minister, whom he called a "disaster for the planet."
"Trump is a creep and a danger and unpleasant to look at, but at least he's not a stunning hypocrite," McKibben wrote, before concluding: "Trump's insulting the planet, in other words. But at least he's not pretending otherwise."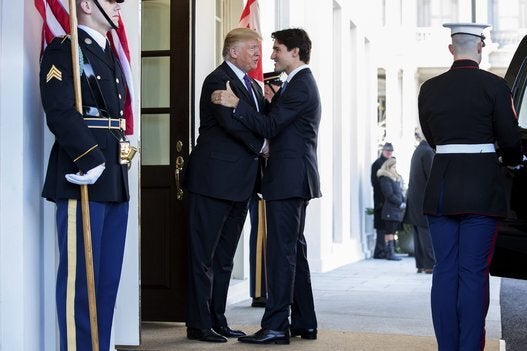 When Trudeau Met Trump
Popular in the Community