A procedural vote Wednesday nearly ended in a fight after Prime Minister Justin Trudeau grabbed the Official Opposition Whip on the House of Commons floor, elbowing an NDP MP in the process.
NDP MP Peter Julian rose in the House before a vote on Bill C-14, the government's assisted-dying bill, to say he's never seen a minister act like Trudeau.
"Physical force in the House is never permitted," said Julian.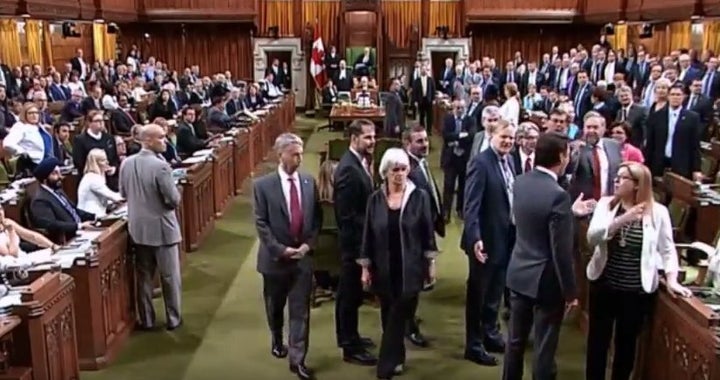 Video clips show the prime minister emerging from government benches, walking toward Conservative Whip Gord Brown, whose path was seemingly blocked by a group of NDP members.
Footage shows Trudeau taking Brown's arm, leading him away, but in the process he backed into NDP MP Ruth Ellen Brosseau.
At one point, the prime minister stood in a face-to-face confrontation with Thomas Mulcair, the NDP leader visibly angry and shouting at Trudeau, calling him "pathetic" twice.
Trudeau apologized for his behaviour, saying he didn't mean to hurt anyone.
"I had noticed that the Official Opposition Whip seemed to be impeded in his progress down the hall. And I felt that this lacked in respect for Parliament," Trudeau said.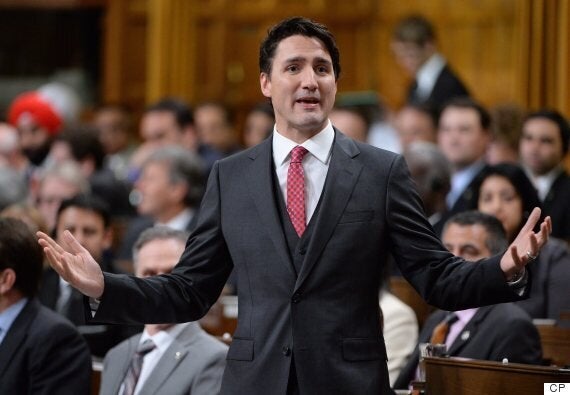 Prime Minister Justin Trudeau answers a question during Question Period in the House of Commons on Parliament Hill in Ottawa on May 18, 2016. (Photo: Adrian Wyld/The Canadian Press)
Members had gathered in the House for an evening vote on a motion to limit debate on Bill C-14. Trudeau made his way toward Brown in an effort to get the vote started.
But pulling colleagues, or any act that could be interpreted as physical aggression, is a parliamentary faux pas. Trudeau said he did what he did because NDP MPs were stalling the vote.
"So I walked over to encourage the member to come through, and indeed offered my arm — extended — to help him come through the gaggle of MPs standing there impeding his progress down the aisle, impeding our ability to move forward with this important vote."
Mr. Speaker, in so doing, I admit I came in physical contact with a number of members as I extended my arm, including someone behind me who I did not see. I certainly did not intend to offend or impact on anyone. I was simply concerned that, unfortunately, the decorum of this place has been impeded by the kind of — preventing of — the work that the whips are doing. If anyone feels that they were impacted by my actions I completely apologize. It was not my intention to hurt anyone.
Conservative MP Peter Van Loan said Trudeau charged across the aisle "with anger fierce in his eyes and face."
"What took place in this House was physical violence," NDP MP Niki Ashton said later, adding that people outside would "call it assault."
Speaker Geoff Regan tried to regain order of the House after the prime minister's remarks, attempting to speak above shouts from members.
"It is not appropriate to manhandle other members," Regan said. The room erupted into applause. He continued, "And I think the prime minister has apologized for that, I believe."
Members then proceeded to vote on the motion related to Bill C-14, defeating it by a margin of 172-137.
It is not appropriate to manhandle other members."

— House Speaker Geoff Regan
Brosseau left the chamber after the incident and did not register her vote.
Green Party Leader Elizabeth May said the melee is a sign things are "very, very bad in the House." May said she felt Trudeau didn't see Brosseau behind him.
"It was most unwise of the prime minister to move along the vote by moving along the member," she said.
After the vote, Trudeau left the House to attend a photo-op with British Columbia Premier Christy Clark for the federal government's apology for the 1914 Komagata Maru incident.
At a reception, the prime minister apologized to an audience of Sikhs for shifting attention away from the historic apology.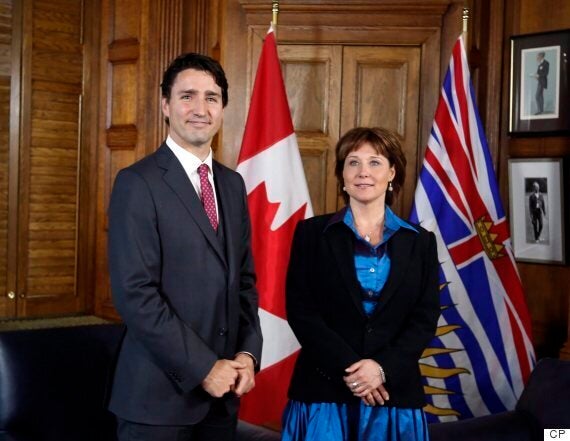 Prime Minister Justin Trudeau meets with British Columbia Premier Christy Clark after he was part of an altercation during a vote in the House of Commons in Ottawa on May 18, 2016. (Photo: Fred Chartrand/The Canadian Press)
"I'm going to apologize again for an incident in the House this evening that might take away a little bit in the news tomorrow, and for some people, the extraordinary celebration that today is, and the important momentous occasion that this day represents, not just in the story of Sikh and southeast Asian Canadians, but in the story of this country," he said.
"For that, I truly regret."
With files from The Canadian Press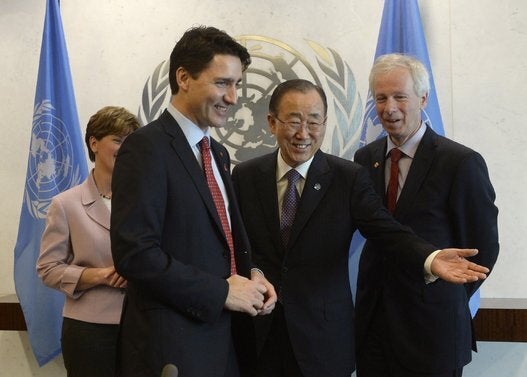 Trudeau At The United Nations