But what people thought was most "ghastly" was Trudeau choosing to "sit for Vogue" during his first 30 days in office.
The underlying tone here seems to be that the renowned fashion glossy isn't an appropriate place for a political leader (especially a Canadian one) to be profiled and featured.
In his blog on Canoe, political reporter David Akin writes, "My take is that even if you are Justin Trudeau's biggest fan — heck, if you are Justin Trudeau's children — the prose in Vogue may make you gag a bit.
"If you're a Canadian politics junkie, a profile of your prime minister in, of all places, Vogue, seems like must-see TV to me!" he continues.
And others agree, including Twitter's Kirstine Stewart, CBC's Matt Galloway, Chatelaine's Sarah Boesveld and the Toronto Star's Heather Mallick.
Here's the thing: a variety of news outlets are featuring Trudeau, including New York Times Magazine, so why should a women's fashion magazine be scrutinized for doing the same?
An article on The Hairpin (shared by Chatelaine's Boesveld in a tweet above), touches on the lack of respect and credibility women's magazines seem to experience.
"I think there's an assumption — it's so easily dismissed," the post quotes ELLE's editor-in-chief, Roberta Myers, from her interview in WWD. "We're all lumped into the same category, but my reading is not the same as Good Housekeeping's millions and millions of readers. It's a different woman. Women are not all the same — even in our little slice of fashion. I think they [women's magazines] are here for a while. I think fashion magazines have been shown to have longevity."
But this lack of seriousness associated with women's magazines (especially those branded as "fashion magazines") is unwarranted. Just look at Vogue's recent feature, "Climate Warriors" highlighting 14 women on the front line of climate change — not to mention American author and literary journalist, Joan Didion, once appearing on the magazine's masthead as associate feature editor (her essay "Self-respect: Its Source, Its Power" was first published in Vogue in 1961 before being republished as "On Self-Respect" in her 1968 collection, Slouching Towards Bethlehem) and Nelson Mandela guest editing an issue of Vogue Paris in 1993.
As for McGregor's issue with Sophie in Vogue due to the fashion industry's "impossible body standards on women," we say seeing a woman who has been very vocal about dealing with an eating disorder in Vogue is refreshing, and could serve as an important space for Grégoire-Trudeau to share her platform in the future.
And at the end of the day, there are far more important issues to be critically addressed than our prime minister in Vogue.
One of our colleagues at The Huffington Post Canada says it best: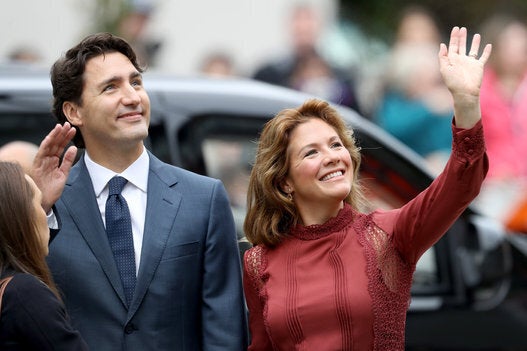 Sophie Grégoire Trudeau
Popular in the Community