It appears an invitation for cocktails and candid conversation with Justin Trudeau isn't going over well with the "ladies" — in Toronto and elsewhere.
On Thursday, the Liberal leader will host a $250 per ticket event with Chrystia Freeland, his candidate in Toronto Centre. The Andy Warhol-inspired invitation for the gathering — dubbed "Justin. Unplugged." — suggests the focus will be on issues affecting women.
It even provides sample questions he might be asked, like "What's your favourite virtue?" or "Who are your real life heroes?"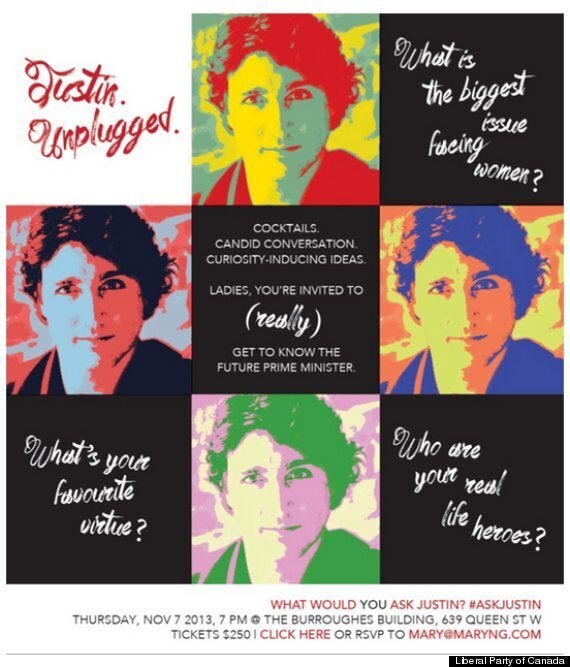 But even the promise of swapping "curiosity-inducing ideas" with "the future prime minister" didn't stop people from finding the ad patronizing towards women.
The Liberal leader tweeted a link to the event Wednesday and was immediately challenged by HuffPost contributor Kathryn Marshall, who wondered if "ladies" may want to talk policy with Trudeau instead.
"Yes 'ladies,' it appears Mr. Trudeau is attempting to win our vote with cocktails, small talk and colorful invitations that look like invitations to the Junior Prom!" she wrote.
But Marshall wasn't alone in her criticism.
Tory cabinet ministers Michelle Rempel and Lisa Raitt took to Twitter Wednesday night to criticize the ad.
NDP MP Megan Leslie also weighed in on the ad in a Facebook post.
In no time, the hashtag #AskJustin began to trend on Twitter as both women and men poked fun at the event.
Check out the gallery below for some of the best reactions.
Niki Ashton, the NDP's status of women critic, also addressed the controversy in the House.
"It's 2013," she said. "All issues are women's issues."
Event organizer Amanda Alvaro tweeted a response to critics Thursday afternoon.
Was this a misfire for Liberals? Tell us in the comments.