Just one day after Prime Minister Justin Trudeau's suggestion that Canada should "phase out" the oilsands, Edmonton hockey fans were ready to let him know what they think of that idea. ( Spoiler: they don't exactly love the plan.)
On Saturday night, fans gathered at Rogers Place Arena to say farewell to Hayley Wickenheiser during a retirement ceremony before the Edmonton Oilers versus Calgary Flames matchup.
As part of a tribute to the hockey great, video messages from Mark Messier, NHL commissioner Gary Bettman and Prime Minister Justin Trudeau appeared on the Jumbotron.
And while Bettman is usually the target of the loudest heckling and jeers at NHL events, the prime minister bore the brunt of the boos that night. In fact, the noise made by the crowd completely drowned out his remarks. (Watch the video above.)
On Friday, while speaking at a town hall in Peterborough, Ont., Trudeau responded to a question about pipelines and his commitment to protecting Canada's environment.
"We can't shut down the oilsands tomorrow. We need to phase them out. We need to manage the transition off of our dependence on fossil fuels. That is going to take time," Trudeau said.
"And, in the meantime, we have to manage that transition."
Alberta Premier Rachel Notley clapped back at the statement, taking Trudeau to task in a video posted to Facebook Friday.
"Our job is to make sure Alberta's product is the first in line," she said.
Last October, fans at the Grey Cup in Toronto booed a video message from Trudeau.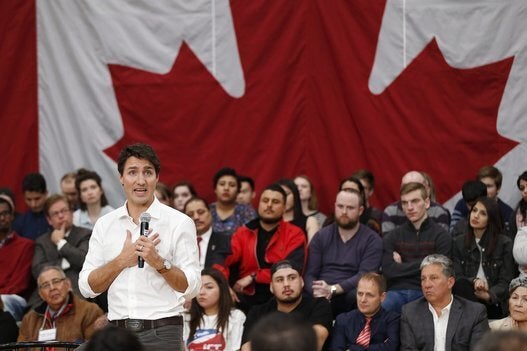 Trudeau's Cross-Country Tour 2017