Hey, we bet when most parents woke up today, in the year 2019, they didn't think they'd have to add "talk to my kids about how our prime minister wore brownface" to their list of to-dos. Yet, here we are.
As of Thursday morning, at least three confirmed images of Prime Minister Justin Trudeau wearing offensive makeup have emerged. The first two bombshells dropped Wednesday night after Time magazine broke the story that Trudeau wore brownface makeup and a turban while attending an "Arabian Nights" themed party in 2001. He was 29 years old and a teacher at the time.
During a press conference that evening (where Trudeau apologized and said he was "pissed off" at himself), he also admitted that he wore blackface makeup during a high-school talent show.
So, it happened. And the images are everywhere, impossible to ignore. But what do we tell our kids?
Trudeau talked to his kids
"I'm going to have a conversation with them tomorrow morning before they go to school about taking responsibility for mistakes we make, about living up every day to try to be a better person and recognizing that when you make mistakes, you have to take responsibility for it."
"You have to own up for it, and promise to do better. That's what I expect for my kids. That's how I'm going to be raising them and that's the conversation I'm going to be having with them tomorrow."
On Thursday, he added that he'd had a "difficult conversation" about "taking responsibilities for your actions, and learning from your mistakes."
See it as a learning opportunity
Parents can use Trudeau's images, and his apology, as a teachable moment, parenting writer, media commentator, and mom of four Samantha Kemp-Jackson told HuffPost Canada.
"It's all quite disturbing, and frankly I don't want to have to show my children these images and videos, but I'm going to because I think they really need to see and understand what a) privilege looks like, and b) how using that privilege to mock or belittle others is so wrong," Kemp-Jackson said.
"I want them to be aware that our actions have consequences."
While it's also important to acknowledge any feelings kids might have about seeing their prime minister in racist makeup, if you're a person of colour, your kids have probably already experienced instances of racism and can likely draw upon those experiences, she added.
WATCH: My culture is not a costume. Story continues below.
White parents should use the images as a starting point to address the topic of privilege, Kemp-Jackson said.
"I can't take my skin colour off. It's part and parcel of me. When you're a person of colour or a minority, that is who you are," she said.
"You can't use it as a prop to get laughs."
Acknowledge Canada's history of racism
It's important to acknowledge Canada's history of racism, and that we're raising children within a system that creates behaviours such as Trudeau's, Kisha McPherson, a social science and humanities professor at Centennial College and PhD Candidate in Education at York University, told HuffPost Canada.
"What we should be saying to our children is the truth — the history of racism and oppression in this country will continue to have devastating consequences until the system deals with it," said McPherson, who researches the experiences of Black girls in the education system and is also a mother.
"We have a system that teaches young white kids, specifically, that they hold the power," McPherson said.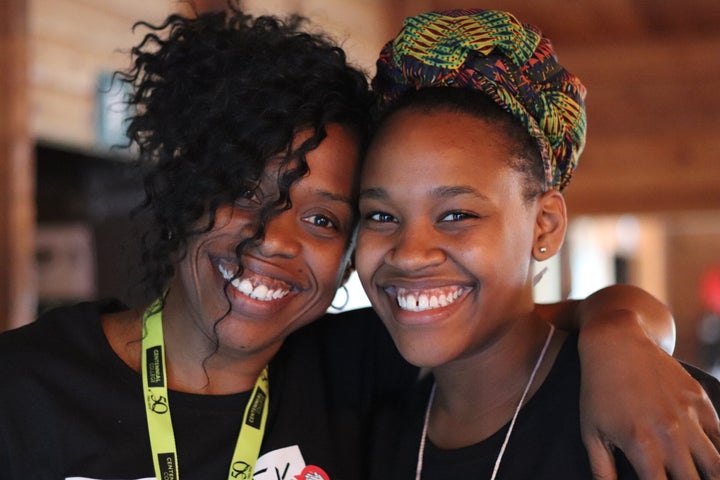 She noted that when children of colour see the photos of Trudeau, they might be discouraged and feel that every instance they've experienced in response to their race or ethnicity is now sanctioned by the leader of the country.
"For kids, that's very confusing and hard to understand. It's like, 'I'm here, I've been told that I'm Canadian, I go to a school where I engage with all of these other Canadian children, so why am I being isolated and seen as different?'" McPherson said.
Discuss the importance of apologizing
For younger kids, the most important lesson is that Trudeau apologized, McPherson said, and that when we do something wrong we need to admit to that.
But, both McPherson and Kemp-Jackson agree that an apology isn't enough.
"We need to see action in terms of what he's going to do to rectify this very ugly situation," Kemp-Jackson said.
For McPherson, this action could come in the form of policy to reform Canada's education system — the same system that educated Trudeau, who said in his apology that he should have known better.
"What are we going to put into place to make sure that these things don't continue to happen, and that we're raising leaders that are really sensitive to these issues, and care about all Canadians — not just the ones that are in their group," McPherson said.
Kids still experience racism at school
Trudeau's actions are more troubling when you consider that he was a teacher at the time, but sadly, not necessarily surprising. There are plenty of recent examples of teachers wearing inappropriate costumes and makeup.
And recent research shows that systemic racism is alive and well in Canadian schools.
"Black students say they are 'being treated differently than their non-Black peers in the classrooms and hallways of their schools'," James wrote in August for the Royal Society of Canada.
"They say there is still a lack of Black presence in schools. There are few Black teachers, the curriculum does not adequately address Black history and schools lack an equitable process to help students deal with anti-Black racism."
He recommended school boards re-evaluate their curriculum and texts (for instance, does To Kill a Mockingbird, which repeatedly uses the n-word, really need to be essential reading?), and work to create culturally-responsive learning spaces.