Justin Trudeau said Wednesday that it was "racist" for him to wear brownface makeup and a turban to an "Arabian Nights"-themed party in 2001.
The Liberal leader spoke with reporters aboard his campaign plane after Time magazine broke the story and the party confirmed the authenticity of a photo from that night. The image appeared in the 2000-2001 yearbook of West Point Grey Academy, a private school in Vancouver where Trudeau taught at the time.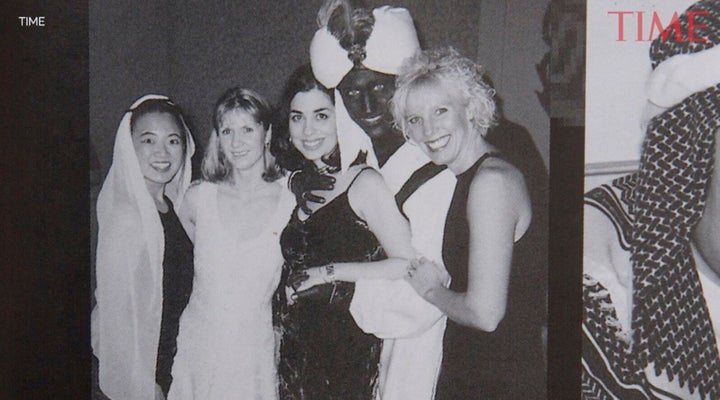 Trudeau said he was "pissed off" at himself for having made such a mistake and called the decision to pose in brownface a "dumb" one.
"I made a mistake when I was younger and I wish I hadn't," he said. Trudeau was 29 at the time the photo was taken. "I should have known better then, but I didn't. And I did it. And I am deeply sorry for it."
Liberal spokesperson Zita Astravas told HuffPost Canada in an emailed statement earlier that Trudeau attended the annual school event "with friends and colleagues dressed as a character from Aladdin."
Trudeau said that while he didn't consider wearing the get-up as a racist action at the time, "now we know better."
When asked by a reporter if there are similar incidents from his past that may not be public knowledge, the prime minister revealed that he sang "Day-O (The Banana Boat Song" during a high school show and wore "makeup." The Jamaican folk song was popularized by Jamaican-American singer Harry Belafonte.
Trudeau said he spoke with non-white members of his cabinet and colleagues about the photo, explaining to them that he's disappointed and mad at himself. He suggested the reaction so far has been understanding: "I am touched by having as thoughtful a team around me as I have."
The image surfaced on the eighth day of an election campaign that has seen several Conservative candidates address past comments and actions that Liberals have deemed racist or homophobic. Tory Leader Andrew Scheer has said that candidates who sincerely apologize for past mistakes will, in most instances, be permitted to carry the party banner.
Asked Wednesday how he could "credibly" go after the Tories on such matters now, Trudeau responded that he's taken responsibility for having made a "real mistake in the past."
"It's making a mockery of someone for what they live and what their lived experiences are."
Scheer's reaction to the photo was brief. Stepping off his campaign bus in Sherbrooke, Que., the Conservative leader said he was "extremely shocked and disappointed" by the image.
"Wearing brownface is an act of open mockery and racism. It was just a racist in 2001 as it is in 2019," Scheer said.
Trudeau is "not fit to govern this country," the Tory leader added.
Singh calls photo 'troubling'
NDP Leader Jagmeet Singh was hosting a town hall in Toronto when the Time story was published. Singh, who made history in 2017 by becoming Canada's first racialized federal leader, called the photo "troubling" and "really insulting."
"It's making a mockery of someone for what they live and what their lived experiences are," Singh said.
He called the revelation one piece that forms a pattern of behaviour of who Trudeau is beyond the public eye. "We see one Mr. Trudeau in public. I'll be honest with you, he seems pretty nice, right? Very friendly. Very warm in public. But behind closed doors he seems like a very different Mr. Trudeau."
Singh referenced the time the prime minister made a flippant remark to a protester from Grassy Narrows First Nation, who interrupted a Liberal fundraiser, by saying, "Thank you very much for your donation tonight." Trudeau later apologized for being disrespectful during that exchange.
Green Party Leader Elizabeth May took to Twitter to say she was "deeply shocked" by the image.
Trudeau "must apologize for the harm done and commit to learning and appreciating the requirement to model social justice leadership at all levels of government. In this matter he has failed."
The National Council of Canadian Muslims called the photo "deeply saddening."
Since becoming prime minister in 2015, Trudeau has made a point of promoting Canada's multiculturalism, repeatedly saying that "diversity is our strength."