Justin Trudeau's support of the Harper government's controversial anti-terror legislation is a decision that seems poised to follow him on the campaign trail this fall.
And a video posted online late last week offers a glimpse of how the Liberal leader may respond to his critics.
Trudeau has said for months that his Liberal MPs have backed Bill C-51 because they believe aspects of the bill will help keep Canadians safe. If Liberals form the government this fall, Trudeau says he will amend the legislation to, among other things, provide better oversight of national security agencies.
On Thursday, Trudeau was at an Edmonton banquet hall for the launch of city councillor Amarjeet Sohi's campaign for a Liberal nomination in the riding of Edmonton Mill Woods—Beaumont.
Outside, some protesters from the social justice group The Council of Canadians called on Trudeau to "kill the bill." C-51 has already passed the House of Commons and is expected to clear the Senate soon.
In a 12-minute video posted to YouTube, Sohi, Edmonton Centre Liberal candidate Randy Boissonnault, and Trudeau are all shown directly engaging with the protesters.
Trudeau (who is shown wading out into the crowd at the 6:38 mark in the video above) tells a woman there needs to be a balance between security for Canadians and upholding individual rights and freedoms.
"There's no such thing as balancing rights and freedoms," the woman says.
"Of course there is," Trudeau replies. "Balancing rights and freedoms is what the nature of society is."
When protesters begin to chant "this is what democracy looks like," Trudeau briefly joins them.
"You are free to express yourselves. I'm here listening to you. Trying to listen to you," Trudeau says. "That's what it's all about. I understand your concerns and that's why I'm committed to repealing the parts (of the bill) people are concerned about."
"Repeal the entire thing," a man says.
"Even Mr. Mulcair hasn't promised that," Trudeau replies.
"Listen, people are… cutting up their memberships," another woman says to the Liberal leader.
"I understand the concerns that people have but the biggest concern we have is making sure that we are protecting Canadians at the same time as we are upholding their rights," Trudeau says. "Liberals in the past have gotten that balance right."
When another man says it appears Liberals are just following the lead of Conservatives, Trudeau says it would have been "much easier" to sit back and oppose the bill.
"The Liberal party has always understood that we need to protect the security of Canadians and uphold liberties and freedoms. It's the Liberal party that has done that," he says.
Near the end of the clip, the crowd can be seen chanting "same as Harper" as Trudeau speaks with a protester.
Trudeau Also Gave Protesters The Floor Last Year
This is not the first time Trudeau has made a point of listening to protesters.
When two climate activists interrupted an event in Toronto last November, Trudeau told them to "take a minute" and explain their position on the proposed Energy East pipeline. After, he urged the crowd to give them a big round of applause.
Abacus Data's Bruce Anderson wrote in The Globe and Mail at the time that Trudeau was able to turn a potential bad moment into a "net positive" by throwing himself in the mix.
"Mr. Trudeau's critics say he's all style, and they wish that style would matter less," Anderson wrote. "But voters want leaders they can relate to, and who seem interested in them and their problems."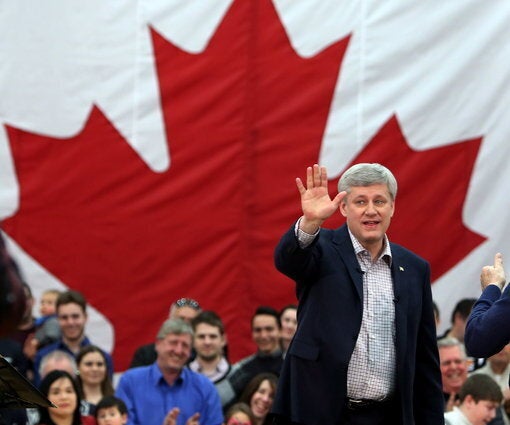 5 Things To Know About The Anti-Terror Law