OTTAWA — The Canadian Embassy in Washington and ten consulates in the United States spent $1,877 on cardboard cut-outs of Prime Minister Justin Trudeau, before the Global Affairs department told civil servants to stop ordering them.
Documents tabled in the House of Commons Monday show $1,877.24 was spent ordering 14 life-size replicas of the prime minister since Nov. 4, 2015.
The revelations sparked some priceless exchanges during question period Tuesday.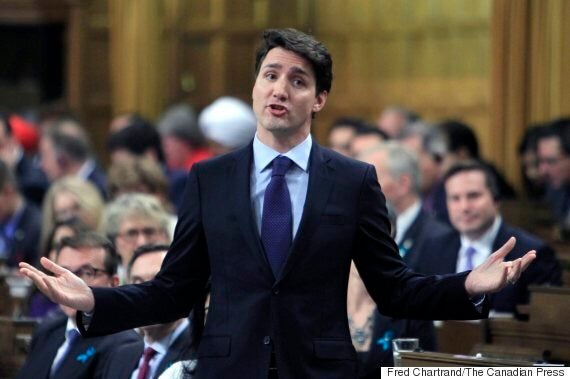 Interim Conservative Leader Rona Ambrose said she worried the prime minister's explanation could "fall flat."
"He's not going to be able to just paper over this," Ambrose said. "So, instead of his one-dimensional answers, will the prime minister tell us, shouldn't this idea have just gone into the recycle bin?"
Trudeau responded that his government is committed to re-engaging on the world stage.
"And since I spend so much time in the House of Commons…" he began, his tongue firmly in his cheek. The prime minister was forced to pause amid laughter and some heckling.
Trudeau later added that, unlike the previous government, Liberals "trust our diplomats to represent us well around the world and respect the choices they make."
After question period, Tory MP Chris Warkentin rose on a point of order, hoping to table a "large document" that Ambrose referenced earlier.
"I'm not sure that every member has yet had a chance to review it," Warkentin said, unveiling the life-size cut-out of the prime minister.
Not to be outdone, House Speaker Geoff Regan reminded the MP that, while a "stand-up guy," using props is against the rules.
The Trudeau cut-outs appeared to be a popular fixture at parties and events sponsored by the Canadian government, where guests liked to posed with PM's likeness.
Conservative MP Ben Lobb, who asked the government for details on the cut-outs and their costs, however, said the cardboard figures "cheapen" the prime minister and his office.
"This is a waste of taxpayers dollars, maybe his worst example yet. His job, his office should be promoting Canada, Canadian products, the Canadian way, not promoting himself," Lobb said.
Global Affairs asked its employees to stop using the cut-outs at events after the Conservative party revealed details of the orders.
The answer Lobb received Monday notes most costs ranged between $63 and $168, although one diplomatic post spent $222.53 on two cut-outs and another $464.20 for a wood backing frame.
Obamas had something similar
The document doesn't say who specifically ordered the cut-outs, noting that the department's Delegation of Financial and Contracting Signing Authority allows employees with certain levels of authority to purchase low dollar value, low risk goods and services, without express approval from Ottawa.
"These promotional items were at the discretion of our missions in the United States. Missions have been asked to no longer use these items for their events," a response signed by Foreign Affairs Minister Chrystia Freeland states.
The U.S. embassy in Ottawa frequently used cut-outs of President Barack Obama and his wife, Michelle, as props. During the 2012 presidential election, a replica of Mitt Romney was also brought out for guests to take pictures with.
With files from Ryan Maloney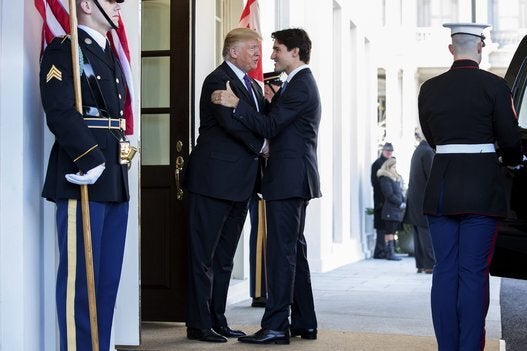 When Trudeau Met Trump