You can now drink beer with Justin Trudeau's face on it — if you're willing to make a trip to Europe or have friends in Ukraine.
Ukrainian brewery Pravda recently unveiled a craft beer dedicated to the Canadian prime minister as part of its politician series. The label also features Foreign Affairs Minister Chrystia Freeland and Defence Minister Harjit Sajjan.
Justin Trudeau is a remarkable politician and a handsome man that is changing the world for better. Pravda's "Trudeau" label
In a news release about the new brew, Pravda didn't hold back on its affection for Canada's PM: "Justin Trudeau is a remarkable politician and a handsome man that is changing the world for better. Unique hobbies, a sense of humor, his position supporting Ukraine: this is all shown on our label."
The "magnum" IPA beer has an alcohol content of 7.2 per cent and "caramel sweetness from malt which perfectly balances flower hop flavor." Pravda recommends drinking it with cheese and white meat.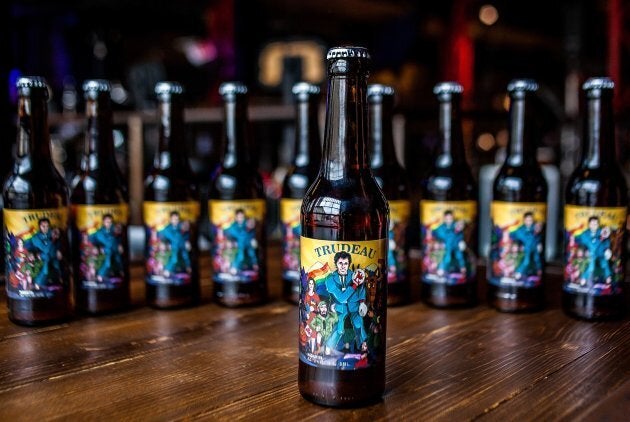 The Lviv brewery clearly did its research before designing the label. JT is pictured wearing quirky socks and boxing gloves with a cannabis leaf — referencing his support for marijuana legalization — in front of a knocked-out former senator Patrick Brazeau.
A rainbow flag symbolizing Trudeau's support for the LGBT community, along with a moose and a beaver round out the Canadiana.
"Justin Pierre James Trudeau is the youngest Prime Minister in the entire history of Canada," fawns the brewery. "Leader of the Liberal Party, beloved by women, and kind of sex symbol."
It goes on to describe Trudeau and Freeland's support for Ukraine on the international stage. The foreign affairs minister has a Ukrainian background.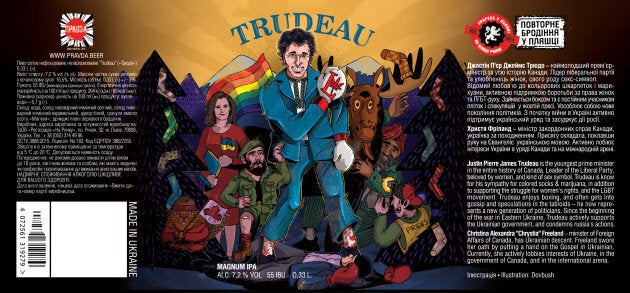 Pravda has also released other beers dedicated to politicians. German Chancellor Angela Merkel has already adorned a bottle, according to the BBC, along with a "Mexican lager" dedicated to U.S. President Donald Trump.
"This beer will make you build a wall around your own heart, just like the only president in the history of humanity to do the same," Pravda noted.
The company is also working on brews dedicated to Russian leader Vladimir Putin and former U.S. president Barack Obama.
Popular in the Community