WASHINGTON, D.C. — Prime Minister Justin Trudeau's first face-to-face meeting with U.S. President Donald Trump was months in the making and on Monday, it all went according to script, Canadian officials told The Huffington Post Canada.
Trudeau stressed his differences with Trump but did not antagonize him. Most importantly, the prime minister left with the two things he most wanted: a recognition from the president of the importance of the Canada-U.S. economic relationship, and a public pledge that Trump would treat Canada differently than Mexico in trade talks.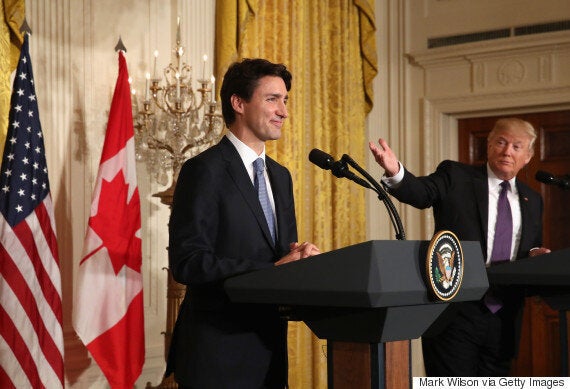 At a joint press conference, Trump said he agreed "100 per cent" with Trudeau that by working together and ensuring effective integration of both countries' economies, greater opportunities would be created for the middle-class in Canada and the United States.
"We have a very outstanding trade relationship with Canada," the president told reporters when asked about his plans to renegotiate the North American Free Trade Agreement (NAFTA).
"We'll be tweaking it. We'll be doing certain things that are going to benefit both of our countries," he said. "It's a much less severe situation than what's taking place on the southern border."
"America is deeply fortunate to have a neighbour like Canada. We have before us the opportunity to build even more bridges."
Reading from prepared notes, Trump said Canada and the United States share the same values and "a collective defence," and have "shed their blood together."
"America is deeply fortunate to have a neighbour like Canada. We have before us the opportunity to build even more bridges, and bridges of co-operation and bridges of commerce," he said, in a stark contrast to his plan to build a wall along the U.S. border with Mexico.
Government officials travelling with the Trudeau said the day went off as well as, or better than, expected.
The mood on the plane back to Ottawa after the day-long meetings was one of "relief" and the visit was "a good start," said a senior official, referring to the prime minister, his advisers, and the five senior ministers who travelled to Washington, D.C.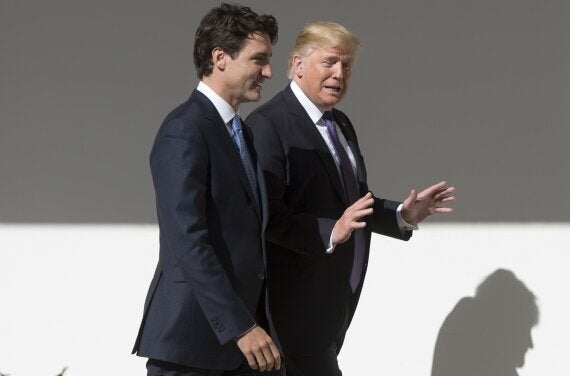 Monday's success was the result of months of work and more than 20 meetings held between aides to Trudeau and Trump, officials said.
After the Republican candidate surprised the Trudeau team with his presidential victory, the prime minister's advisers went to work building bridges with those around Trump.
"We just called them and went to see them," said one official. They bonded during the transition period, talking about the difficulties of entering office — something the Trudeau team had done only 12 months earlier. "We've definitely formed a good working relationship with his people."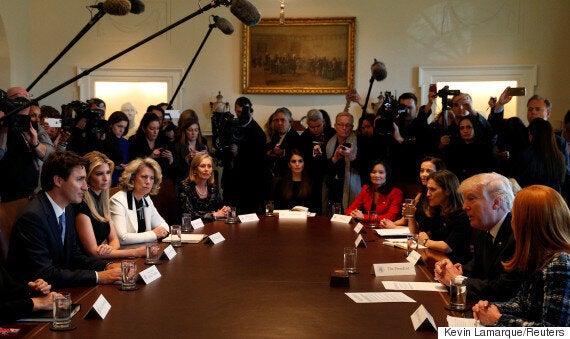 Trudeau's chief of staff Katie Telford, his principal secretary Gerald Butts, Canada's ambassador to Washington David MacNaughton, Foreign Affairs Minister Chrystia Freeland, and Brian Clow — who heads the recently established "war room" in the prime minister's office devoted to co-ordinating all Canada-U.S. issues — travelled to Washington, D.C., and New York City to meet Trump officials.
Trump's son-in-law and adviser Jared Kushner
Chief of staff Reince Priebus
Special representative for international negotiations Jason Greenblatt,
Commerce secretary nominee Wilbur Ross
Economic assistant Dina Powell
Chief strategist Steve Bannon.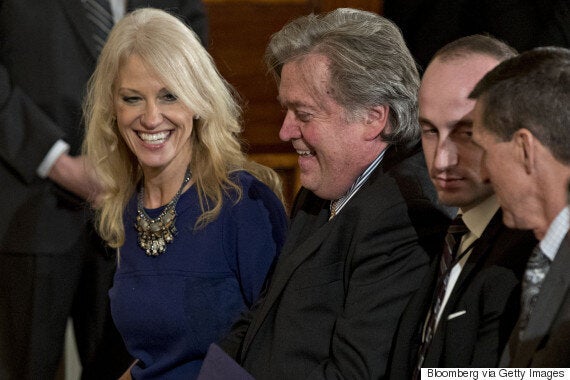 Monday marked the fifth time that Butts and Bannon have met in Washington. While both are credited with crafting much of their bosses' successful electoral messages, popular biographies suggest that is where similarities end.
Butts is a progressive environmentalist. Bannon is derided for his racist comments and belief the Western world is at war with Islam. But Butts, who grew up in Cape Breton as the son of a coal miner, might have found some common ground with Bannon.
"He's a pretty easy guy to get along with to be honest. He's like a working-class kid from Virginia. Grew up a Democrat. Joined the military, became a Republican," said one source.
"The problems he thinks are problems, are the same problems we think are problems: that regular people have gotten screwed over by the economy, the system is rigged… He just has a different approach to resolutions than we do."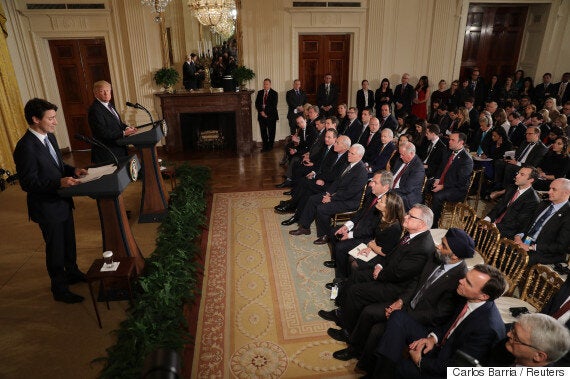 Another big benefit for the Liberals is that Trump is surrounded by people who understand Canada deeply, some of whom have served on battlefields with Canadians. Trudeau's team had big praise for defence secretary Gen. James Mattis, and homeland security secretary Gen. John Kelly — two officials they had not met before.
"When you have allies in homeland security and defence: it's good."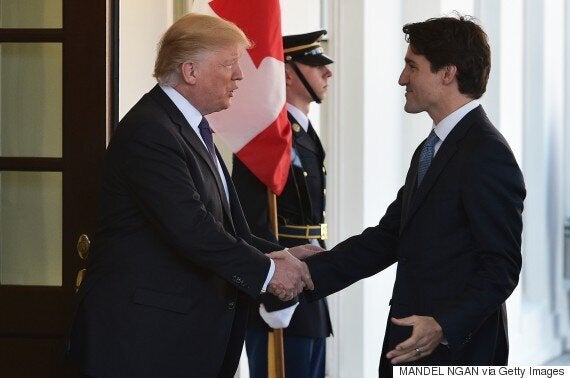 Trump's team had suggested Trudeau be the first foreign leader to visit D.C., a Canadian official said. But faced with an unpredictable president, Ottawa wanted to see how other foreign leaders' meetings went before Trudeau shook hands with Trump.
Unlike May, who has received extended backlash for inviting Trump to London for a state visit, Trudeau only reiterated an invitation to visit Canada — not specifically mentioning Ottawa. Last year, Trudeau invited then-president Barack Obama to address Parliament.
Trudeau's team went back and forth with different ideas for a roundtable at the White House, before Trump's advisers jumped at the idea of creating a Canada-U.S. business council for female entrepreneurs.
The topic fit with some of the women's issues championed by Trump's daughter, Ivanka, and supported by Telford, Trudeau's chief of staff. Such a roundtable was also something the prime minister had participated in during visits in China and New York City.
More importantly, it could be framed as a business and economic issue — the overall theme of Monday's meeting.
At the opening of the roundtable, the president thanked Trudeau for another bit of common ground the prime minister and his team had found: a 1981 picture of Trump with former prime minister Pierre Elliott Trudeau being feted in New York City.
"His father I knew and respected greatly," Trump told the women business leaders and reporters at the photo-op.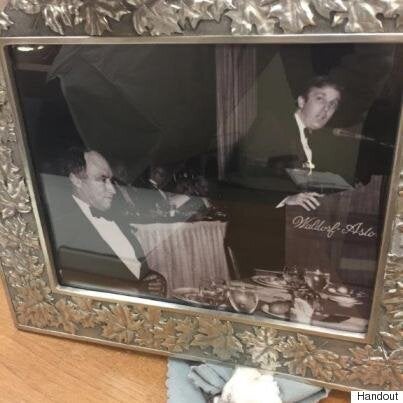 During the president-elect's first phone call with Trudeau on Nov. 9, 2016, Trump expressed great admiration for the PM's father.
"He said 'I knew him. I met him a couple of times,'" a senior official said, something that caught everyone by surprise.
Monday's visit in D.C. got off to a rocky start. Trudeau's car was kept waiting outside the West Wing because the president wasn't ready to greet him. Following a 20-minute tête-à-tête in the Oval Office — just the two leaders — their body language suggested things had not gotten off on the right footing. Trump said little, other than to suggest another four-second handshake.
Public Safety Minister Ralph Goodale said later, however, that talks were going "very well." A subsequent bilateral meeting with officials covered trade, border security, China, North Korea, NATO, immigration and refugees, and the potential new U.S. ambassador. (Ottawa stressed it hoped someone with the White House's ear would be appointed to Canada.)
While the environment was mentioned in the context of acid rain and the Great Lakes, it was far from being the focus — as it was in Trudeau's talks with Obama last March.
No jokes, all business on this visit
On Monday, that message took a backseat to one focused on bilateral trade. There were no jokes with Trump about whose beer is superior or which country boasts the best hockey players There appeared to be no chemistry at all between Trump and Trudeau. Each stood mostly expressionless, while the other answered reporters' questions.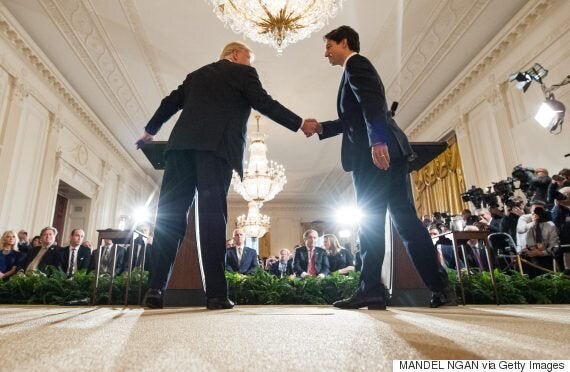 Trudeau tip-toed around certain themes. He mentioned Canada and the United States had negotiated environmental treaties together, such as the 1991 Air Quality Agreement.
When asked repeatedly about the stark differences between Canada and the United States in the handling of Syrian refugees — Trudeau personally welcoming them while Trump seeks to bar them indefinitely — the PM mentioned again and again that neighbours won't always agree on everything, but they will still treat each other with respect.
"The last thing Canadians expect is for me to come down and lecture another country on how they choose to govern themselves," Trudeau said. "My role and our responsibility is to continue to govern in such a way that reflects Canadians' approach and be a positive example in the world."
Fen Hampson, the director of global security and politics at the Centre for International Governance Innovation, said Trudeau showed a great deal of self-discipline Monday — as did the U.S. president.
"I think this was one of the more scripted summits in recent history," he told HuffPost.
"Remarkably the president, at the press briefing, actually read the script that was prepared for him," Hampson said. "Now, let's just hope that we don't end up on a tweet where he says what he really might have felt."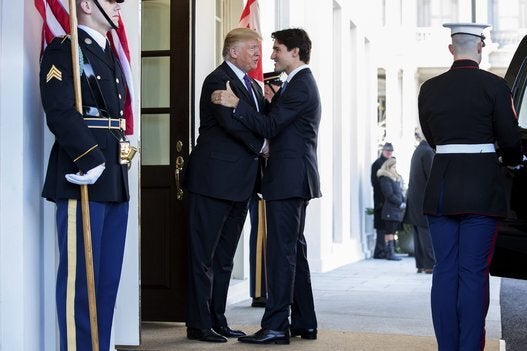 When Trudeau Met Trump
Popular in the Community