While Conservative Leader Andrew Scheer, NDP Leader Jagmeet Singh and Green Party Leader Elizabeth May lined up behind their respective lecterns, one podium was conspicuously absent for the Liberal leader.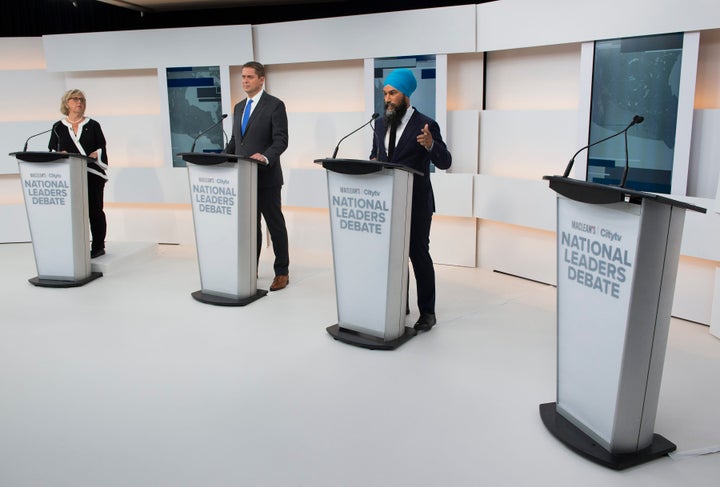 Debate moderator Paul Wells welcomed viewers to the debate with a simple, if a touch melodramatic, message.
"Now with 25 per cent fewer leaders," Wells said. "We left the invitation and [Trudeau's] podium open right up until airtime."
Trudeau was across the country speaking to supporters in Edmonton.
Ahead of the debate, the other leaders and parties reacted to the news of an empty podium for Trudeau.
May also iconically shook hands with ghost Trudeau before the debate. Reportedly, she almost forgot about the empty podium, then walked up to it and said, "Good to see you."
Throughout the debate, the leaders constantly gestured towards the podium in reference to Trudeau.
Of course, Singh had the upper hand in proximity, but even May got in a few handwaves from across the stage. It was like they were arguing with a ghost.
It brought to mind Clint Eastwood's iconic 2012 Republican National Convention speech to an empty chair, which, in theory, was for U.S. president Barack Obama.
When asked what troubled Eastwood most about his speech, he later said "I guess when I did that silly thing at the Republican convention, talking to the chair."
Take heed Canadian federal party leaders.
Hypothetically, the Liberal Party could have sent one of the 14 Trudeau cut-outs they apparently spent $1,900 on. But no, instead we got the empty podium. But imagine Andrew Scheer sparring with a cardboard Trudeau over pharmacare. To quote Adele: we could have had it all.
Trudeau won't be attending an Oct. 1 Munk Debate on foreign policy either, so there's hope for a cut-out appearance yet.
The English debate on Oct. 7 and French debate on Oct. 10 will be broadcast and streamed on various platforms and in different languages.