There may be a Russian flag planted on a seabed below the North Pole, but Canadian Prime Minister Justin Trudeau says "everybody knows" the pole belongs to Canada.
Trudeau made the tongue-in-cheek response when asked if the Kremlin's claim to the polar region holds any merit. The Liberal prime minister said though Russian President Vladimir Putin isn't "automatically" wrong — that doesn't mean his Arctic claim is right, either.
"I'm sure there are Americans who would point to Alaska as the closest point to the North Pole, and the Danes do the same to Greenland. And so forth," Trudeau said during a global town hall hosted by The Huffington Post Canada in Toronto on Monday.
He added that the hot-topic issue of Arctic sovereignty is one that won't be decided by politicians, but ultimately by scientists and international experts.
"I trust science," Trudeau said, slipping in his own take on Putin's claim to a region increasingly growing in geopolitical significance.
"And from what I've seen of the science I think he's wrong."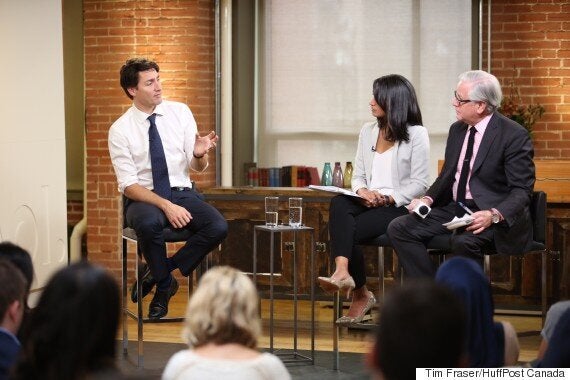 Prime Minister Justin Trudeau speaks at a global town hall Monday with The Huffington Post's Althia Raj and Howard Fineman.(Photo: Tim Fraser/HuffPost Canada)
Increased military presence by both Canada and Russia, including the launch of expeditions searching for Arctic shipwrecks, are the latest in a line of passive-aggressive actions the two countries have conducted in recent years.
In 2007, Putin's former envoy to the Arctic Artur Chilingarov even subscribed to an archaic land-claiming tradition and descended 14,000 feet below the North Pole to plant the country's flag on the seabed.
In his declaration, Chilingarov wrote off Canadian claims to the Arctic as "no more than ambition."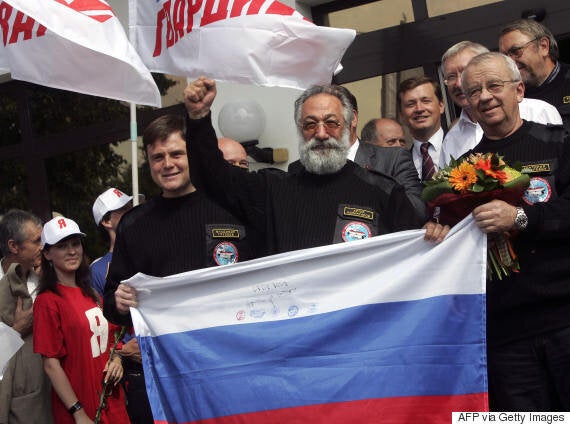 Russian adventurer and Duma deputy Artur Chilingarov holds a Russian flag upon his arrival in Moscow on Aug. 7, 2007. (Photo: Natalia KolesnikovaAFP/Getty Images)
It was a reaction to Canada's announcement it was submitting its own claim to the North Pole with the United Nations Commission on the Limits of the Continental Shelf. But despite the $117 million Canada spent mapping the area in contention, a decision may come down after Trudeau's time in office. According to The Verge, the UN body may take upwards of a decade to make a decision.
Trudeau: I haven't ruled out building a Cobra Command bunker
Though Trudeau's predecessor, former Conservative prime minister Stephen Harper, famously struck a hardline stance against Putin by telling the Russian president to "get out of Ukraine" — relations between the two countries have seemed to opened somewhat since Canada's change in government.
Trudeau was a recipient on a list of world leaders who received a new-year message from the Kremlin last year. This, after vowing to Canadian voters that he would be the kind of leader who would stand up to "the bully that is Vladimir Putin."
Now four months into his four-year term, Trudeau still has much headway to make in his own foreign policy ambitions to restore and evolve Canada's reputation on the international stage.
"I haven't ruled out building a Cobra Command bunker in the Arctic to defend against the Russians either."
During the town hall, the Liberal prime minister's responded to a hypothetical question if he has any plans to send Canadian troops abroad for future combat missions, he said future decision will be examined on a "case to case basis" and made a G.I. Joe reference.
"I haven't ruled out building a Cobra Command bunker in the Arctic to defend against the Russians either," he said.
His handling of foreign policy remains to be a work in progress. Despite being the eldest son of Pierre Trudeau — one of the country's most famous prime ministers — he has yet to possess the same political tact in his handle of military- and geopolitically-sensitive issues.
A year before he was elected to the country's highest office, Trudeau prompted guffaws from critics over his choice of words suggesting Canada should opt for a humanitarian mission in Iraq than "trying to whip out our CF-18s and show them how big they are."
The White House is set to host Trudeau for a state dinner on Thursday — the first time the U.S. has done so for a Canadian prime minister in two decades.
The Arctic is a topic on the two leaders' agendas, but likely in the context of climate change than sovereignty.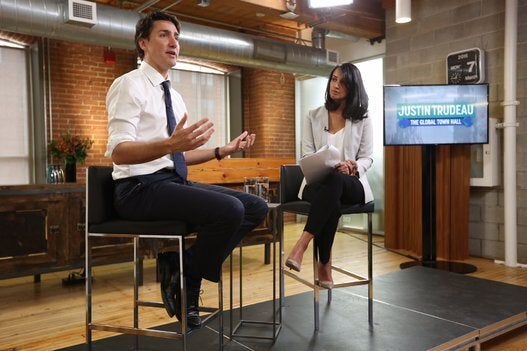 Justin Trudeau: The Global Town Hall