Although Prime Minister Justin Trudeau was able to bring Canada into 2015 with its first gender-balanced cabinet, for other countries around the world, the problem he noted that needs solving first is getting women into politics, period.
Trudeau fielded questions on foreign policy, and some on gender parity, at a global town hall hosted by The Huffington Post Canada Monday. HuffPost Korea editor Sujean Park noted that his gender-balanced cabinet made world headlines, and asked Trudeau what he would say to countries like South Korea where gender discrimination is still present.
The prime minister recalled a conversation with South Korean President Park Geun-hye, saying the issue she had was that women, of any calibre, simply are not currently in politics, a challenge Trudeau's team addressed ahead of Canada's federal election.
"Before it could be 2015, it had to be 2014 and 2013 and 2012," Trudeau told the town hall audience and viewers, referencing his now famous "Because it's 2015" response to why he kept gender parity in mind when selecting his cabinet.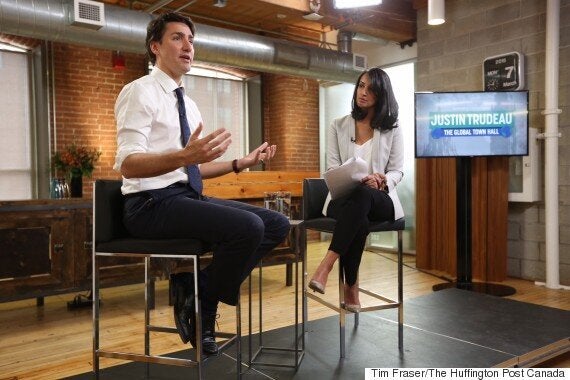 Prime Minister Justin Trudeau speaks at a global town hall hosted by The Huffington Post Canada in Toronto on Monday, March 7, 2016. (Tim Fraser/The Huffington Post Canada)
Trudeau said those years prior were when the Liberals started recruiting "extraordinary women" to run for politics, and called out ministers Chrystia Freeland and Catherine McKenna among others as examples.
It was a process, he said, of seeking out women and encouraging them to get politically involved despite the common reasons used to explain why women shy away from the political arena.
"We said, 'Look we need you to step forward into politics. I know politics is nasty and attack-y and divisive, and it's seen as a man's game and an old white guy's game more than anything. We need to start changing that,'" Trudeau said.
"It took an awful lot of work to get to a place where I could name a gender-balanced cabinet."
Canada ranks well behind Rwanda, which as of 2015 had the most female representation in government, with women making up 64 per cent of parliament. Bolivia also has a majority women followed by Cuba, Seychelles and Sweden, according to The World Bank.
Trudeau said there is a tremendous amount of work to be done to get closer to 50-50 representation for men and women in Canada. In spite of that, he's optimistic.
"I have a strong sense that we're on the right track and we have sort of challenged our friends and allies around the world of progressive democracies to start thinking about how they can get closer to what we were able to do in the past fall," he said.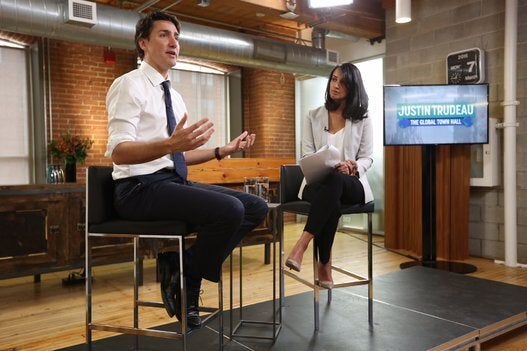 Justin Trudeau: The Global Town Hall