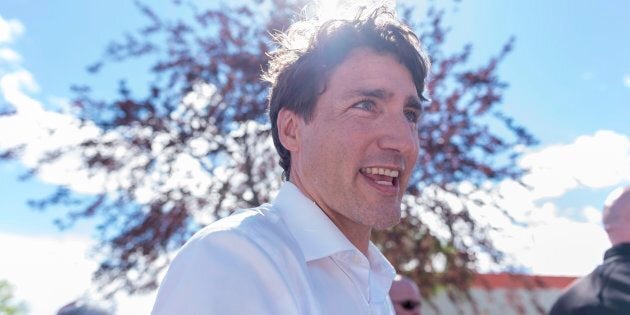 OTTAWA — Conservative MP Michelle Rempel is going after Prime Minister Justin Trudeau's feminist credentials following his recent response to an 18-year-old groping allegation that he can't remember such an incident.
"Well I'm sure Harvey Weinstein said that he couldn't recall things either," Rempel told HuffPost Canada in an interview Wednesday, referencing the disgraced Hollywood film mogul who is awaiting trial for first-degree rape and other sexual misconduct charges.
The allegation against Trudeau stems from a Creston Valley Advance editorial published in 2000 that has been re-circulating on social media in recent weeks. It quotes a 28-year-old Trudeau apologizing for being "forward" with a female reporter.
Watch: Trudeau denies claim he groped a reporter 18 years ago
"I remember that day in Creston well," Trudeau told reporters in Regina on Sunday, the first time he has publicly addressed the allegation. "I had a good day that day. I don't remember any negative interactions that day at all."
But Conservatives aren't buying the prime minister's explanation and accused the government of holding a double standard on feminist issues.
Rempel said Trudeau's words signal a consistency problem after the government wrapped itself "in a cloak of feminism."
She accused the prime minister and his Liberal MPs of "virtue-signalling" on the issue. "So it's do as I say, but not as I do," she said. With this allegation against Trudeau, Rempel said it's disappointing Liberal MPs have "refused to comment on what's right in front of them."
The Calgary Nose Hill MP said she's been in "many situations" in her career where her Conservative colleagues "have done things that I do not agree with as a feminist." She added that she's been "very vocal" in those situations both publicly and within the party.
"And that's how things change."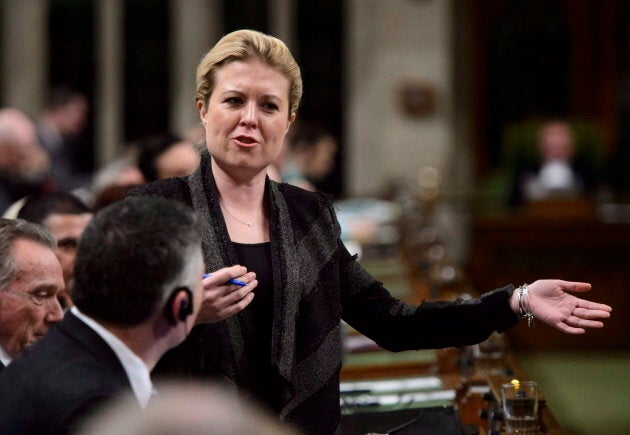 As Liberal party leader, Trudeau booted two MPs from caucus in 2014 over sexual misconduct allegations before internal probes were completed. As prime minister, he's made a concerted effort to adopt a feminist image on the international stage.
"I don't think so. I've been very, very careful all my life to be thoughtful, to be respectful of people's space and people's headspace as well," he said at the time.
Monsef told to 'grow a pair'
The groping allegation and Trudeau's response to it has spurred debate between Tories and Liberals over each party's credibility on feminist issues.
That ignited again on Monday after The Globe and Mail published its profile of Rachael Harder, focused on the Conservative MP's definition of feminism. Harder is her party's critic for the status of women.
Liberal MPs voted against Harder's bid to become chair of the status of women committee, citing her anti-abortion values. And earlier this year, Harder told Manning Centre attendees in Ottawa that she believes the Liberals have co-opted feminism for marketing purposes.
Three Liberal cabinet ministers attacked Harder for her definition of feminism.
On Tuesday, Rempel told Status of Women Minister Maryam Monsef to "grow a pair" for not recognizing the "hypocr[is]y" over the government's silence about the Creston charge against Trudeau.
"If she doesn't have the courage to address it, at least have the decency to not wrap yourself in virtue-signalling on the day that all of this is going down," Rempel told HuffPost. The government is being "sanctimonious" in its advocacy of feminism, she added.
Mosef's office did not respond to an interview request before publication.
Tory and Liberal approaches to feminism 'problematic': NDP MP
One notably absent voice from the Tory vs. Liberal Twitter debate has been Sheila Malcolmson, the NDP's women's equality critic.
In an phone interview from her home on B.C.'s Gabriola Island, Malcolmson said "bodily rights" are "fundamental" to her interpretation of what is and isn't feminism.
"Feminism is a movement for justice," she explained. "So unless you are committed to supporting abortion access and reproductive choice, then you don't fit my definition of feminism."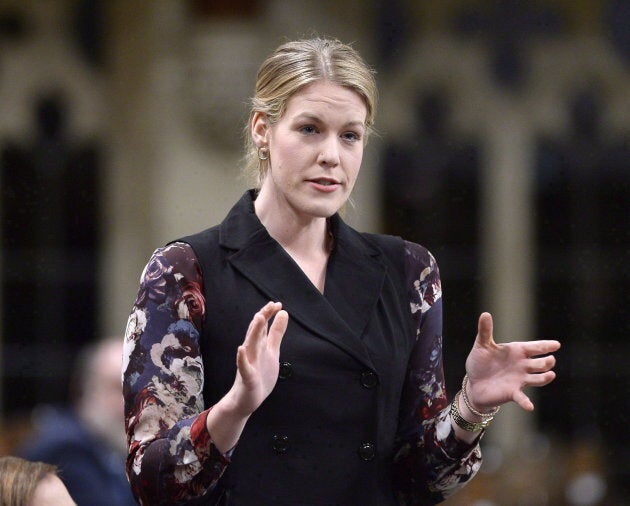 The Nanaimo—Ladysmith MP said both the Liberal and Conservative positions on feminism are "problematic," adding front-line feminists have been doing a "fantastic" job at calling out both parties for shortcomings.
Malcolmson singled out Harder for "redefining feminism that suits her well" and said she has difficulty believing the feminist label the Liberals have given themselves.
She pointed to the government's slow approach to feminist priorities including legislating pay equity and implementing universal affordable child care.
Just follow the money, Malcolmson suggested.
"The fact they're willing to spend a lot of money on a lot of things like $4.5 billion on a leaky old pipeline and they can't fund these fundamental feminist, equity and economic justice programs. That to me indicates they've got wrong priorities."