NEW YORK — Prime Minister Justin Trudeau was enthusiastically embraced at the United Nations Monday, as diplomats and politicians shredded their usual nuanced tones for generous acclaim, unusual applause and selfies with the Canadian leader.
Trudeau was at the UN to tell the world's leaders that Canada will work to help solve the global refugee and migration crisis and to announce a 10 per cent boost to humanitarian aid. He is scheduled to address the United Nations General Assembly for the first time on Tuesday.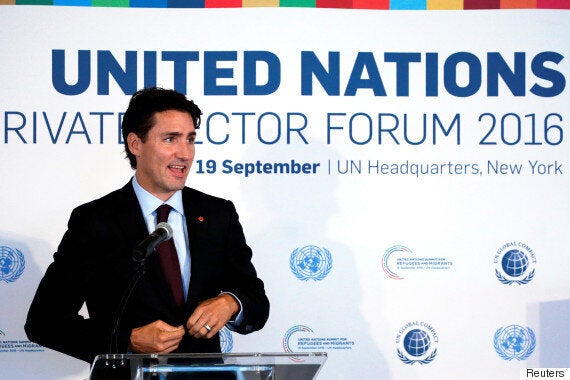 In the UN's corridors where leaders rubbed shoulders, praise for Trudeau came naturally.
Bulgarian President Rosen Plevneliev recalled how he spent two days beside Trudeau at the NATO summit in Warsaw — where the leaders were seated in alphabetical country order.
"I'll tell you about him," he told The Huffington Post Canada. "I love him. I admire him. He is a wonderful young leader of this planet. He's an exceptional politician. He is giving an example to everyone in the world. And, I'm very honest, if you look at the new Canadian government, I say 'Thank you, prime minister,'" Plevneliev said in an interview.
"If you look at the way he is accepting refugees at the airport, if you look how he speaks, if you look at his values, he is just spreading them. He is expressing them with every sentence," the Bulgarian president went on.
"I love him. I admire him. He is a wonderful young leader of this planet."
Trudeau is a leader who is "strong and decisive" but also "tolerant and human," he said. Plevneliev planned to tell Trudeau, when the two meet Tuesday, that Bulgarians and Europeans are praying to have more people with his values and integrity join the world's political scene.
He didn't hesitate when asked if Bulgaria would support Canada's bid for a UN Security Council seat in 2021 — a contest among Ireland, Norway and Canada for two rotating spots. "Of course, yes! Of course! Of course!" he said.
Plevneliev dismissed the suggestion that his country might ask Canada for something in return for its support, for example, establishment of an embassy in Bulgaria. Canada's ambassador to Romania handles Bulgarian relations from Bucharest. Good things don't come when you're too direct, he told HuffPost.
Israel's ambassador to the United Nations, Danny Danon, declined to tell HuffPost whether his country would vote for Canada.
"Well, I think I will not answer it here directly, but if you look at the history, Canada supported Israel and Israel supported Canada," he said.
'Reason to be concerned': Tory senator
Conservative Senator Linda Frum tweeted Monday that Trudeau was romancing the UN, a body that let Iran sit on its status of women committee, gave Iran a leadership role at UNESCO and allowed Saudi Arabia, Qatar, China and Cuba to sit on its human rights council.
At the UN, however, Danon said he had seen no difference between the previous Conservative government's position on Israel and the new Trudeau government's.
"We haven't seen any change in their policy," he said. Both countries are working very closely, he added, noting that they hope to announce a new tax treaty this week.
Kenya looks to deepen relations with Canada
Sicily Kariuki, Kenya's minister for public service, youth and gender, told HuffPost her government looks forward to deepening its relationship with Canada.
"We have an administration that is reasonably young — biologically speaking. And therefore there is a direct connection and linkage between your leadership at the top and the Kenyan leadership," she said.
"You are also being trusted to demonstrate that youthful leadership is as good as leadership that we have inherited in the past years."
Kariuki declined to say whether Kenya would support Canada's Security Council bid — that isn't her portfolio, she noted, but she expressed support for Trudeau's attention to youth and his focus on feminism.
"I need him in Kenya…. Deliver him to me!"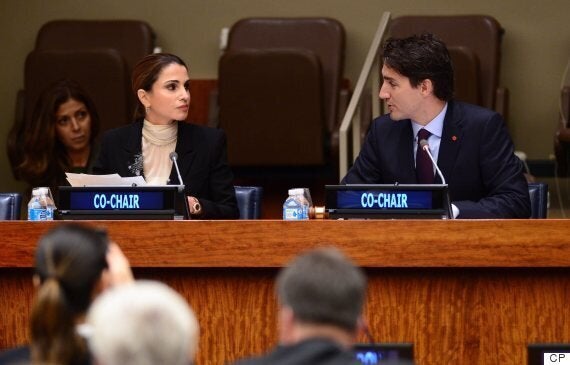 Trudeau kicked off his day co-chairing a roundtable with Queen Rania of Jordan focused on addressing the movement of large number of refugees and migrants.
In his opening remarks, as he referred to the 31,000 Syrian refugees Canada has already welcomed, he was met with a very unorthodox "Whoop!" from one attendee and applause from the room.
Canada and all countries, Trudeau said, have a responsibility to do more to help solve the global refugee and migration crisis.
"Now is the time for each of us to consider what more we can contribute," he said.
Speaking at the same time, on a floor above, was William Swing, director general of the International Organization for Migration, condemning the "poisonous public narrative right now on migration."
"Now is the time for each of us to consider what more we can contribute."
His comments arrived as New Yorkers were just learning that police had identified Khan Rahami, an Afghan immigrant, as the person responsible for a weekend bombing that injured more than two dozen people.
Migration has become a negative word, said Swing, flanked by UN Deputy Secretary-General Jan Eliasson. And yet, he noted political leaders were standing in New York City, a place built on the backs and with the talents of migrants.
"We know that, and yet, we are now branding migrants as potentially terrorists, or criminals, or bringing in disease. We have to get rid of those stereotypes, demythologize the narrative and try to get back to basics," he said.
'Very high' praise for Trudeau
When asked to comment on the new Canadian government, Swing had nothing but "very high" praise for Trudeau.
"He did something very unusual for a politician," he told reporters assembled outside the UN General Assembly. "He made as one of the planks of his platform to be elected, that if I am elected I will bring in 25,000 Syrian refugees. And then he said, I will not bring them in as refugees but as future Canadian citizens."
It was a good example for others to follow, Swing said.
The scene was similar later in that afternoon when Trudeau took part in the UN's global compact luncheon. As he took his seat near the front of the room packed with diplomats and business leaders, Trudeau kept being interrupted by people asking for photos and selfies.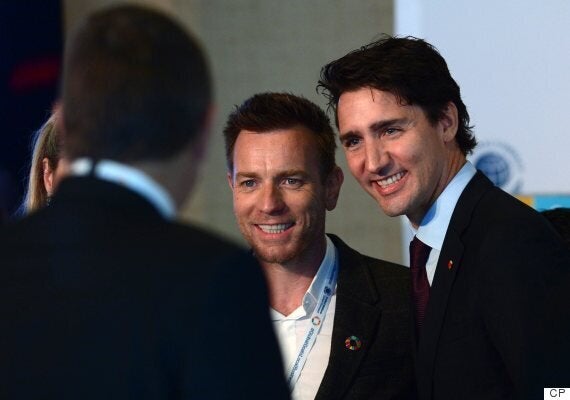 CNN's Kate Bolduan, who introduced Trudeau, described him as being at the forefront of action on refugees. She referred to Trudeau's words the day he welcomed the first wave of Syrian refugees at the Toronto airport in December with winter clothes.
"He said: 'We get to show not just a planeload of new Canadians what Canada is all about — but we get to show the world how to open our hearts and welcome people who are fleeing extraordinarily difficult straits,'" she said. "A simple message — a powerful message, though, especially from his position to send around the world."
Immigration Minister John McCallum told reporters that he's aware there is a "lot of admiration here for what Canada did." "Canadians can walk tall in these circles," he said, noting his colleagues' approval.
But McCallum put the praise in perspective.
"In Canada, refugees have done very well."
"Germany let in over a million, and we had 25,000 whom we selected — and, we have the Atlantic Ocean, which separates us from these parts of the world, which Europe does not," he said. "So I am very proud as a Canadian for what we achieved, but I would be the first to acknowledge that the problems are an order of magnitude different from the problems of Europe."
McCallum said he thinks Canada can contribute by sharing the experience of its private-sponsorship refugee program — something, he said, at least 13 other countries had expressed an interest in adopting, including Britain.
"That could be one part of the solution for the world at large," he said.
But first, McCallum wanted to stress to his UN counterparts, many of whom had noted increased xenophobia towards refugees and migrants, that immigration has made a Canada a prosperous and dynamic country.
"Around the world, migrants, including refugees, fill skill gaps and labour market shortages, address challenges of aging populations and improve understanding of other cultures," he said during a speech at a UN roundtable.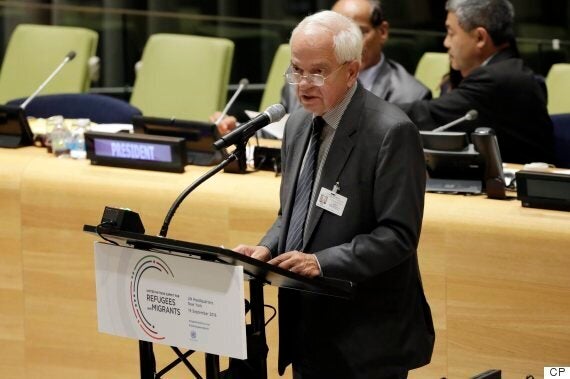 "In Canada, refugees have done very well," he added. "Two of our former governors general are refugees, and one of my cabinet colleagues, Maryam Monsef, who was a while ago a refugee from Afghanistan, is now our minister for democratic reform."
Being open to newcomers works only if people aren't anxious about their own well-being, the prime minister suggested Monday afternoon during an interview with BuzzFeed.
"The fears about globalization, the anti-trade, the Brexit stuff that is sort of running around the world right now, happens because people don't feel that economic growth and globalization has been good for them," Trudeau told his 20-something audience.
"What we know is that, indeed, trade and globalization has been great for growth," he said, but "it just hasn't always gone to the right people or to the majority of people. My question is how we will demonstrate and change the systems, so that people start feeling the benefits from trade, people start feeling the benefits of globalization."
Trudeau is expected to address those same themes when he makes his UN General Assembly debut.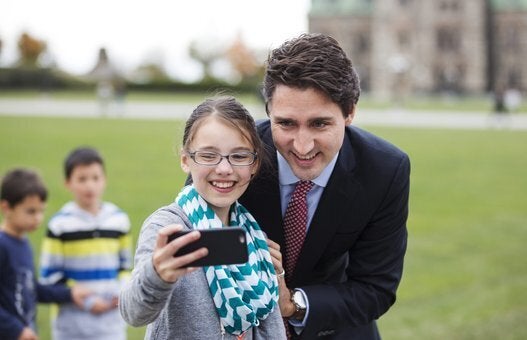 PM Trudeau Posing For Selfies
Popular in the Community