Justin Trudeau was again put on the hot seat this week over his opposition to Canada's mission in Iraq, this time thanks to a tough interview by a London, Ont. radio host who didn't pull any punches.
The Liberal leader, who was in southwestern Ontario this week for his party's caucus retreat, was interviewed by AM980's Andrew Lawton on Tuesday. Much of the 11-minute chat was focused on Trudeau's position on the U.S.-led military intervention in Iraq.
Lawton repeatedly asked Trudeau under which circumstances he'd send troops into combat if he were prime minister. The Liberal leader repeatedly dodged the question.
The radio host referenced a United Nations report from the fall stating that more than 8,400 Iraqi civilians have been killed by ISIS militants.
"Are you still convinced that military intervention is the wrong course of action?" Lawton asked.
Trudeau said he has been "unequivocal" on the issue, saying he believes Canada has non-combat roles to play with measures like humanitarian aid, refugee support and medical help.
"I've never been against Canada engaging robustly against ISIS," he said. "What I have been concerned with is the prime minister's choice around the way we should best do that."
The Liberal leader said the revelation that troops recently exchanged fire with ISIS militants during a training exercise shows Canadians are "engaged in ground combat against ISIS fighters," despite Harper's promise that would not happen.
Lawton said the "absolute carnage" in Iraq has convinced many people that military intervention is needed and wondered under which circumstances, as prime minister, Trudeau would view such actions as warranted.
"Well, I think it is warranted if there is a reasonable chance of success," Trudeau said. "If there's a way that Canada can offer expertise the rest of the world is unable to provide."
"Just to clarify, are you saying there's no chance of success with the fight against ISIS?" Lawton asked.
"I'm saying this is going to be a long, long challenge against ISIS and Canada's role in engaging with that needs to be best suited to what we can do better than other countries," the Liberal leader said.
Lawton then asked: "Under what circumstances do you think we could engage in a combat role and actually succeed?"
Trudeau said few people believe a military-only solution works in the Middle East and said there are different paths the international community can take to "de-fang and neutralize" ISIS.
"I have to ask you one more time, Mr. Trudeau, because I'm really not getting an answer from you on this," Lawton said. "Is there any scenario that you can give where a Canadian combat action would be warranted?"
Trudeau said that "yes, there would be scenarios" but added any military mission would need the approval and support of Canadians.
"The fact is that Mr. Harper was misleading to Canadians when he assured us that there would be no ground combat against ISIS," he said.
Listen to the full interview below:
The Harper government denies that as many as 69 Canadian special forces troops, sent to Iraq to assist the mission but not to fight, are engaged in combat.
"A combat role is one in which our troops advance and themselves seek to engage the enemy physically, aggressively, and directly," Harper spokesperson Jason MacDonald told The Canadian Press this week. "That is not the case with this mission.
"This mission is one in which they are providing advice and assistance to Iraqi forces only and as (Brig.-Gen. Michael Rouleau) indicated, the bulk of their work takes place well behind the front lines. That said, we have always been clear that while this is a low-risk mission, it is not without risk and our forces on the ground will protect themselves if fired on in the course of carrying out their mission."
But that explanation hasn't stopped Opposition leaders from accusing Harper of not being truthful about the mission.
NDP Leader Thomas Mulcair used perhaps the strongest language Tuesday.
"The prime minister has not been honest with Canadians on this issue," Mulcair told reporters. "He has to come clean and he has to do it quickly. Every time he was asked, he said, 'No, they would not be involved in combat.' And every time they were involved in combat, we asked and they said, 'No, it is not a combat mission.'"
Green Party Leader Elizabeth May also released a statement saying the mission against ISIS is endangering the lives of Canadians soldiers. May accused Harper of breaking a vow made to MPs when they voted to send forces to Iraq in October that no Canadian boots would be on the ground.
"We have now learned that not only are Canadian soldiers accompanying Iraqi troops, but they are directly engaged in combat with enemy forces," she said in the statement. "Has the Prime Minister misled Parliament about the mission in Iraq?"
Canada's six-month mission in Iraq is slated to end in April.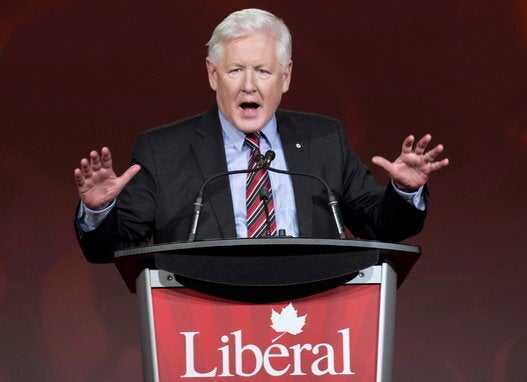 Liberal Stalwarts On ISIL, Iraq
With files from The Canadian Press