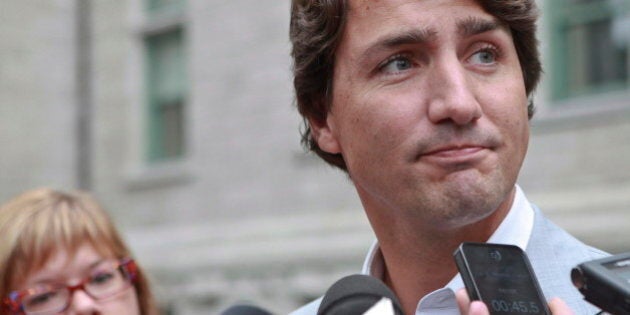 Liberal Leader Justin Trudeau prides himself on openness and transparency, but the party's decision to abandon a convention tradition isn't helping his case.
Reporters were told Saturday that Trudeau would not hold a customary closing press conference at the end of the Liberals' biannual convention Sunday, and many journalists took to Twitter to express their confusion and frustration.
The media's attempts to ask Trudeau questions as he sat down in the convention's main plenary hall for debate were shot down too.
"In a bizarre moment, Trudeau wouldn't look at or acknowledge media as we tried to ask him questions," tweeted Halifax Chronicle-Herald reporter Paul McLeod.
There are several reasons why Trudeau may have wished to avoid the cameras.
His keynote speech to delegates Saturday was well-received and he may have wanted to end the convention on a high note.
Friday, his star recruit retired lieutenant-general Andrew Leslie delivered a good speech but bombed a press conference meant to shed light on his $72,000 moving costs.
Leslie, a Liberal foreign policy advisor, suggested in his speech that the Conservatives had leaked information about his expenses in retaliation for not joining their ranks.
But in front of reporters, he seemed to take back his words, refusing to say he'd been 'courted' by the Tories. Leslie would only say he had been in discussions with several parties, of which the Conservatives were one. He refused to say whether he had approached the Conservatives first.
Sources say Trudeau also wasn't ready to express a personal opinion on assisted suicide.
The Liberal leader may also have chosen not to speak to reporters after seemingly backtracking on his comments about not raising taxes.
During an interview with CBC's 'The House', he pledged not to raise taxes on corporations and individuals, but then said in his Saturday speech that he would not raise taxes on the middle class. An advisor told HuffPost Canada Trudeau was "clarifying" his remarks, but no one from his team has returned emails requesting more clarification.
Trudeau may have hoped his decision to avoid the press would be overshadowed by the Winter Olympics but members of the media and the public definitely noticed. Check out some of their reactions in the slideshow below.
With files from Althia Raj