Prime Minister Justin Trudeau says he was almost certain Liberals would win last fall's federal election after New Democrats pledged to balance the budget in lieu of running deficits.
The prime minister made the admission in an interview with Bloomberg Thursday that could add some salt to the wounds of NDP Leader Thomas Mulcair, now fighting to convince party members he deserves a re-match against Trudeau in 2019.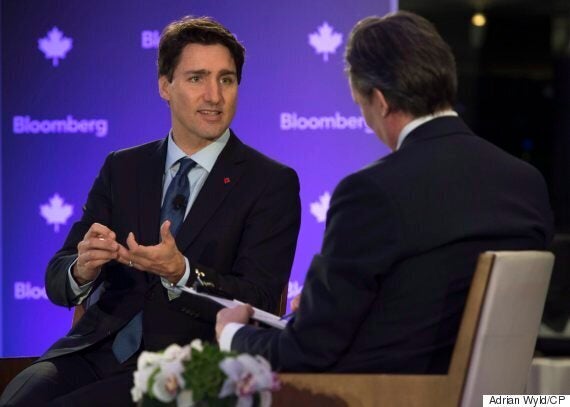 Prime Minister Justin Trudeau speaks with Bloomberg editor-in-chief John Micklethwait during a televised interview in New York on Thursday. (Photo: Adrian Wyld/Canadian Press)
Bloomberg editor-in-chief John Micklethwait asked Trudeau if his use of the "dreaded" and politically risky "D-word" on the campaign trail was a turning point that differentiated him from the pack.
Trudeau said that on the day his party made clear it would spend, the "left-wing New Democratic Party had announced they were going to balance the budget at all cost, just like the Conservative government."
'I'm pretty sure we just won'
Trudeau said he went home that night and told his wife, Sophie Grégoire Trudeau: "I'm pretty sure we just won the election."
Trudeau said his wife was skeptical when she opened the newspapers the next day.
"And I said, 'Oh it's going to take a while for people to figure it out,'" Trudeau said.
"I think it was a moment where we really showed that we weren't afraid of what the big, bad Conservative government was going to say about us one way or another."
Canadians had made it clear they wanted investments in things like infrastructure, and some economists had said such steps would make sense with a low interest rate, Trudeau said.
And the prime minister said it fit the Liberals' desire to provide bolder change.
"I think it was a moment where we really showed that we weren't afraid of what the big, bad Conservative government was going to say about us one way or another," he said. "We were going to focus on doing what was right, not just what was automatically popular."
Trudeau also suggested there were broader leadership lessons in the strategy, saying citizens accustomed to "being pandered to in politics" would rather be challenged.
Deficit pledge a turning point
Tories blasted the move as irresponsible and, in a memorable moment, then-leader Stephen Harper mocked Trudeau's claim that deficits could stay "modest."
The Toronto Sun ran a front page at the time labelling the move "political suicide" — something Trudeau's principal secretary Gerald Butts recently pointed to on Twitter.
Since forming government, Trudeau and Finance Minister Bill Morneau have argued that the economic situation is worse than they anticipated. The Liberal budget tabled next week is expected to have a shortfall of closer to $30 billion, with a return to balance in 2019 now deemed highly unlikely.
Mulcair admits pledge was a problem
As for Mulcair, he's dealing with the fallout of a campaign that he now concedes was too cautious. The NDP dropped from 95 seats to 44 with many popular, veteran members shown the door.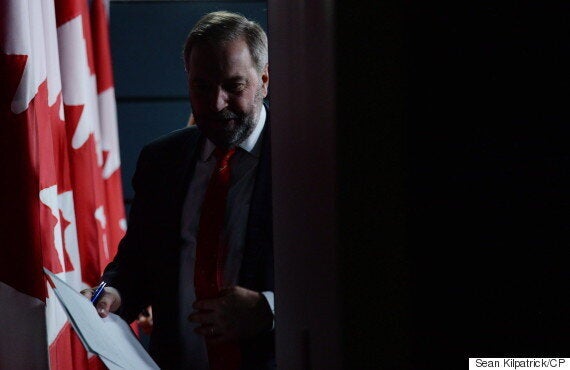 NDP Leader Thomas Mulcair leaves a press conference in Ottawa in January. (Photo: Sean Kilpatrick/Canadian Press)
He also conceded that the pledge to run a balanced budget was part of the problem.
"We are addressing the important observation from the interim report that the campaign lacked an overarching narrative that could easily communicate our progressive proposals," Mulcair wrote. "This became apparent when our commitment to balancing the budget overshadowed our social democratic economic vision."
Mulcair faces a leadership review at the NDP convention in April.
With files from Althia Raj, The Canadian Press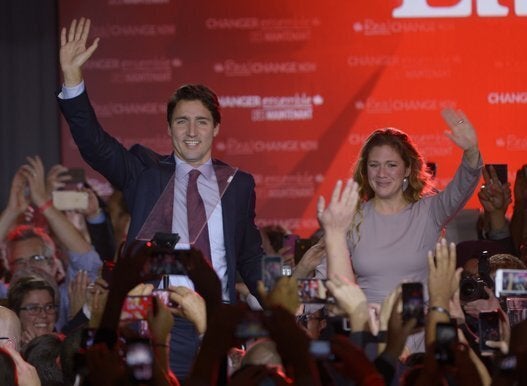 In Photos: Canada Election 2015