TORONTO — Liberal Leader Justin Trudeau could turn his Doug Ford fascination into something productive with a run for the Ontario Liberal leadership, Andrew Scheer suggested Monday.
"You seem to be oddly obsessed with provincial politics," the Conservative leader said to Trudeau during the federal leaders' debate in Gatineau, Que. "There is a vacancy for the Ontario Liberal leadership and if you're so focused on provincial politics, go and run for the leadership of that party."
The audience broke into cheers and applause.
"You seem to be oddly obsessed with provincial politics."
Ontario's Liberals have been without a permanent leader since the party was decimated in the June 2018 provincial election. A new leader will be chosen in March 2020.
Trudeau had brought up the controversial Ontario premier while discussing Scheer's plans for the country.
He said most of the Conservative platform would remain secret until after the election, "like Doug Ford — that didn't work out so well for Ontarians."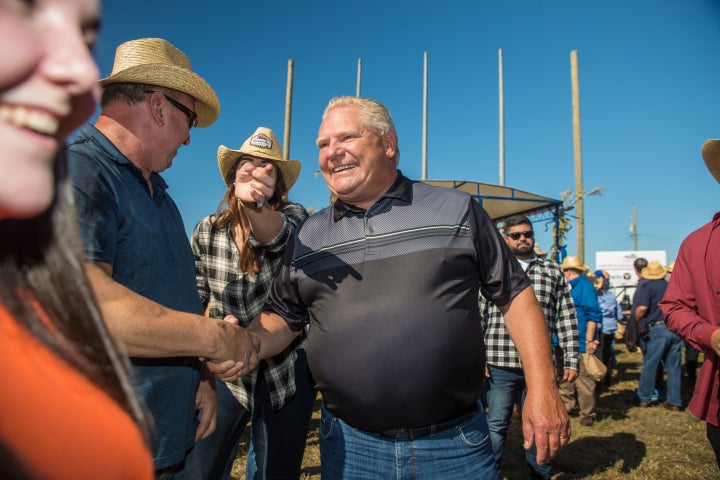 It marked the third time Trudeau mentioned Ford during the debate. Earlier, he said that Conservative premiers like Ford and Alberta's Jason Kenney don't believe in taking action on climate change.
Trudeau also invoked Ford to contrast his party with Scheer's.
"We're choosing to invest in people," Trudeau said. "You're choosing, just like Doug Ford, to hide your platform from Canadians and deliver cuts to services and cuts to taxes for the wealthy."
Last week, a reporter asked Trudeau how, if re-elected, he'll work with Ford now that he's dragged his name into his attacks on the federal Conservative leader so frequently.
Trudeau didn't answer. Instead, he started talking about a work-to-rule campaign by a union of education workers in Ontario.
"I am a parent with kids in the Ontario public system and I really wish that Doug Ford would spend as much time focusing on my kids' school as he does focus on supporting his federal party," he said.
Ford has said he's too busy governing to inject himself in the federal campaign.
"They're working me like a rented mule this whole summer. Honestly, I just haven't had time," he said in September. "I don't want to interfere in the federal election. I want them to go out there and have a good race and let the best party win."
With files from The Canadian Press