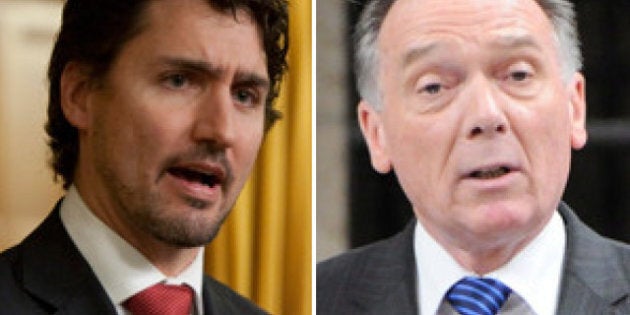 Justin Trudeau may have a famous last name, but much like Hillary Clinton he's quickly making his first name the one that matters.
At the time, Kent said he understood the "Liberal rump is somewhat out of sorts as this government corrects one of the biggest blunders the previous Liberal government ever made," referring to Kyoto. He said he wasn't bothered by Trudeau's outburst, but did call for an apology.
"If I hadn't said that, if I had used any other sort of language or used stern-but-parliamentary language, it wouldn't have made the news and nobody would have realized that [Kent] actually banned all other parties from attending the Durban conference and then had the pompousness to chide us for it," Trudeau said after attending the Free the Children's We Day youth rally in Montreal last week.
"I was not going to let that slide and I lost my temper and I don't encourage it and it's certainly not something I'm going to be able to do particularly often and still remain a serious politician in people's eyes," Trudeau said. "But in this situation of defending a colleague and highlighting just an egregious insult to our intelligence and abuse of the power he has as a minister to set his tones and set the lines — no, I'm glad I sort of called him on it."
"Peter Kent is a national-level journalist and he knows how to get a message across. He is, unfortunately, being given messages that are completely unpalatable for Canadians. His skills as a communicator are being completely wasted because he doesn't actually get to be minister of the environment, he is nothing but a spokesperson on the environment for whatever the prime minister decides is going to be our environmental position," Trudeau said.
"So we don't even know whether Mr. Kent is a good minister of the environment or not because he's never actually acted as the minister of the environment. That's unfortunately something that I was glad to point out when I highlighted the fact that he didn't know what ozone was even though he covered it tremendously during the '80s," Trudeau said. The incident in question occurred last November when Trudeau asked Kent to "explain to the House what ozone is and what is the difference between its impact at low altitude and high altitude?" Caught off guard, the Minister was unable or unwilling to do so (The video can be seen in the slideshow below).
"The fact that ... it wasn't written on the script that he is supposed to read meant that he didn't answer me — and that is one of the great problems we have with this Conservative government we have right now."
FAMOUS POLITICAL PROFANITY