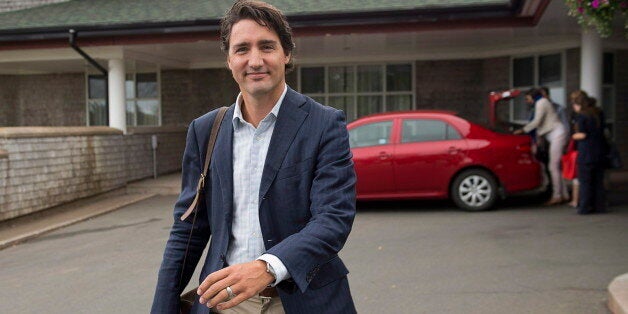 Despite division over what to do about marijuana laws, Canadians seem much less split over what they think about Justin Trudeau's admission he smoked pot since becoming an MP.
According to a new poll, they don't much care.
The survey by Abacus Data for Sun Media, conducted between Aug. 30 and Sept. 4 with 1,600 Canadians online, shows that support for some sort of reform of marijuana laws is high. Fully 63 per cent of Canadians support either legalization (28 per cent) or decriminalization (35 per cent), while 17 per cent think the laws should stay as they are and another 11 per cent want penalties increased.
Regionally, British Columbia was most likely to want legalization, with 36 per cent in favour of it. Support for legalization was next highest in Ontario, at 32 per cent. Both of these provinces are setting up to be major battlegrounds in the next federal election, potentially positioning the Liberal leader in the right spot.
Support for decriminalization was highest in the Prairies at 44 per cent. This bodes well for the NDP, who support that policy and have hopes of making a comeback in Saskatchewan.
But contrary to common wisdom, marijuana reform is not particularly more important for younger Canadians than it is for their parents. There was no marked difference between the views of Canadians between the ages of 18 and 59. The only divergence came from Canadians over the age of 60 — though they were nevertheless still in favour of some reform as 20 per cent supported legalization and 40 per cent backed decriminalization.
What does this mean for Trudeau? More than three in four Canadians were aware of the admission about smoking marijuana that he made in an interview with The Huffington Post Canada, and a majority were not put off by it. For two-thirds of those polled it did not change their opinion of him, while 15 per cent said it made their opinion of him worse and 12 per cent said it had improved. His biggest hit came in Alberta, where the party has little expectation of making gains. It had little effect on Liberal supporters, and seems to have only hardened the opinion of current Conservative voters against the Liberal leader.
As to the actual admission itself, 68 per cent of Canadians said their views were closest to the statement that "he did what many other Canadians do, smoke a little marijuana privately with friends and his honesty should be encouraged" as opposed to thinking "it was wrong of him to break the law he swore to uphold as a member of Parliament." At 77 per cent, Quebecers were most likely to be understanding, while opinion was split 50/50 in Alberta. Voters in Ontario and the battleground Greater Toronto Area were slightly less forgiving than the national average, but nevertheless a large majority were on his side.
Interestingly, the poll suggests that Canadians who voted for the Conservatives in 2011 were not significantly more upset with Trudeau on this question than other Canadians, whereas current Tory supporters were the only group to have a majority opinion against his pot smoking. This suggests that while pulling more support away from the Conservatives will be difficult for Liberals, they have already managed to draw a good deal of centrist voters over to their tent.
Considering the number of people who said Trudeau's admission has not changed their opinion of him and that views on the various avenues that could be taken with marijuana are not significantly different from the supporters of one party to the next, it seems unlikely that this will be a vote-driving issue in 2015.
But if it does turn out to be one of the ballot box questions, it would appear that — so far, at least — the Liberals have little to fear.
Éric Grenier taps The Pulse of federal and regional politics for Huffington Post Canada readers every week. Grenier is the author of ThreeHundredEight.com, covering Canadian politics, polls and electoral projections.