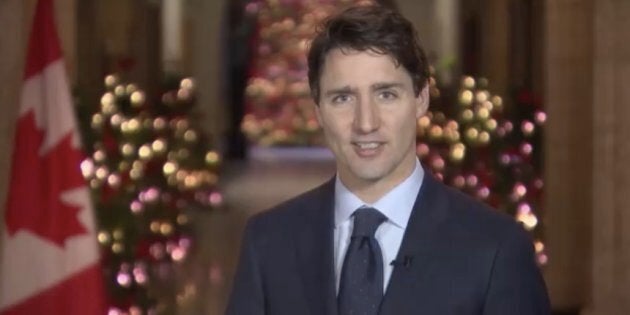 Prime Minister Justin Trudeau urged Canadians to give back to their communities and plugged his own government's initiatives in a Christmas Eve address on Sunday.
"As the 150th anniversary of Confederation draws to a close and we turn to the new year, we all have a role to play in shaping our world for the better," Trudeau said in a video. "So this season, and on into the new year, let's commit to making a difference: whether it's lending a hand to a neighbour or volunteering for a cause we believe in, let's give generously and live out the values that bring us together."
He also mentioned several landmark efforts made by his Liberal government in the past year.
"This year, our government made important progress for families throughout Canada, from strengthening the Canada Child Benefit and investing in early learning and child care, to advancing reconciliation with Indigenous peoples and working for gender equality and lowering the small business tax rate so entrepreneurs can invest back in their communities and create good jobs for the middle class and those working hard to join it," Trudeau said.
The Christmas break comes as both Trudeau and his finance minister are embroiled in ethics scandals. This week, the federal ethics commissioner found that Trudeau broke conflict of interest rules when he vacationed on the Aga Khan's private island last Christmas. Finance Minister Bill Morneau is also being investigated by the ethics commissioner over questions about how he's handled his substantial personal investments.
Thirty-eight per cent of respondents told Ipsos they would vote for the Liberals tomorrow, while 31 per cent said they'd vote for the Conservatives and 20 per cent for the NDP. The poll was conducted between Dec. 10 and 14, before news broke that Trudeau had violated ethics rules.
Gov.-Gen Julie Payette also posted a Christmas message to Canadians. Payette, who serves as commander-in-chief of the Canadian Armed Forces, focused on military families.
"You have worked tirelessly and shown courage, integrity and devotion in serving Canada," Payette wrote. "Whether you are deployed internationally or serving right here at home, we recognize your sacrifices and are profoundly grateful for everything you do."