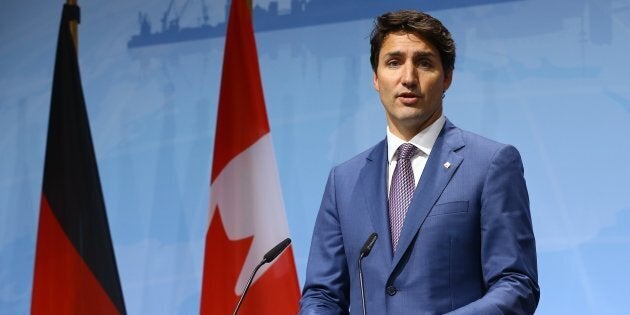 Canada is not immune to the type of racism and hatred that led to three deaths in Charlottesville, Va., Prime Minister Justin Trudeau said Sunday.
Trudeau did not make an official statement about the deadly clashes between white supremacist activists and anti-fascist protesters, but took to Twitter to condemn the "racist violence."
The "Unite the Right" rally on Saturday is believed to be the largest meeting of American white nationalists in a decade. Nazis and Klu Klux Klan members met with other white supremacists, some of whom dressed in militia uniforms and openly carried guns.
A car rammed into demonstrators at a counter-protest, killing 32-year-old paralegal Heather Heyer, and injuring more than a dozen others. Twenty-year-old James Fields Jr. was arrested and charged with murder.
Two state troopers were also killed when a police helicopter crashed about 11 km from the violent rally. The pilot, Lt. H. Jay Cullen, 48, and Trooper-Pilot Berke M.M. Bates, who would have turned 41 the following day, died at the scene.
The group is "alt-lite" — a tamer version of the racist U.S. groups that describe themselves as "alt-right" — says Will Sommer, a Washington, D.C. journalist who writes a newsletter about conservative media.
"They tell themselves it's like the Elks Lodge or the Knights of Columbus, but there's this political element... there is a violent aspect to it, though they say it's all in self-defence."
The "alt-right" label has been embraced by some white supremacists to differentiate the movement from traditional conservatism. The actions of those who identify themselves with the label are motivated by a hate-driven blend of racism, white supremacy, and populism.
To join the group, prospective Proud Boys declare, "I am a Western chauvinist who refuses to apologize for creating the modern world," the Canadian Press reported. Existing members then pummel the recruit as he tries to recite the names of five breakfast cereals.
"They are definitely worth keeping an eye on," says Sommer.
Popular in the Community