When Kayleen Gardiner answered her phone on Thursday morning, she was "pretty shocked" to hear the other voice on the line.
After all, it's not every day you get a phone call from Prime Minister Justin Trudeau.
Gardiner, who lives in Cambridge, Ont., sent a letter to the prime minister's office a couple of weeks ago, sharing her opinions on immigration and Canada's acceptance of refugees.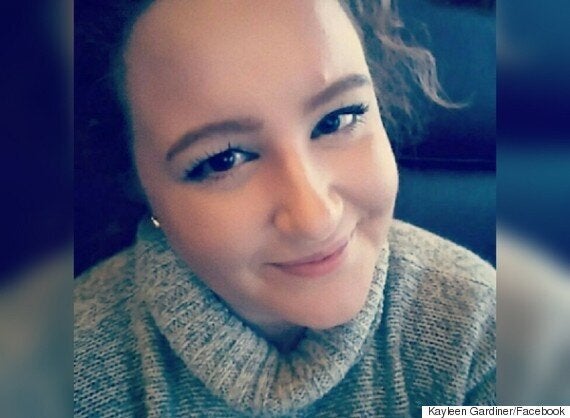 "I was hearing in the news that people with visas and green cards were being denied entry (into the U.S.). All I could think was, how is it possible that we live in a country that took in 40,000 refugees, and we are neighbours with one that is keeping so many people out?" Gardiner told The Huffington Post Canada in an email.
Her letter detailed the heartbreak she felt last spring while travelling in eastern Europe, where she saw Syrian refugees camped out along the Serbia/Hungary border.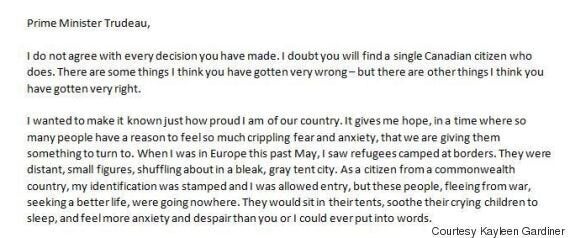 "They were distant, small figures, shuffling about in a bleak, gray tent city," she wrote to Trudeau.
"As a citizen from a Commonwealth country, my identification was stamped and I was allowed entry, but these people, fleeing from war, seeking a better life, were going nowhere. They would sit in their tents, soothe their crying children to sleep, and feel more anxiety and despair than you or I could ever put into words."
Her letter was read by Trudeau's office, and sent up the chain until it landed in front of the prime minister.
Trudeau, it turns out, has been responding to people who have sent him correspondence, tweeting a photo of him making phone calls to Canadians.
"We discussed everything going on with the United States, and how Canada needs to be a leader in this," Gardiner told HuffPost Canada of her conversation with Trudeau.
He agreed that Canada must "handle our relationships with our allies diplomatically but we need to take a stand and show them that we will not budge," according to Gardiner.
After their conversation, Gardiner shared the details of the "pretty great call" with her Facebook friends.
"It gives me hope, and fills me with pride, to know that the leader of our country cares enough to personally read a letter I wrote to him, and then took the time to reach out to me to discuss it," she wrote.
While "it's hard to agree with every decision a politician makes," Gardiner said she's "always liked" Trudeau and called him a "positive change for Canada."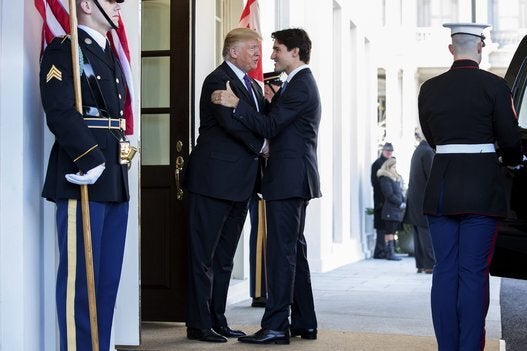 When Trudeau Met Trump