OTTAWA — The fight over which federal political party best defends the interests of the Jewish community got nasty Friday when Conservatives slammed Liberal Leader Justin Trudeau for comments falsely attributed to him.
Conservative MP Joyce Bateman criticized Trudeau in a press release for attacking Prime Minister Stephen Harper's defence of Israel. Bateman cited a recent interview that Trudeau gave to the Iranian community newspaper Salam Toronto.
"Trudeau argued that Canada should take a more 'balanced line' regarding the Middle East, signifying a shift away from support for Israel," Bateman's news release said.
"Justin Trudeau is proclaiming his desire to befriend a radical regime that is determined to destroy the state of Israel," she added, referring to Iran.
An unedited video of Trudeau's interview with Salam Toronto, however, backs his office's assertion that the Liberal leader never made those comments.
In the video, Trudeau accused Harper of developing foreign policy positions based on whether they will help the Tories' electoral prospects in Canada.
The Liberal leader also professed concern that the Conservatives could not differentiate between the citizens of Iran and the Iranian government.
In a discussion about the closing of Canada's embassy in Tehran, Trudeau said he believes "it's especially important to talk to regimes that you disagree with and that disagree with you, to make sure there is [a] means of communication."
A Toronto Hebrew blog picked up on the interview, and an Israeli news site subsequently reported on it. The news site, Arutz Sheva, wrote that Trudeau accused Harper of "pandering" to Jewish voters and suggested Trudeau wanted closer ties with Iran.
Conservative MPs Scott Armstrong, John Weston and Heritage Minister Shelly Glover repeated the Israeli site's interpretation of the interview in the Commons on Friday. Foreign Affairs Minister John Baird accused Trudeau of pandering for votes with the Farsi media.
Watch video of Armstrong's comments above and Glover's statement below.
In an email to friends, billionaire Gerry Schwartz also referred to the erroneously reported comments.
"Trudeau will not be good for us," the Onex chairman wrote Friday afternoon.
"Here is what he told a CDN/Iranian newspaper: Moreover, Trudeau also took aim at Stephen Harper's staunchly pro-Israel stance, saying that Harper is pandering to the Jewish vote. He cited the need for taking a more 'balanced line' in the Middle East."
When contacted by The Huffington Post Canada, Schwartz said he believes the Liberal leader and his aides if they say Trudeau did not make negative comments about Canada-Israel relations.
Stephen Lipper, a prominent member of the Jewish community in Canada, sent the Arutz Sheva story to approximately 100 people on his mailing list Thursday. He told HuffPost that he regretted it and that he had issued two corrections since the story "grossly distorted" Trudeau's comments.
"It is disturbing if opinions are now being expressed that are untrue and are [being done] so for political advantage," he said.
Lipper said he thought the article was concerning and a "red flag" so he sent it out with a caveat that "Arutz Sheva has an ideological agenda" and that the claim may need clarification.
Several Liberals were quick to contact him, Lipper said. In an email to his readers, he said the clarification should be greeted with a sigh of relief.
"I have never believed in wedge politics, especially when it comes to Israel," he wrote.
"I have always stressed that pro-Israel policies should belong to all Canadians and all parties," he added, noting that both Trudeau and NDP Leader Thomas Mulcair were "positive on the subject of Israel."
If Trudeau's comments in Arutz Sheva had been true, Lipper said he would have "carried on forever" about them.
"I"m not a Harperite or a Trudeauite," he said, in a phone conversation. "My position is very pro-Israel, but neither of the right nor of the left."
"Once you hear the tape, you realize that people are trying to make an issue that doesn't exist," Lipper added.
"Yes, he's critical of Harper, who takes a pro-Israel, pro-Ukrainian position. And Trudeau accuses him of doing this for domestic political reasons – which he has long done and which the Liberals have long done, so there is nothing new there.
"I never heard such a dull interview that created so much fuss."
-With files from Ryan Maloney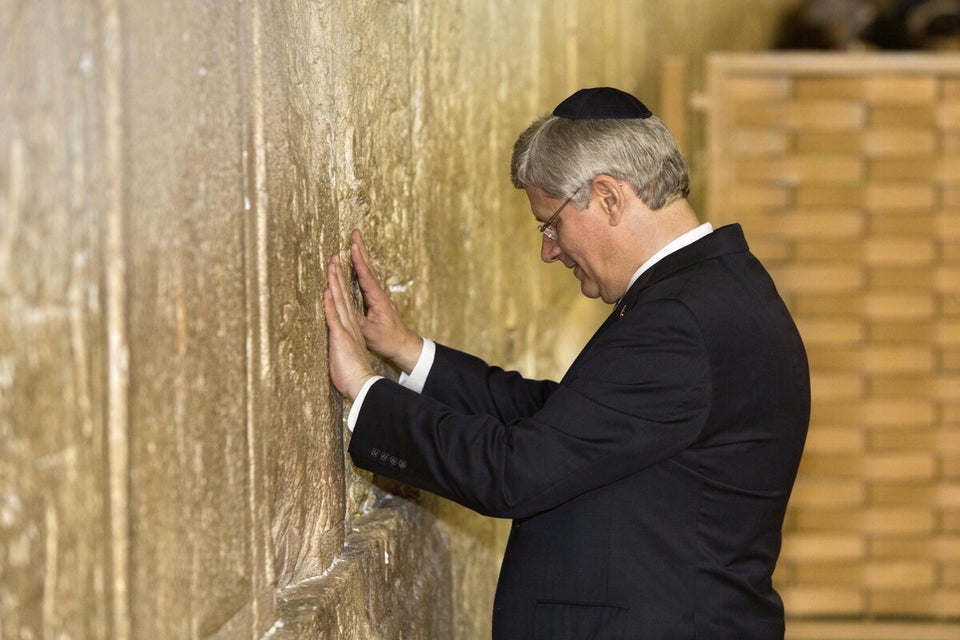 Stephen Harper's Middle East Trip