OTTAWA — Graphic postcards of a bloody aborted fetus next to Justin Trudeau's face are making their way to the mailboxes of Canadians living in swing ridings — and disgusting some residents who have already received them.
Mississauga, Ont., resident Shondie MacKenzie told The Huffington Post Canada she was grateful her 10-year-old son wasn't home when the gory postcard was delivered.
"I was just so shocked when I got it, it was so graphic and so unexpected," she said.
MacKenzie, who voted for Prime Minister Stephen Harper in 2011, said she was so outraged she called the Liberal candidate's office and her Conservative MP Bob Dechert asking if he could refer the matter to the police.
"I just feel it is a violation of my personal property and personal space, I don't want to receive these kind of messages to my home," she said.
The postcards, which state "Justin Trudeau Supports Abortion Until Birth," are from anti-abortion group Campaign Life Coalition (CLC). They are designed to shock voters, encourage the Liberals to change their stance on abortion rights and elect more Conservative candidates, the group said.
"Abortion is shocking. It just depicts what is happening," CLC's spokeswoman Alissa Golob told The Huffington Post Canada Wednesday. "Nobody is doing anything to stop these human rights violations, so when we expose injustice, it inevitably becomes intolerable."
Campaign Life Coalition hopes to pepper 20 swing ridings with the shocking material, although it would not say which ones, citing the safety of their paid delivery staff and volunteers.
The goal is to deliver one million postcards before the election call this fall. The group says it wants to educate and inform Canadians and discourage them from voting for Trudeau.
But MacKenzie said she thought the postcard campaign might backfire. "It almost makes me want to vote for him because I'm so angry about it."
So far, handouts have been dropped in Mississauga and the greater Vancouver area – places where Conservative candidates are in a tough fight with Liberals. CLC plans to target seats in the vote-rich Greater Toronto Area (GTA), mainland B.C., Saskatchewan and Manitoba. In addition to the postcards, Golob said CLC bought lists of phone numbers and plans to do make thousands of live telephone calls across the country.
The campaign, which is expected to cost hundreds of thousands of dollars, will run until the writ drops. There are no rules governing the amount of money or the types of activity third-party groups can engage in between elections. Rules kick in only once the election begins.
Campaign Life Coalition said it is not co-ordinating the campaign with the Conservative party but is working hand-in-hand with local Tory MPs and candidates.
"I think that a lot of candidates like the volunteering and campaign help, and they also like the support that our large database gives them," Golob said.
She said the group has been "very active" in Conservative nomination races, helping to nominate somewhere between 50 and 100 candidates.
"Our goal is to get as many pro-life candidates elected as possible," Golob said. "The only way that we can do that in this election is by getting Conservatives elected.
"Our mission is to stack the House with pro-life candidates."
Although Harper has been no friend to the anti-abortion movement — he voted against a motion to study the question of when life begins and has actively sought to discourage his backbench from introducing anti-abortion bills — Golob said the Tories remain the only home right now for anti-abortion activists.
"The greatest way that we can effect any type of change – even if we have a leader who is somewhat opposed to the message – is by filling his caucus with people who hold an opposing view," she said.
Her colleague, Matthew Wojciechowski, said the group is targeting Trudeau because he changed long-standing Liberal policy and froze anti-abortionists out of his parliamentary caucus.
Last May, just before the annual anti-abortion demonstration March for Life, Trudeau announced to reporters that no one who was not prepared to support abortion rights policies in the House of Commons would be allowed to run as a Liberal candidate.
CLC wasn't targeting NDP Leader Thomas Mulcair or his candidates, Wojciechowski said, because the NDP had supported abortion rights for decades.
"Mr. Harper hasn't been a friend to us," he said. "We are orphans at this point."
"By no means is this No2Trudeau campaign a pro-Conservative campaign," he added. "It's a campaign that is there to educate people on the issue and to remind them to encourage them to really support and encourage pro-life candidates, regardless of their party, even though the reality is such is that the Liberal party doesn't want anything to do with us."
Trudeau told reporters Wednesday that he didn't want to comment on CLC's or the Conservatives' political strategy.
"I'm perfectly comfortable with Canadians' knowing that the Liberal party is unequivocal in its defence of women's rights," he said.
Liberal candidate Omar Alghabra, whose Mississauga Centre campaign office received MacKenzie's call, said he was upset by the vulgarity of the postcards.
"Obviously, people have the right to lobby for whatever policy they want, but there are norms of respect and decency, and I feel these postcards cross the line."
Alghabra said he feels most voters will not agree with CLC's desire to criminalize a woman's right to an abortion.
On Thursday, thousands of Canadians are expected on Parliament Hill to take part in this year's March for Life. They will be noting that 46 years ago, the Liberals under prime minister Pierre Trudeau passed legislation that paved the way for legal abortions.
CAUTION: Graphic image below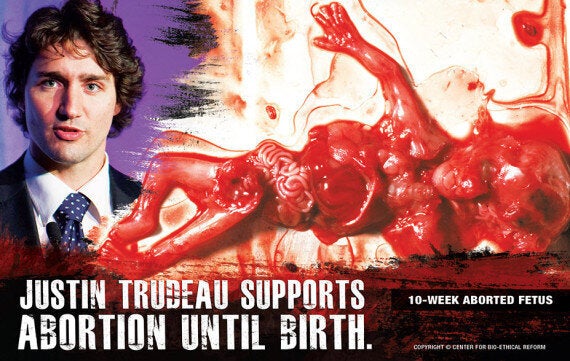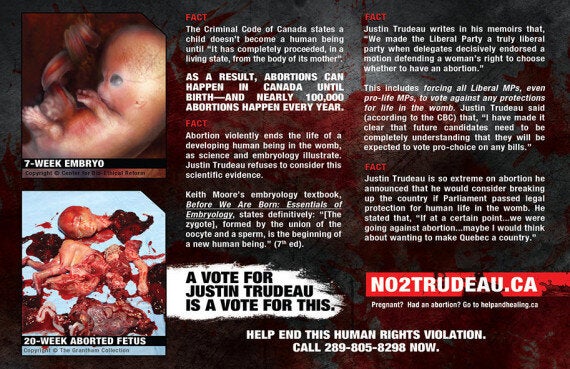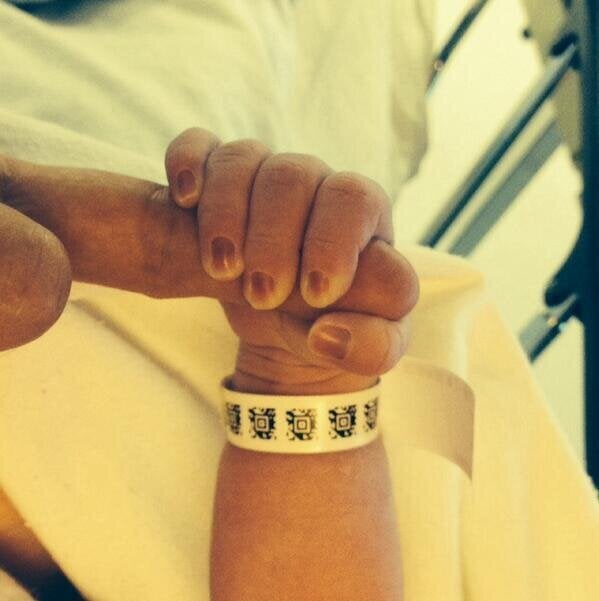 The Trudeau-Grégoire Family
Popular in the Community