Prime Minister Justin Trudeau continues his crusade in raising the equality bar.
On Saturday, he met the four millennial men behind Generation Y Not for an interview on feminism, and specifically how men can be more effective at it.
As part of it, Trudeau was asked to answer, in 10 seconds or less, what advice he would give men to become better feminists.
"There's lots of things you can do to be a better feminist as a man but here's a simple one: don't interrupt women, and notice every time women get interrupted in conversation," the PM said in a Snapchat video.
'Until it is met with a shrug'
Trudeau introduced a gender-balanced cabinet last year, and has stated he would prefer there was actually no response to the fact that he's a feminist.
"I'm going to keep saying loud and clearly that I am a feminist until it is met with a shrug," he said during a discussion on gender equality at the United Nations in New York last month.
Generation Y Not first caught Trudeau's eye in Ottawa last winter, not the least because they were wearing bright Christmas sweaters, said the prime minister's press secretary Cameron Ahmad.
But the group is about much more than loud sartorial choices. They turned their photo with the prime minister into a holiday card, with proceeds going to help Syrian refugees settle in Canada.
Matt Dajer, Thomas Brag, Derin Emre, and Ammar Kandil, who are all from various cultural and religious backgrounds, created a moving video after the Paris attacks last year. Three of them stood beside each other holding hands in a Montreal subway station, in front of them were signs that read, "These are my brothers. They cannot separate us."
The four social media personalities, who live in Montreal, run a YouTube channel and are planning a Snapchat Discovery show this summer. Trudeau's interview will air as part of the Snapchat project, likely in July.
Ahmad said the prime minister is always looking for ways to connect with younger Canadians through various social media platforms, like Snapchat.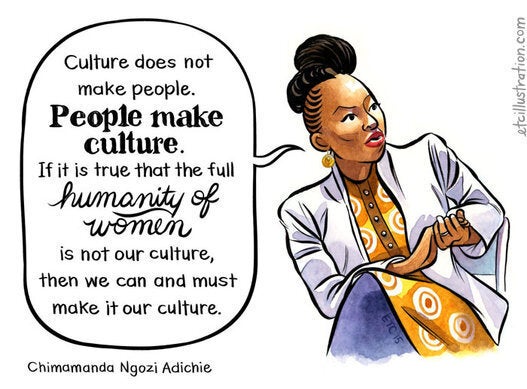 10 women on why feminism still matters
Popular in the Community