Prime Minister Justin Trudeau has changed the role gender plays in politics — and it has nothing to do with the 15 women in his cabinet.
Researchers in Ottawa analyzed more than 750 articles published during the last federal election campaign, and found a "striking" difference in how Trudeau was portrayed, compared to his rivals Stephen Harper and Thomas Mulcair.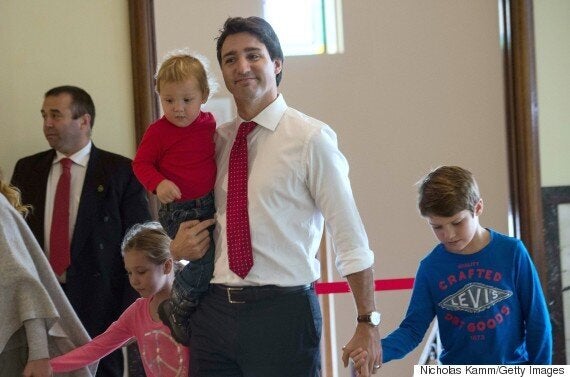 Justin Trudeau casts his ballot in the federal election with his children in Montreal on Oct. 19, 2015. (Photo: Nicholas Kamm/AFP via Getty Images)
Media often described Trudeau as "emotional" and "boyish," the study found. This was in stark contrast to the other major party leaders — Harper seen as "tough" and "strong" while Mulcair was described as "angry" and "aggressive."
"I think the Canadian electorate got somewhat fatigued with the aggressive, angry, tough approach and took a different direction," one of the study's authors Jerald Sabin told CBC Radio.
Sabin and co-author Kyle Kirkup will present the study for the first time next week at the annual meeting of the Canadian Political Science Association in Calgary.
Trudeau's image used against him
An effeminate portrayal of Trudeau has been a common thread in the Conservative party's narrative.
Just this weekend at the Conservative party convention in Vancouver, interim leader Rona Ambrose negatively referred to Justin Trudeau thinking he was the first female prime minister.
These ads were intentional attempts to undermine Trudeau's masculinity and hurt his standing with middle-aged men, a pollster told The Canadian Press. The masculine image is vital to maintain, Harper himself once admitted, saying he'd never be caught on a motorcycle with his wife driving.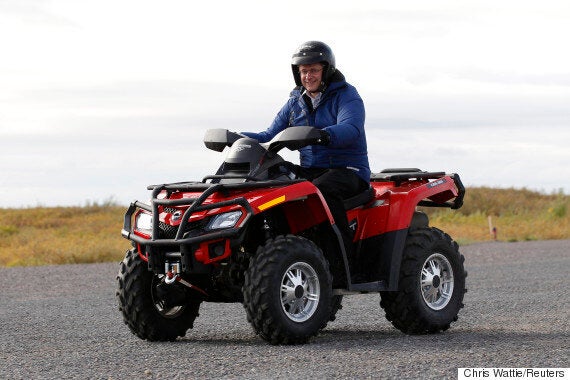 Former prime minister Stephen Harper rides an all-terrain vehicle at the airport in Tuktoyaktuk, N.W.T. on Aug. 26, 2010. (Photo: Chris Wattie/Reuters)
Trudeau may be perceived by some as less manly than other leaders, but his athleticism and toughness has still helped him out. A 2015 University of Toronto study found that Trudeau's portrayal in the media pivoted after he beat Conservative Sen. Patrick Brazeau in a charity boxing match.
"By engaging in performances of traditional masculinity, he created a new brand for himself," the study's author, Elise Maiolino, said at the time. That one fight took him from "pretty-boy lightweight" to "a man lauded for his 'toughness, strength, honour and courage,'" the study said.
The yardstick all Canadian politicians are measured by is still very traditional, and very male, the Ottawa researchers found. A perfect politician is a straight man — muscular, above six-feet-tall, "hopefully with a wife, 1.5 children, and a dog," Ian Capstick, Founding Partner and Creative Director of MediaStyle, told them.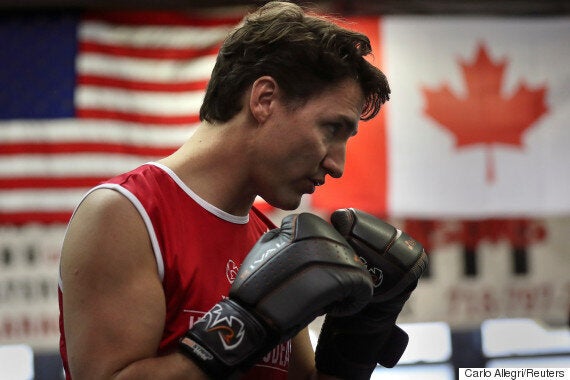 Prime Minister Justin Trudeau spars in the ring at Gleason's Boxing Gym in New York on April 21, 2016. (Photo: Carlo Allegri/Reuters)
Indeed, politics is still very much a man's game in Canada. A record number of women were elected to Parliament in 2015, but this only took women's representation up to 26 per cent.
Nearly 100 years after Agnes Macphail became the first female Member of Parliament, Canada is nowhere close to having equal representation for women in politics. One study estimated that women won't participate fully in Canadian politics and economics until the year 2240.
With files from The Canadian Press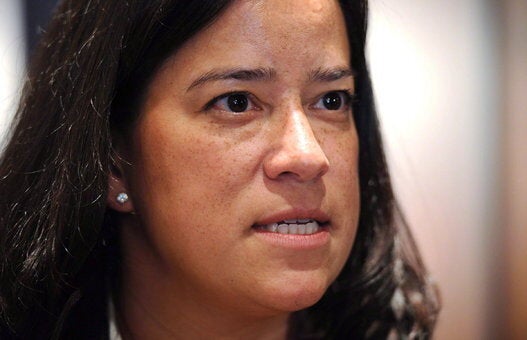 Liberal Women Appointed To Cabinet