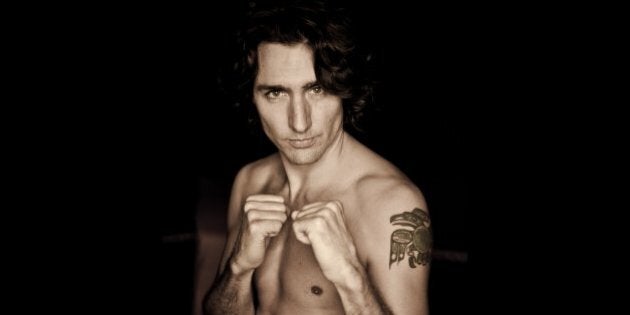 This week, the world learned something very important about Canada: our incoming prime minister is a hottie.
After Trudeau's surprise majority win, the international media turned into a bachelorette party at Chippendales. NBC called him Canada's "Boxing, Strip-Teasing New PM," and E! called him a "Smoking-Hot Syrupy Fox." The hashtag #DaddyTrudeau trended and shirtless photos of Justin flexing took over Twitter. Oh, and "PILF" is now officially a thing on the Internet.
Rather than bask in Trudeau's afterglow, many Canadians are offended by the international swoon. They would rather Canada be known for double doubles than double standards. "If the new PM were a woman and legions were drooling over her, Twitter would break with the outrage," tweeted Globe and Mail columnist Elizabeth Renzetti. A HuffPost Canada blogger wrote a piece titled "Why objectifying Justin Trudeau is not OK" and Chatelaine wondered "Are we allowed to call Justin Trudeau hot?"
The basic argument is that since women know the horrors of objectification, why would we inflict the same treatment on men? But the "same treatment" has a very different effect. When men comment on a woman's appearance, their words come loaded with centuries of discrimination and sexual violence.
If for all of history, men and women had been equals, then tweeting about Trudeau's chiselled jawline would be the same as saying Eve Adams has nice legs. But that's not how things went down. For centuries women weren't considered human enough to vote or work professionally. Now we're allowed to sit in cubicles, but we still don't receive equal pay. Until roughly 30 years ago, it was still legal in Canada to rape your wife. Women are still killed just for being women, and, in many parts of world, treated like second-class citizens with zero reproductive rights.
When a man says you have nice curves or tells you to "smile, because you're so beautiful" it often feels more like a threat than a compliment.
Maybe it's that male colleague who feels entitled to touch your hair or your face without asking. Maybe it's the man who yells "hey sexy!" from his car and then trails you closely as you scan the street frantically for the closest storefront. And those are the best case scenarios.
In Canada, half of all women have experienced physical or sexual violence, according to Statistics Canada. On average, every six days a Canadian woman is killed by her intimate partner, according to the Canadian Women's Foundation. Whether you've been a victim or not, every woman has walked down a street at night, clutching keys in her hand, worried she might be grabbed and sexually assaulted. Until most men also experience that fear -- and I hope they never do -- "objectification" is not an equal opportunity offender.
For the most part, conventionally attractive men are fawned over -- nice muscles! tight butt! hard abs! -- or relegated to the "dad bod" column, which is actually trendy thanks to celebrities like Leonardo DiCaprio and Jason Segal. That's not to say men don't have body image issues. They do, and at a higher rate than ever in the post-Jersey Shore world. But they don't receive constant criticism about their figures.
Psychologists at Dartmouth college found the number of votes a woman politician receives is linked to whether she can be "instantaneously categorized as female." The same correlation does not hold for men. Just ask Hillary Clinton or Kathleen Wynne, who have both beenasked about their pantsuits instead of their policies. Ask Conservative MP Lisa Raitt, who told CTV's Canada AM the toughest part about politics is "people commenting on weight, people commenting on what your hair looks like, people commenting on all kinds of things." Trudeau's manly good looks are a welcome surprise to our international friends. But, unlike female politicians, he is not expected to have them.
In a perfect world, the subtext to commentary about a woman's appearance would not be centuries of discrimination and sexual violence. It would feel harmless instead of lecherous to say "Hey, that CEO is pretty hot." But until we invent that time machine, objectification of the sexes will never be equal. My guess is that, in the meantime, Trudeau can deal with the praise.