Outgoing Prime Minister Stephen Harper also blasted him for it in January, when Trudeau rose during Question Period to slam the Conservative plan for income-splitting.
Trudeau asked, "Why does the prime minister insist on giving families like his and mine a $2,000 tax break?"
Harper responded, "Let's be clear, the vast majority of Canadian families cannot rely on a personal trust fund."
"I'm not middle class. I don't pretend I am," Trudeau told the newspaper.
His family's wealth dates back to his grandfather, Charles-Émile Trudeau, who owned gas stations in Montreal in the early 20th century, as well as real estate, part of an amusement park, and a Montreal baseball team, according to the Citizen.
Charles-Émile died when Justin's father, Pierre, was just 15. Pierre Trudeau inherited some of his father's money and later divided it among his children, so they could follow their passions and not have to enter business or law.
Trudeau and his younger brother Alexandre (Sacha) eventually received shares in 90562 Canada Inc., a corporation that managed a series of securities on behalf of the family, the Citizen reported.
As they grew older, the boys started receiving dividends that paid Justin alone as much as $20,000 a year in income supplements.
Trudeau and his brother also inherited a family home on l'Avenue des Pins in Montreal, as well as a summer home on a lake in Quebec's Laurentian Mountains.
Trudeau's income will increase once he's sworn in as prime minister.
As a party leader in the House of Commons, he was set to earn a salary of $224,000 this year (an MP's base salary is $167,400, while a party leader makes an additional $56,800), according to a 2015 list of Parliamentary indemnities, salaries and allowances.
The prime minister, meanwhile, was entitled to $334,800 for this year, not including a $2,000 car allowance.
Salary for the leader of the opposition is set at $247,500 for 2015. With Harper's resignation as Conservative leader, an interim head will be appointed.
If Parliament reconvenes in 2015, NDP Leader Thomas Mulcair stands to draw a salary of $224,000 as leader of the third party in the House of Commons. The list of indemnities, salaries and allowances doesn't show what politicians will make in 2016.
The move means that he doesn't know precisely what stocks he's invested in, and it allows him to avoid the appearance of a conflict of interest.
But it didn't stop him from being criticized by political rivals.
"The problem is, Justin Trudeau will never know what middle-class means," Mulcair said.
"He just doesn't understand the real challenges that families are facing. Never has. Never will."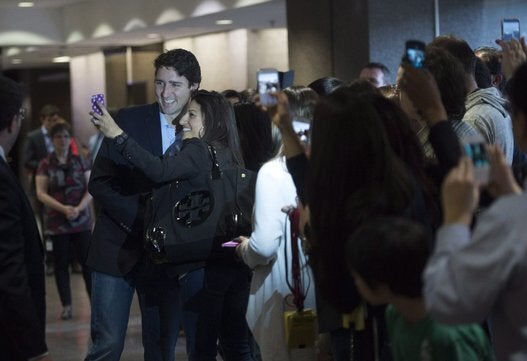 Justin Trudeau 2015