GEORGETOWN ROYALTY, P.E.I. — Justin Trudeau is out to earn your trust.
The Liberal leader's revelation to The Huffington Post Canada last week that he smoked pot three years ago while an MP is part of a strategy to show that he will be truthful with Canadians regardless of where his party stands in the polls.
HuffPost has learned that Trudeau is expected to tell several hundred Liberal supporters at a rally Wednesday in P.E.I. that he is not in politics to do whatever is needed to win, but rather to serve the public good, and that begins with earning people's trust.
Trudeau is expected to say that you know bad things are in Ottawa when people are talking about whether it is smart for a political leader to tell the truth.
Many Liberals believe they were kicked out of office and the party plummeted in the polls because the Grits lost the trust of Canadians after the sponsorship scandal.
Trust is key to getting Canadians on side, Trudeau is expected to stress, saying that, without it, the Liberals will not able to accomplish any of the things they want to do.
But what the Liberal leader wants to accomplish with that trust is still anyone's guess.
Trudeau told reporters Tuesday in Charlottetown, for example, that he is unconvinced that military intervention is the answer in Syria. He hasn't issued any policy announcements since June, when he proposed several ways to make Parliament more transparent and pledged that his MPs and senators would post their expenses online starting this fall. He told the media that his party is focused on themes of accountability and the economy, specifically helping to make Canada's middle class more prosperous.
Trudeau said most of the feedback he has received after revealing that he had smoked pot while holding elected office has been overwhelmingly positive, and he doesn't think it has hurt him.
He does not believe there is any political risk to being open and transparent, Trudeau said. "I was raised to always trust Canadians and have confidence in Canadians."
As he was shaking hands in downtown Charlottetown, most of the Canadians who went up to meet him and pose for pictures said that they were impressed with Trudeau's honesty and that his pot use doesn't bother them.
Story continues after slideshow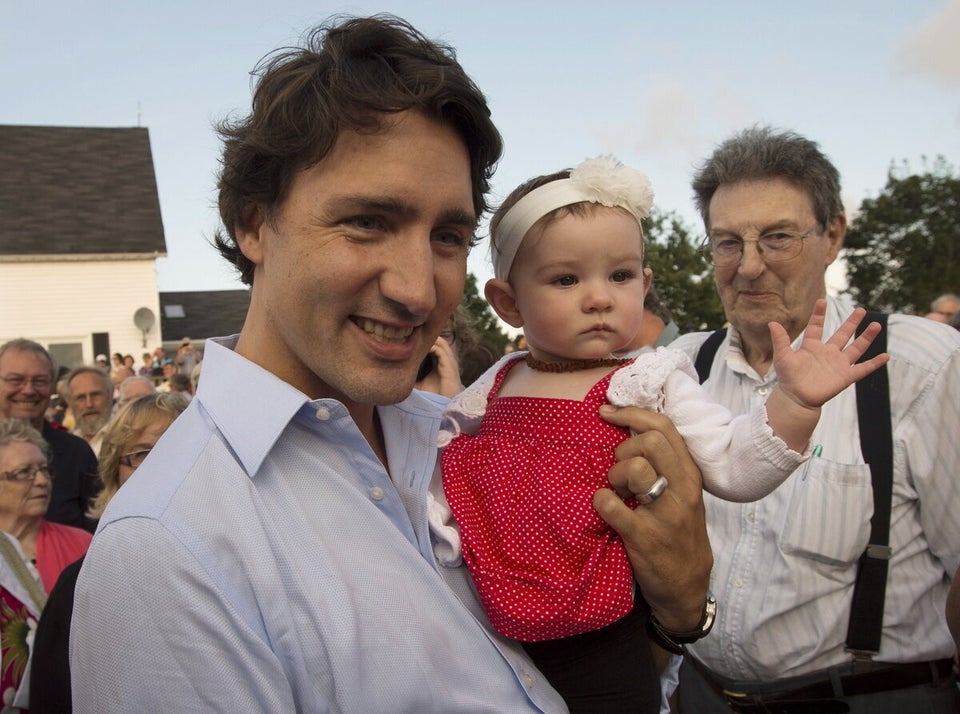 Liberal Summer Caucus In P.E.I
Lise Piekarski, from Saint John, N.B., shrugged when asked about his use of marijuana. "Six times in his life?" she said. Trudeau is charismatic like his father, former prime minister Pierre Elliott Trudeau, Piekarski said, and she feels she can trust him: "He's upfront and honest about it."
Thirty-year-old Jeff Moynagh doesn't think Trudeau's pot use is a big deal. "I smoke weed," Moynagh said.
"Think about it for a moment: When was the last time you had a leader you actually trusted? And not just the nebulous 'trust to govern competently,' but actually trusted, the way you trust a friend to pick up your kids from school, or a neighbour to keep your extra front door key? Real trust? That's a respect that has to be earned, step by step," he asked a crowd in his Montreal riding while launching his leadership bid.
Now, several months later after revealing details of his personal wealth, his paid speaking engagements while he was MP and his pot use, Trudeau said his openness will make it easier for Canadians to compare and contrast him to other political leaders.
"I am certainly trying to make myself look different from the type of politics that people have been suffering through for the past years," Trudeau told reporters Tuesday.
Politics that is based on spin and polling prevents politicians from standing up and speaking out on things they believe are wrong, Trudeau suggested, pointing out he was the first and so far the most vocal opponent of a plan by Quebec's government to ban religious headgear and other symbols from public places.
Trudeau said that plan discriminates against new Canadians.
"The careful politics that my NDP and Conservative counterparts are playing is irresponsible, and that is the kind of thing that there is going to be a lot more from me as a leader, and, yes, I hope that indicates the difference between the kind of politics and the openness that I am presenting and others," he said.
Several Liberals gathered at a golf course resort near Brudenell, P.E.I. for the party's summer caucus told HuffPost they believe Trudeau is giving Canadians something few have seen in a long time — an honest leader.
Liberal Senator Larry Campbell was skeptical at first but now thinks that Trudeau's message is resonating with people who feel they can approach him and get the unvarnished truth.
"Everything you do can't be seen as a pap to the masses, it has to be true, and I think that's what he's doing," Campbell said.
"This could have been disastrous for him, and it wasn't," the senator added.
"I don't think that [Prime Minister Stephen] Harper has a way of addressing this kind of 'Yeah, here I am with all of my warts' kind of thing," Campbell said.
Brian Rice, the Liberal party's president in British Columbia who is at the meetings to campaign for the presidency of the party next year, said Trudeau is walking the walk.
He's "not talking about it as much as just doing it," Rice said about the Liberal leader's desire to be more open and transparent.
"Leading by example is key, and I think that's why Canadians are responding to it," he said.
Cape Breton MP Rodger Cuzner told HuffPost that people are tired of being lied to by the prime minister on a number of files, such as the F-35 purchase, the Senate scandal and the skills shortages in Canada.
Harper will do whatever is needed to keep the government in power, even though his "pants have been on fire since he's taken the reigns," Cuzner said. What Trudeau offers, the MP said, is refreshing.
"Truth is novel in today's political atmosphere."