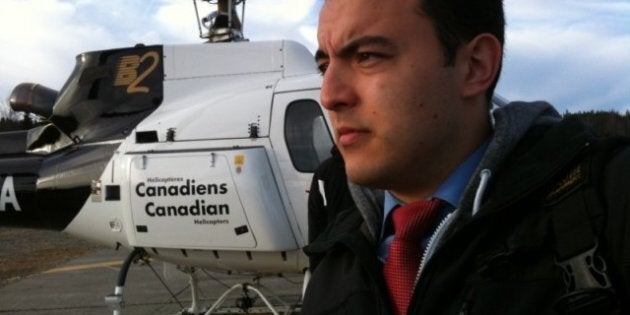 If you're a 24-year-old journalist in a big city working for CTV, you probably have the dream job of a lot of fellow journalists out there. Kai Nagata had that job as CTV's Quebec City Bureau Chief, based at the National Assembly. That is, until last Thursday, when he quit his job and wrote a lengthy, detailed and emotionally-charged blog post about why he did it.
The 3,000 word "cri-de-coeur" as some are calling it explained how Nagata had enough with television news. After working for big names in Canadian broadcast news like CTV and CBC, he now thinks of television news as shallow, superficial, ratings-driven and too heavily influenced by sexualization. "It's a vicious cycle, and it creates things like the Kate and Will show," Nagata wrote. "Wall-to-wall, breaking-news coverage of a stage-managed, spoon-fed celebrity visit justified by the couple's symbolic relationship to a former colony, codified in a document most Canadians have never read (and one province has never signed)."
In the post, Nagata was quick to explain that he has no party affiliations, but he has his opinions. Or at least, he had them: they were something he had to sign away in his employee contract in order to get a job with a national news organization. "I had a sinking feeling when I first read that clause," he writes, "but I signed because I was 23 and I wanted the job. Now I want my opinions back."
When Nagata wrote the post three days ago, he probably wasn't expecting the attention he got on Twitter, Facebook and in the comments of his entry. There are 527 responses to the blog entry, so far, with some commending Nagata for his bravery and honesty, while others calling him naive and left-wing.
"Please run for office!" wrote commenter Brett Gulanowski. "The word pietistic comes to mind...as the vomit wells up in my throat." wrote chriswhitehq. "Oh the world-weary wisdom of 24 year-olds!"
24 hours after Nagata wrote the post explaining why he left his job, he wrote another, thanking readers and supporters. He also said that in seeing the response to his entry, he discovered a few things about the sort of people who consume news.
1. People will still read a 3,000 word essay.

2. People can recognize truth and honesty.

3. People are thirsty.
Nagata says he's packed all the belongings he could fit in a truck to drive out west to Vancouver to spend some much-deserved time with friends and family. "I'm broke, and yet I know I'm rich in love. I'm unemployed and homeless, but I've never been more free," he writes. "Everything is possible."