The 14-year-old daughter of Cindy Crawford has just landed her first-ever fashion campaign, and we have a feeling there will be plenty more to come.
Gerber, who has appeared in CR Fashion Book, Teen Vogue and Vogue Italia, has been named the spring face of Chrome Hearts, a Los Angeles-based luxury accessories brand which features rock 'n' roll-influenced jewelry, sunglasses and leather goods. She follows in the footsteps of Gigi Hadid and Suki Waterhouse, who have both fronted campaigns for the brand.
Photographed by Chrome Hearts co-owner, Laurie Lynn Stark, the campaign is centered around a "youthful, yet timeless spirit," which CR Fashion Book says "couldn't better describe carefree Kaia, who we've always thought to be wise beyond her years." And dressed in head-to-toe black, Gerber definitely looks very grown up and beyond her 14 years.
"What a privilege it has been to watch Kaia blossom into her own," Stark tells CR. "Our families have been dear friends for so long so this was emotional for me—Kaia is an incredible talent, truly finding her own style as a model!"
Check out the rest of the campaign images below: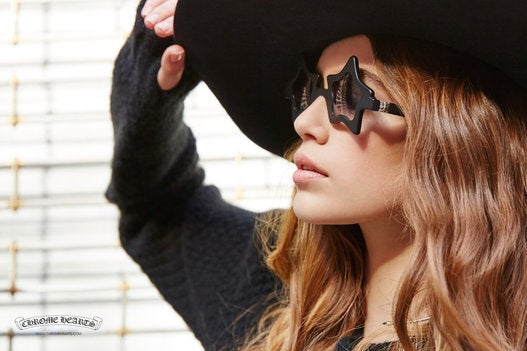 Kaia Gerber Chrome Hearts Spring 2016