UPDATE: Though West's interruption of Beck's speech appeared to be a simple joke, after the Grammys, he told E! Beck should have "given his award to Beyoncé." West's backstage rant also included a plea to "fight for creativity," and dubbed the Grammys "disrespectful." Click here to read his most recent statement in full.
Breaking news: Kanye West has a sense of humour!
Nearly six years prior, West famously interrupted Taylor Swift when she won the Best Female Video "Moon Man" for "You Belong With Me." He insisted the victory belonged to Beyoncé instead, whose "Single Ladies" music video was, in his mind, "one of the best videos of all time."
Making light of his boisterous reputation, West repeated this pattern and joined Beck at the microphone briefly, before flashing a knowing smile and hopping back to his seat. Yes, Beck beat Beyoncé too. Upon realizing West was just joking, Beck tried to usher him back to the stage before saying his thank yous.
But the rapper's fake-out even fooled longtime friend and collaborator — and Beyoncé's husband — Jay Z:
Prior to the show, West also made fun of his blank stare in last week's pre-Super Bowl Waffle House photo. The 37-year-old told E!'s Ryan Seacrest, "Yeah, that's my look!"
"Everyone knows it now! Not smiling makes me smile."
Did Kanye's stunt with Beck make you laugh? Sound off in the comments below: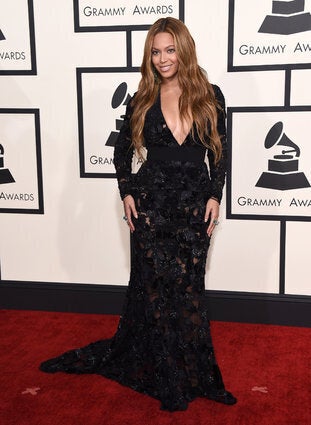 Grammy Awards 2015 Red Carpet
Popular in the Community