He's interrupted Taylor Swift during her acceptance speech, and announced his plans to run for President in 2020, and Kanye West created yet another memorable moment at the MTV Video Music Awards on Sunday by expressing humility in his own way.
"I am Kanye West, and that feels especially good to say this year," said West.
However, his message also extended beyond the video. Before its debut, West did what West does best, "talk."
"Now, later tonight, Famous might lose to Beyonce, I can't be mad," said West, before he lost "Video of the Year" to Beyonce. "I'm always wishing for Beyonce to win, so... But [I want] for people to understand just how blessed we are."
Then, he turned his attention to providing artistic justification for his controversial "Famous" video, which saw West and the likeness of other celebrities and notable figures, including Kim Kardashian West, Anna Wintour, Donald Trump, Caitlyn Jenner, and Taylor Swift naked in bed together. The video, which draws its inspiration from a Vincent Desiderio painting, also features Amber Rose and Ray J look-a-likes, as both were previously romantically involved with West and Kardashian West.
"It was an expression of our 'now,' our fame right now, us on the inside of the TV. You know, just to put, the audacity to put Anna Wintour right next to Donald Trump... I mean, I put Ray J. in it, bro! This is fame, bro! Like... I see you, Amber [Rose]."
"My wife is the sh-t, you know why. We came over in the same boat, but now we're in the same bed. Maybe different boats, but if you think about it, last week, there were 22 people murdered in Chicago. You know, like, people come up to me, like, "Man, that's right! Taking down Taylor," bro, like, I love all y'all. That's why I called her."
Later, West made connections to how the threat of gun violence can suppress creativity and ambition, and added that having role models and "thought leaders" can help nurture one's potential in their field, whatever it may be.
That's when the "Fade" video took over the screen. Singer Teyana Taylor stars in the short film, which sees her exercising vigorously around a neon-hued gym, much like Jennifer Beals' character Alex did to Michael Sembello's "Maniac" in the 1983 film, "Flashdance." Taylor is wearing a grey crop top and thong as she dances, and later, she joins her husband, NBA player Iman Shumpert, in the shower. Soon after, she morphs into a feline-faced centaur and the two pose in the nude in front of the exercise equipment with a group of sheep. It's provocative, much like his speech, where he compared himself to moguls like Henry Ford, Walt Disney and Steve Jobs.
On a night where Rihanna's many performances, Beyonce's numerous triumphs and Britney Spears' comeback dominated the headlines, it's fair to say West's appearance at the VMAs is the one that left the biggest impression on the audience, even though he went home emptyhanded.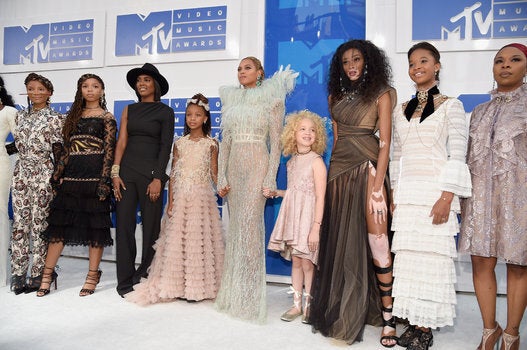 2016 MTV VMAs Red Carpet
Popular in the Community