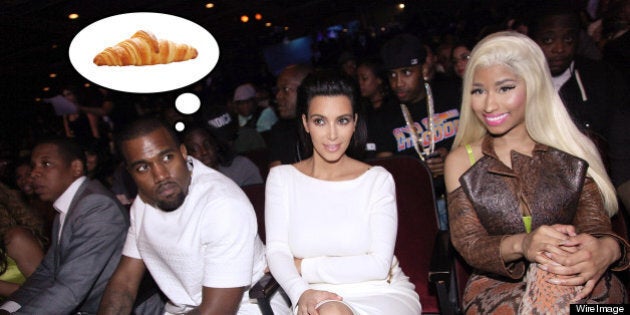 It was the menu order heard round the world.
Moments after Kanye West's new album "Yeezus" leaked, Twitter was already atwitter about a particular line from the third track "I Am A God."
Did 'Ye, one of the most clever and perceptive lyricists of our time, really just rap "At a French-ass restaurant / hurry up with my damn croissants?" Has he actually reached the point in his art where those flaky and buttery bits of crescent-shaped heaven are a necessary thing to discuss in song? Is he truly so God-like now that he can't spare a minute or two for the pastries? A good croissant takes time, after all. And is this possibly the least bad-ass boast in hip-hop history?
Long before North West's dad was using croissants as a symbol of his importance, impatience and French-ass restaurant attendance, musicians from all walks of life were using everything from buttered toast to cake to describe love, loss and naughty things. From the infamous melting cake from Richard Harris's "McArthur Park" to Sir Mix-A-Lot's rapturously described "Buttermilk Biscuits," flour-based muses have a long and storied history in music.
Here are the 10 tastiest tunes we could cook up: