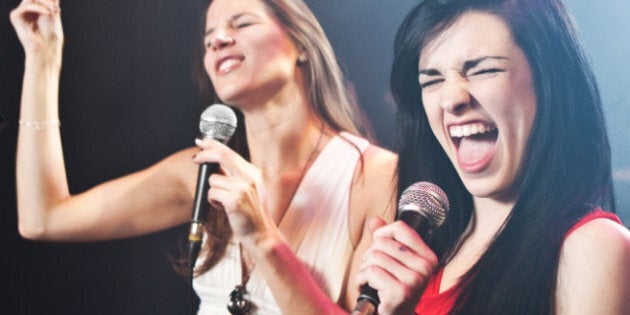 For some, karaoke is an art form; an opportunity to channel their inner songstress or rock 'n' roll star. But for those not blessed with strong pipes and pitch perfect voices, karaoke can be a humiliating ride on the public shame train.
However, it's inevitable that at some point in your life, you will unwittingly find yourself in a karaoke bar facing the fierce peer pressure from your friends to get on stage and sing.
Rather than awkwardly kill the party with your stage fright, HuffPost Music Canada has come up with a list of close-to-surefire songs that, if ideally performed at that point in the evening when the audience is good and drunk, will earn you high fives from strangers as opposed to a reputation as a stick-in-the-mud.
So find some 'liquid courage' and grab that mic! Here's 10 karaoke songs perfect for bad/novice/shy singers:
You can't really go wrong with this boppy surf rock track. The speak-songy lyrics will ensure a smooth ride.
Drunk Sing-Along Factor: 8/10
Bonus Perk: Flailing your arms to the music will distract people from the actual singing. Make sure you know the rhythm and say the words with campy Fred Schneider flourish.
A classic '80s rap, its rhymes are as slowly like molasses which ought to help the tongue-tied.
Drunk Sing-Along Factor: 7/10
Bonus Perk: A deep manly voice works well with this song. Eye the ladies coolly and nod to the beat.
The Proclaimers' 'I'm Gonna Be (500 Miles)'
Find a friend -- preferably the one that resembles you the most -- and shout this melodic Scottish chant in 4x4 time.
Drunk Sing-Along Factor: 8/10
Bonus Perk: Up the ante by making your buddy harmonize.
The Ramones' 'I Wanna Be Sedated'
Punk rock isn't really known for vocals, it's sonic democracy at its best in some ways -- anyone can sing "I Wanna Be Sedated," as long as you get the attitude right. And have a leather jacket. That helps.
Drunk Sing-Along Factor: 8/10
Bonus Perk: Being a short, fast punk song, screwing up the words don't actually matter.
Joan Jett's "Bad Reputation"
Empowered gal rock will always get a sympatheticly fist-pumping audience. Just don't forget to snarl.
Drunk Sing-Along Factor: 8.5/10
Bonus Perk: It's all about pose and swagger, so toss that hair and sing it like you mean it and scream "I don't give a damn about my reputation." You might even gain some cred.
This is quintessential Van Halen -- a headbanging rock song with simple lyrics, a great melody and carpe diem fist pumping slogan.
Drunk Sing-Along Factor: 9/10
Bonus Perk: It's mostly about the guitar solo anyway, so as long as you air guitar along to EVH you're fine.
Rolling Stones' "Satisfaction"
This is one of the best known songs in the world. If you mess up, the audience will help.
Drunk Sing-Along Factor: 10/10
Bonus Perk: Pucker those lips, swing those hips and shuffle across the stage with moves like Jagger.
Bon Jovi's "Dead or Alive"
Singing this song makes you feel like a lone ranger, standing before the abyss of a desert, strong, rocking forever. Seriously, Bon Jovi is a karaoke killer and if you're having trouble with this one, just say "c'mon everybody, sing it" and your posse will back you up.
Drunk Sing-Along Factor: 8/10
Bonus Perk: Make sure you tease that hair, wear your Sunday's best snakeskin pants and stand close to the smoke machine.
Describing a confused moment that a few men have accidentally stumbled upon, Lola is an ode to a hot transvestite.
Drunk Sing-Along Factor: 4/10
Bonus Perk: It's a talk-sung story, so the required skill level is low. Plus, it's designed well for crowd participation and incredibly fun to roll those L's and shout "Looooo-la."
Madonna's "Like a Virgin"
No karaoke list will be complete without Madonna. Dead-panned or not, "Like a Virgin" is bubblegum girly pop at its best and there'll be lots of audience participation.
Drunk Sing-Along Factor: 10/10
Bonus Perk: Own it by voguing along with a bustier top, blonde wig and sass.
Do you have a go-to song for bad karaoke singers? Sound off in comment section below or tweet us your answer @HuffPostCaMusic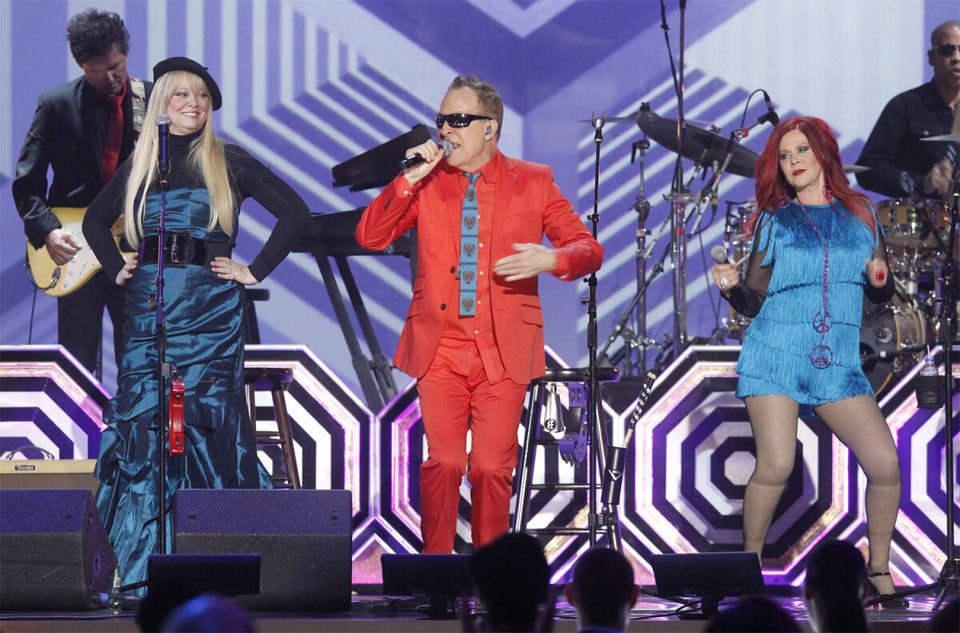 Good Karaoke Songs For Bad Singers