 Art Is Power: A bi-weekly column where Che Kothari, renowned photographer & executive director of Manifesto, asks artists to succinctly define the power of art.
Ask an artist like Kardinal Offishall to talk within the theme "Art is Power" and then sit back, 'cause you know he's going to tear it up.
Kardi was one of three keynote speakers kicking off a celebration for the 20th anniversary of the Fresh Arts Program, a cultural organization devoted to the empowerment and development of young artists from diverse walks of life. Kardinal himself participated in the program back in the day, as have many others who've gone on to great success: Jully Black, Trey Anthony, d'bi.young.anitafrika, Saukrates, Director X, just to name a few. It just so happened that the Fresh Arts anniversary coincided with the 6th annual Manifesto Festival (we like it when the planets get all lined up nice like that) and coming together felt right. The importance of giving young artists not only tools, but also a platform from which their voices can resound, is a belief both organizations passionately share.
One of the most profound ways artists and community leaders can support youth in their creation of art and community is to enter into dialogue with them. Listen. Share ideas. Manifesto's musical director Wan Lucas and I were exchanging thoughts about how we define the power art has in our lives, and it seemed a great question to ask of our leaders.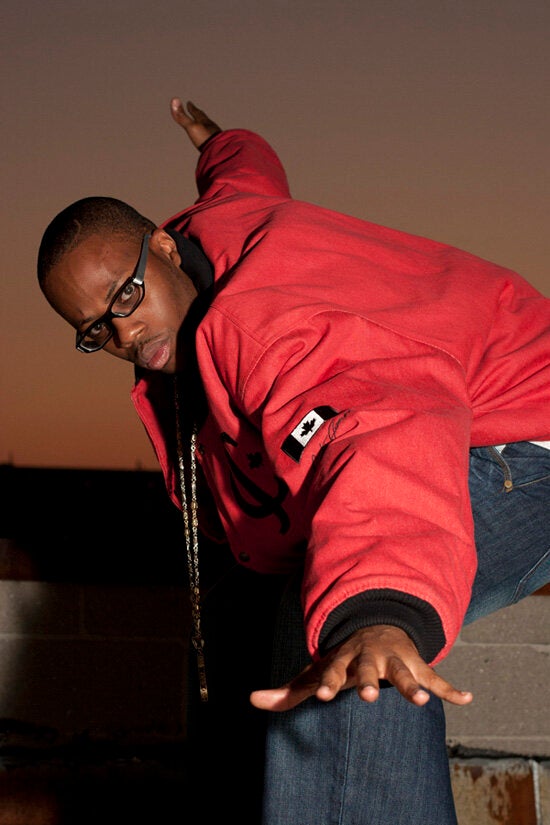 Here's what Kardi threw down at the keynote address:
Power is frequently defined by political scientists as the ability to influence the behaviour of others, with or without resistance. The term "authority" is often used for power perceived as legitimate by the social structure. Power can be seen as evil or unjust, but the exercise of power is accepted as a regular practice to humans as social beings. In the corporate environment, power is often expressed as upward or downward. With downward power, a company's superior influences subordinates. When a company exerts upward power, it is the subordinates who influence the decisions of the leader.
(His emphasis, and yeah, I dig it too.)
So when art is power, who is the true person that exercises power? Is it the artist him or herself? Or do the subjects and people that the artist is trying to capture really have power or authority over the artist, in order for the art to stay authentic and progressive? Art is defined as the quality, production or expression of what is beautiful, appealing, or of more than ordinary significance.

It's interesting that the theme of today is "art is power," because there is always a struggle within defining art and defining real power and who is really in control.

My music is constantly redefining itself, and I am often engaged in a power struggle between my responsibility to the fans, my family, my culture, society, and my responsibility to being true to myself and expressing what I really feel everyday. Fortunately (or unfortunately) I have recognized from an early age that with delivering art that the masses deem great, there is power that comes with that. More important than the power tho, is the responsibility factor. Many in the entertainment business reject the notion that with power comes great responsibility. They fall back on the age-old notion that just because they acquired positions of power due to their popularity, doesn't mean that they should be forced to be responsible for the art that they have expressed or its affect on the masses. Artists have often rejected the position of "role model" when it does not coincide with what they wish to do with their lives. I feel what they need to realize is that with the power they gain from their art, they are now transformed into either good or bad role models. Period.

That's just me, though. Like art, power, authority and responsibility is all objective. Whenever you feel a certain piece of art is the greatest composition ever, there is someone who will give you a million reasons as to why another composition is greater. The same goes for power: one can be seen as powerful, but the measure of power is only as accurate as the context. Meaning that in the context of a drug kingpin's neighbourhood, he may be extremely powerful... but in the context of the city, or maybe compared to the mayor, or the prime minister, he may be seen as someone who is without any true power.

The funny thing about art being power, is that through art you can broaden the context and change definitions indefinitely. Through art that drug kingpin can become a musician or director or photographer, and now have authority over many more people than the mayor or prime minister. An example like that is where you see art as real power. Art can be used to change one's socio economic status in life, far quicker and with a better result than formal education. KRS1, Public Enemy, ATCQ, 50 cent, Jay-Z, Barry White, Michael Jackson, Ray Charles, Bono and many others may not have been able to affect so many lives if their art hadn't given them a direct line to the people. Maybe if they had become politicians we would have never been exposed to things that have changed the ways that we look at life on a daily basis.
(Which is why programs like Fresh Arts need and deserve government funding.)
Art is an expression that is supposed to be of more than ordinary significance. I challenge everyone who claims to be an artist to challenge themselves daily. When faced with power, accept the ways of the extraordinary. If you are to be defined by your art, make sure that the definition of who you are is one that exudes undeniable excellence.
Take in one of my favourites from Kardi...Ol' Time Killin':