It appears Toronto mayoral candidate and Coun. Karen Stintz has indeed moved past the lewd comments Rob Ford made about her just a few months ago.
On Wednesday, Ford showed up unexpectedly at the ribbon-cutting for a new playground park in Stintz's ward. But while the mayor may have been attempting to steal her thunder, Stintz challenged him to a friendly climbing race that she easily won.
The Toronto Sun captured a photo of her moment of triumph.
While Stintz was a good sport about Ford crashing her event, at least one local resident told The Sun's Don Peat it was inappropriate.
"I think there is a lot of people — Karen Stintz's staff, city staff the (park) working committee — here who really deserve the recognition and credit," he said.
And while the video of Ford struggling up the equipment made for more fodder for U.S. comedian Jimmy Kimmel, the smiles shared between these two rivals could be the real story.
In late April, The Sun released an audio recording of the mayor making vulgar remarks about Stintz in an Etobicoke bar.
"I'd like to f**king jam her, but she don't want it," he said.
Ford took a leave of absence and headed off to rehab after the story broke in tandem with a report from The Globe and Mail about Ford again getting caught on camera smoking crack cocaine.
"I did have to tell my children going to school today that the mayor said some mean things about their mommy," she said.
In his first speech after returning from a two-month stint at GreeneStone rehabilitation centre, Ford singled out Stintz in his mea culpa.
"To my fellow councillors and especially to Karen Stintz, for my hurtful and degrading remarks, I offer a deep-felt apology for my behaviour," Ford said.
But Stintz was unsatisfied, telling reporters at the time that Ford needed to speak with her directly. "If the mayor wants to apologize to me, he's got my number and he can call," she said.
It appears the mayor did reach out in some manner, as she told CBC News a few weeks ago she now considers the matter "closed."
Stintz even showed up at Ford Fest last weekend, wearing a T-shirt from her campaign.
But if you believe the polls, it seems Stintz is not in a position to waste any photo-ops. According to the latest numbers from Forum Research, Stintz is sitting at six per cent support in the mayoral race and in fourth place behind Olivia Chow, John Tory and Ford. She insists, however, that she will be on the ballot on Oct. 27.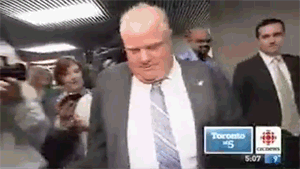 Best Rob Ford GIFs