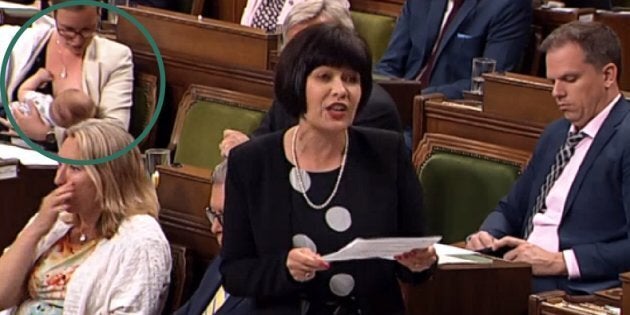 It's a situation any new mom might find themself in.
You're doing something important, or in a public place, your baby is hungry ... and in danger of getting hangry. It's a baby, so it doesn't listen to reason when you try to explain that mama is busy right now, and that it's not necessarily the most convenient time to whip out a bottle or a boob.
So, what do you do? You feed your baby, even if you're a cabinet minister, it's the middle of question period, and the entire country is watching.
"Baby's gotta eat & I had votes," Democratic Institutions Minister Karina Gould tweeted about her experience breastfeeding her son, Oliver, in the House of Commons on Tuesday before voting on government legislation immediately after question period.
"Clearly still work to do," she noted, before thanking her colleagues for being supportive.
While many of the online reactions to Gould were extremely positive — with some women thanking her for breaking barriers and paving the way — other critics were slightly less enthusiastic about the MP's decision to meet the most basic needs of her hungry baby (and the breastfeeding recommendations of the world's top health experts) by feeding him.
Some suggested she should have covered up.
Others thought she should have left the room.
Some thought it was an abuse of power ... wait, how? Well, OK.
And some feared this could lead to the slow and steady decline of society.
One exchange even got a little heated.
It's worth noting that, for nearly every tweet criticizing Gould, another tweet defended her. For instance, Dr. Shannon Sampert, an associate professor at the University of Winnipeg, put forth a valiant effort to shut down some of the critics.
"Being a cabinet minister is good training for being an early parent," Gould said in May, when asked if she was getting any sleep as a new mom.
"The Government of Canada strives to support all Canadians who wish to have a family and a career, and we are proud to congratulate Minister Gould on being the first federal cabinet member to give birth while in office."