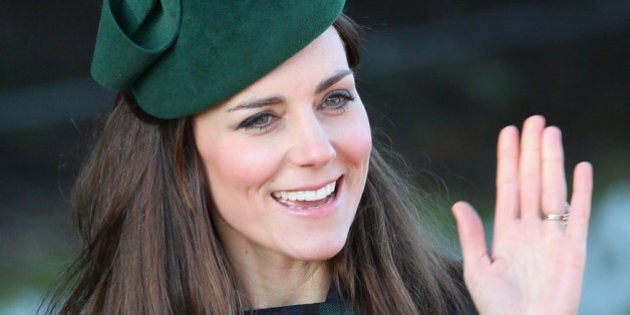 While many of us celebrated Christmas in our best pjs and slippers, Kate Middleton celebrated in style, natch.
The Duchess of Cambridge was seen in two regal, weather-appropriate outfits on December 25. She paired a slim-fitting cream-coloured coat with a red tartan scarf and tall boots to join Queen Elizabeth and the royal family for a private church service on the Sandringham estate in Norfolk, England.
Later, for the official Christmas service at St. Mary Magdalene church, Kate and husband Prince William looked relaxed and happy as they held hands and greeted the crowds of onlookers. Catherine opted this time for a dark-green and blue tartan Alexander McQueen dress coat (a repeat, which is very Kate), paired with a matching green Gina Foster hat. Prince William added a dash of holiday colour with a red tie that stood out against his heavy wool coat.
See what the royal couple did there? They successfully pulled off wearing Christmas red and green without looking the least bit garish. Truly, they are not just like us!
Noticeably absent from the public festivities, however, was the royal star of 2013, baby Prince George, who was reportedly at home playing with the wrapping paper (Yes, OK, this sounds a little more familiar).
OK, OK, maybe they're just the tiniest bit like us. Take a look at the photos below and decide for yourself. We'll be here, in our jammies.