October is almost upon us (where did the summer go??) which means it's nearly time to put away our dresses, skirts, tank tops and flip flops and switch to our fall gear.
But before you go rushing off to Joe Fresh, stay with us for a few minutes to hear out our ideas for your fall fashion 2013 wardrobe, inspired by one of the most glamorous and accessible women we know: The Duchess of Cambridge herself, Kate Middleton.
So, to help you get started on fall 2013 shopping, here are some tips we can take from Duchess Kate.
Story continues below the slideshow: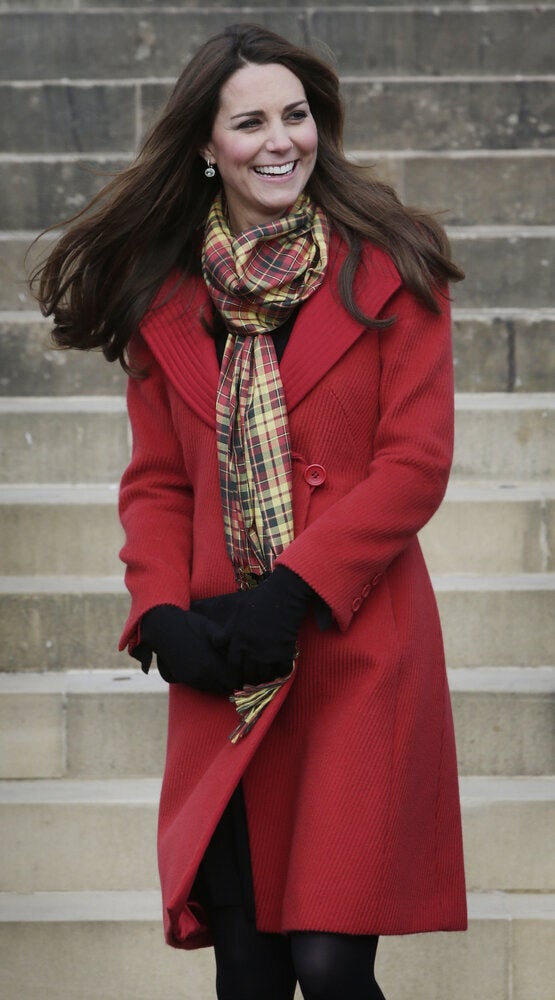 Kate Middleton's Style
If the Duchess can teach you anything, it's that a tailored coat will do wonders for your figure. Take the red Armani she wore on her trip to Scotland; it skims but doesn't pull at the body, giving her a classic and flattering silhouette. So if you see a coat you love, take it to a tailor and they will make it look as if it were made for you alone.
4. But Don't Be Afraid To Embrace Monochrome
So you don't feel like wearing the colours of the rainbow? No problem, Kate has you covered. Black is easy to wear but if you're looking to find something a little different, try an off-white colour, a dark tartan or a navy.
We love tartan partly precisely because it can contain our favourite fall colours: red and orange. Kate Middleton wore a swoon-worthy tartan scarf back in April to match her tailored red coat. But tartan doesn't have to be the colours of the maple leaf in October; take the cute blue-and-grey mini tartan coat Kate wore while she visited Scotland earlier this year. The best thing about tartan? It's a great alternative to dull blacks and greys.
7. Collars Aren't Just For Kids
Scarves are a no-brainer when it comes to the fall (it can get pretty chilly), but rather than throw on a plain monochrome one, opt for one with a print or vibrant colour to brighten up your outfit on a grey day. The Duchess has a fab collection of scarves including the tartan one we mentioned previously as well as versions in plaid and royal red.
10. Accessorize, Accessorize, Accessorize