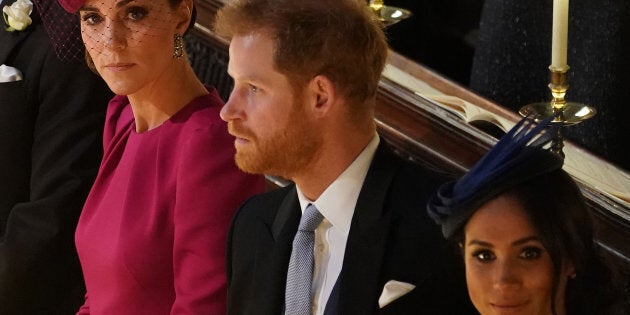 It's like wi-i-i-nd, on your cousin's — or cousin-in-law's — wedding day.
Unlike Alanis Morrissette's iconic tune about bad luck, happy coincidence and intention were all over the royal sartorial choices at Princess Eugenie and Jack Brooksbank's wedding at St. George's Chapel at Windsor Castle on Friday morning. But while celebrities like Naomi Campbell, Liv Tyler and Demi Moore were photographed holding onto their hats as they walked into the ceremony on the gusty day, Kate Middleton and Meghan Markle made their entrances look like a breeze.
The Duchess of Cambridge and the Duchess of Sussex both arrived with their husbands — Prince William, the Duke of Cambridge, and Prince Harry, the Duke of Sussex, respectively — via Range Rover, and quickly made their way inside. Both Meghan and Kate opted for monochromatic looks, each with a nod to their own trips down the aisle, wearing looks from the design houses who crafted their wedding dresses.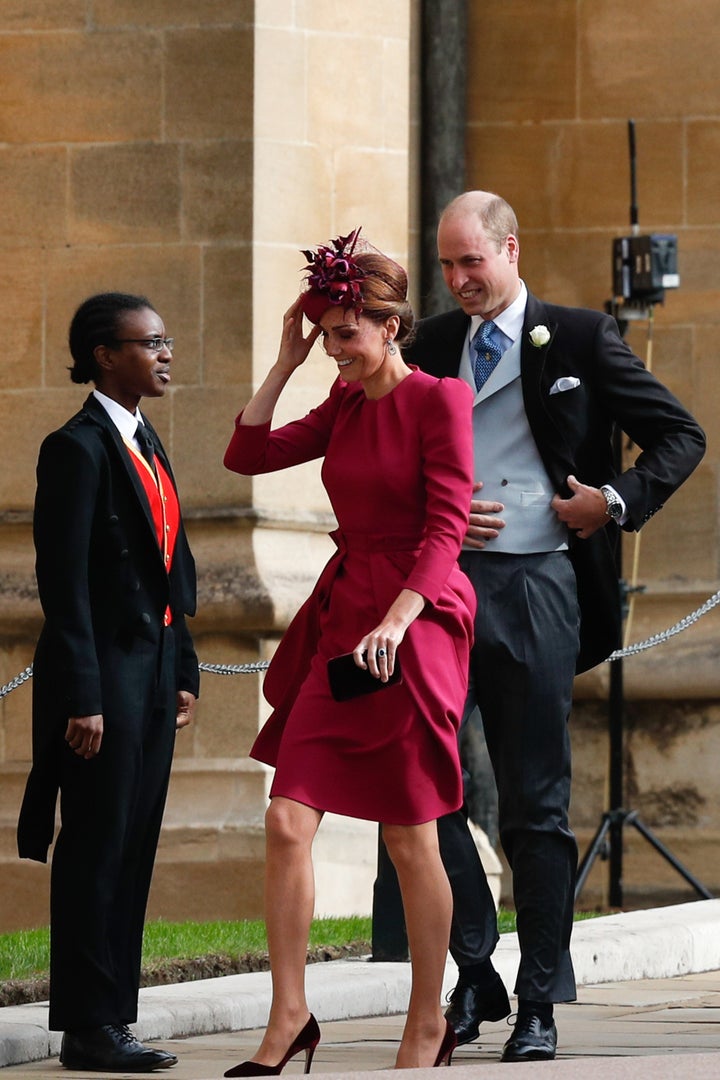 Back in 2011, our jaws dropped when Kate wowed in her Sarah Burton for Alexander McQueen lace-sleeved wedding gown, and for Princess Eugenie's big day, she chose a bright raspberry pink Alexander McQueen three-quarter sleeve dress.
Cinched in at the waist, with an exaggerated shoulder detail, Kate's structured look also had some light pleating in the skirt, which hit just above the knee. Her matching Philip Treacy fascinator also came in the same standout shade of rose.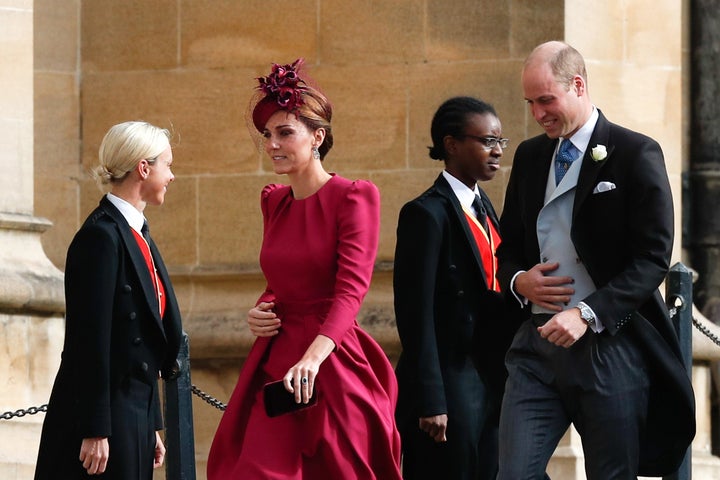 The Duchess of Cambridge kept playing with the pink hue, accessorizing with a slightly-darker burgundy clutch and complementary heels. Unlike at Meghan and Harry's wedding, Kate chose not to re-wear an ensemble, and instead wore something new for the occasion.
Nearly five months-to-the-day after her own Royal Wedding in May, Meghan returned to the same venue, once again in Givenchy. This time, she opted for a navy knee-length jacket and dress combination, with a hat of the same colour by Noel Stewart.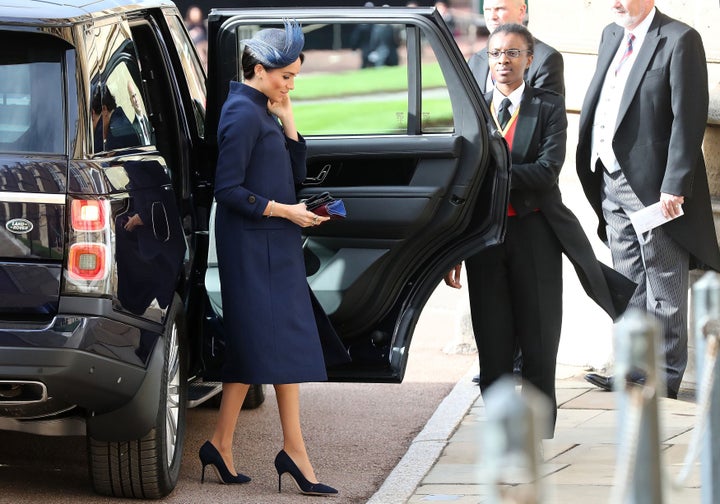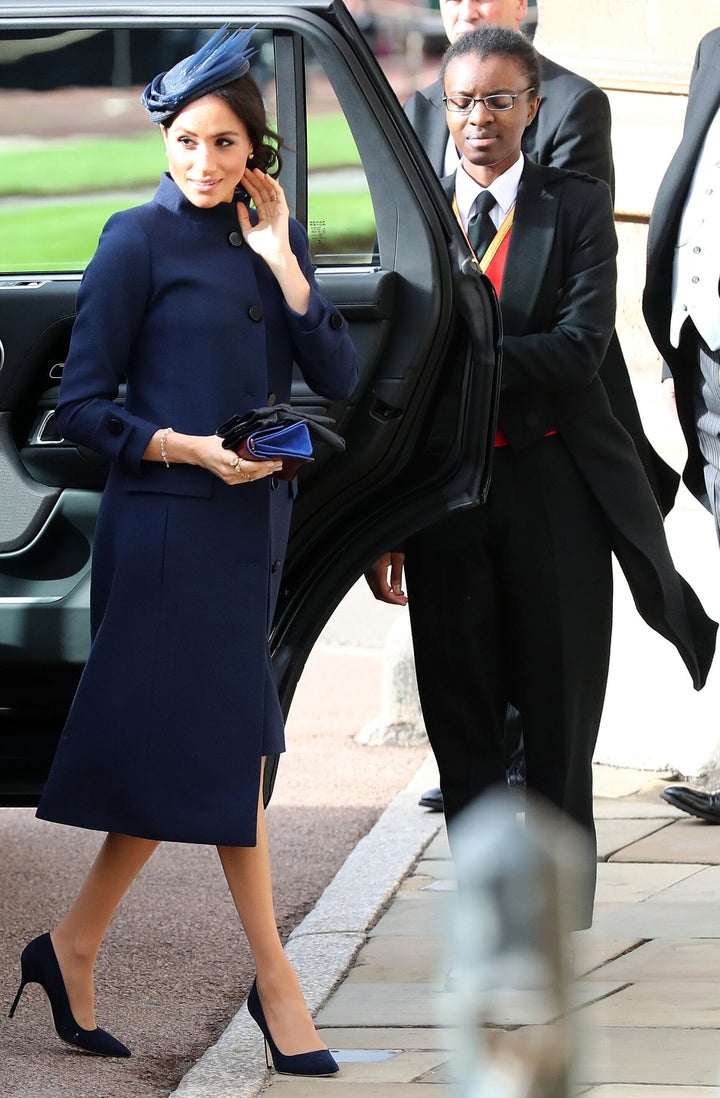 Both power couples, the Duke and Duchess of Cambridge and the Duke and Duchess of Sussex, sat side by side in the pews in the second row, watching on as Princess Eugenie and Jack Brooksbank exchanged their "I, dos." Now that's a fab four.
Brothers Prince William and Prince Harry dressed on theme too, with matching charcoal grey and black morning coats and slightly different light blue ties. Prince William accessorized with a white rose at his lapel, as Prince Harry chose a white handkerchief. Both siblings wore a vest with their suits, powder grey for Will and navy for Harry, as well as heather grey slacks, although Harry's had a white pinstripe.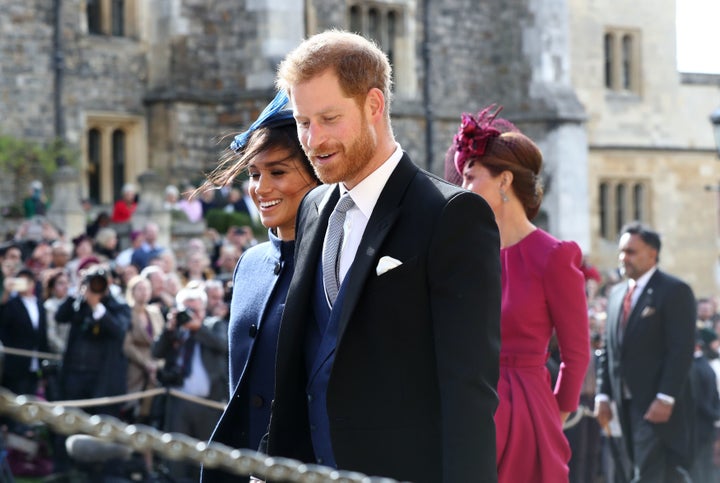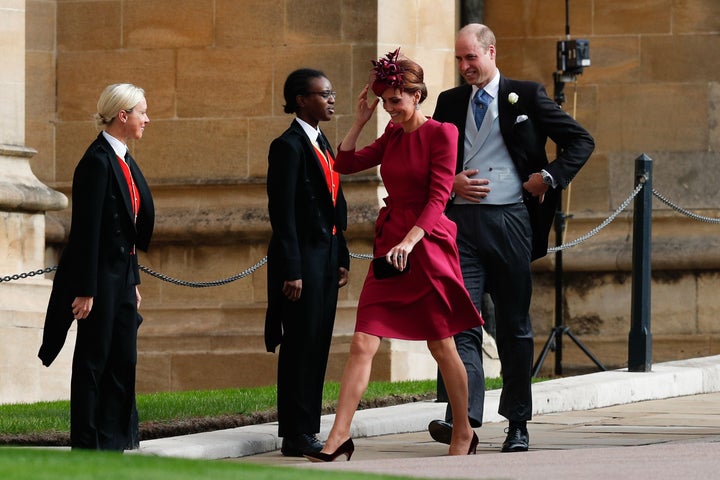 You know what they say, the couples that match together, stay together. In sync and very chic, it remains to be seen if Kate and Meghan will once again pay homage to their own wedding reception looks for Princess Eugenie's post-nuptial celebrations.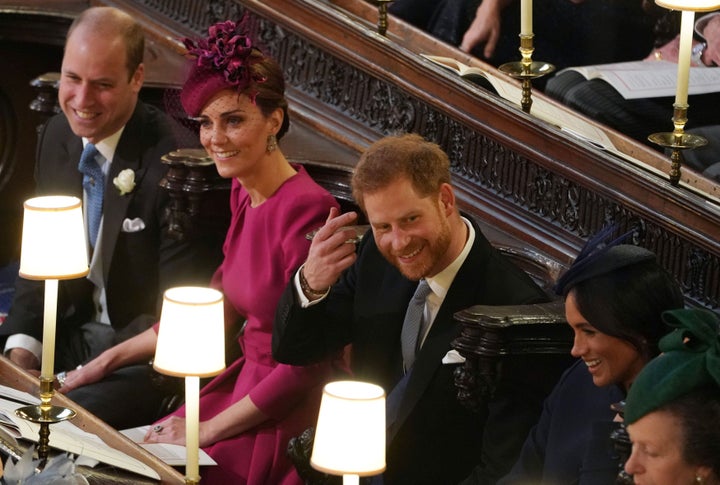 Correction: The Duke and Duchess of Sussex were incorrectly identified as the Duke and Duchess of Windsor in an earlier version of this story. The error has been corrected.