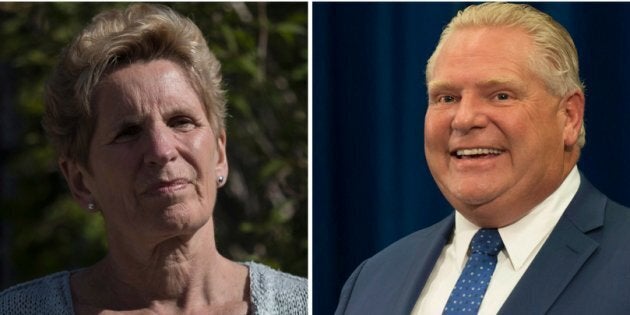 "Doug Ford sounds like Donald Trump and that's because he is like Donald Trump."
That's how former Ontario premier Kathleen Wynne described her main rival last April, weeks before her Liberal government got demolished by Ford's Progressive Conservative party.
On Tuesday, after Ford revealed he plans to invoke a rarely-used constitutional tool to push through controversial legislation, Wynne was asked by a CBC radio host if she felt "vindicated" in her Ford-Trump comparison.
"I think that what I said was accurate," Wynne, the Liberal MPP for Don Valley West, told Metro Morning's Matt Galloway.
"I wish I weren't being proven right. I wish today that we were talking about NAFTA. I wish we were talking about how close we were going to come to protecting supply management in this province."
Wynne's interview came a day after a Superior Court Justice slapped down Ford's Bill 5, the Better Local Government Act. Ford suddenly introduced the legislation, which would primarily slash the number of Toronto city councillors by almost half, in July.
Justice Edward Belobaba said the government "crossed the line" with the law, which he said was unconstitutional because it was passed in the middle of the city's election campaign.
The law "cannot be demonstrably justified in a free and democratic society," Belobaba said.
But Ford did not back down.
"He's the judge. I'm the premier," Ford said at a press conference shortly after Belobaba's ruling. The premier announced that the government would not only be appealing his decision, but also recalling the legislature to reintroduce the bill and invoke Section 33 of the Charter of Rights and Freedoms.
Notwithstanding clause a 'nuclear' option: expert
More commonly referred to as the notwithstanding clause, it's a scarcely-used mechanism that allows a federal or provincial government to skirt around certain charter rights in order to pass legislation.
It's never been used in Ontario.
Wynne told Galloway that Ford's move was an "explosive" and "Trump-like" distraction from important issues like jobs and trade.
"By invoking the notwithstanding clause, Doug Ford is actually putting all of us in a difficult situation," Wynne said, later noting that she thinks the move is dangerous and like taking a "sledgehammer to a fly."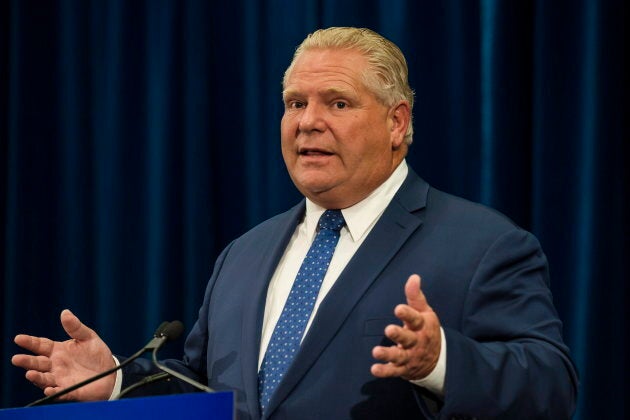 Some experts have described using the clause as a "nuclear" response.
"There has been limited use of the notwithstanding clause across Canada ... and usually on significant issues,'' McMaster University political science professor Greg Flynn told The Canadian Press.
"This would seem to be relatively narrow but it would set a really dangerous precedent."
Ford has previously argued that "thousands of people" have told him that Toronto's city council, which he served on for one term alongside his late brother and former mayor Rob ford, is ineffective and "dysfunctonal." Ford also ran for mayor in 2014 but lost to John Tory.
He claims Bill 5 will make the decision-making process there more streamlined and save taxpayers $25 million in councillor and staff salaries.
'It's been a difficult summer'
Tory called Ford's plan to use the notwithstanding clause a "gross overreach" of the province's powers, while NDP Leader Andrea Horwath took it one step further and described it as an "abuse of power.''
From moving the province's sex-ed curriculum back to the 1998 version to getting sued by Tesla Inc. to the current war of words with the judicial system, Ford's government has been making headlines consistently ever since it was sworn in last June.
Galloway asked Wynne if it was difficult to watch her government's work be "undone."
"It's very hard and I think that I wouldn't be fully honest if I didn't say that it's been a difficult summer," Wynne said. "It's hard to go to the legislature and listen to the things that are being said."