Ontario Premier Kathleen Wynne is now the least popular provincial leader in Canada, a new poll suggests.
According to numbers from the Angus Reid Institute released on Thursday, Wynne has taken the ignominious title from Newfoundland and Labrador's Dwight Ball. Wynne has an approval rating of 20 per cent, while Ball sits at 21 per cent.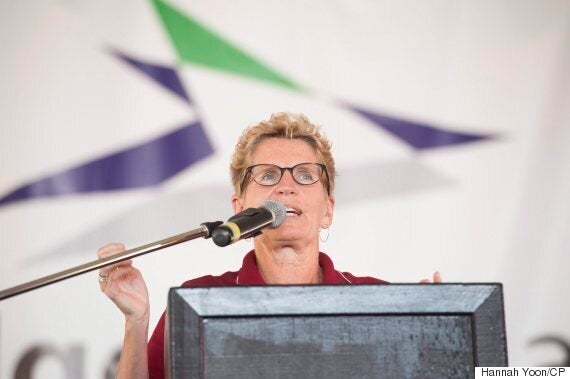 Ontario Premier Kathleen Wynne speaks at the International Plowing Match in Harriston, Ont. on Sept. 20. (Photo: Hannah Yoon/CP)
Seventy-four per cent of those surveyed said they disapprove of the job Wynne's doing, while six per cent said they are not sure.
Wynne prorogued the legislature earlier this month and returned with a throne speech promising some relief by removing the provincial portion of the harmonized sales tax from hydro bills.
The move is expected to cost taxpayers $1 billion a year and save the average Ontario household about $130 annually. The government projects rural electricity customers struggling to pay their bills can expect additional savings of $540 a year.
Story continues after slideshow: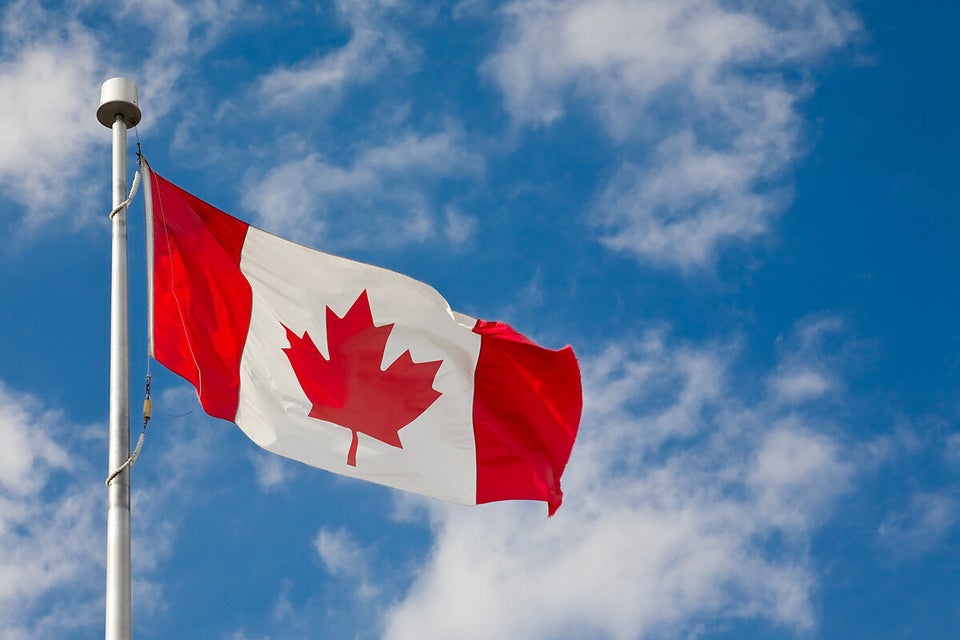 Least, Most Popular Premiers (Sept. 2016)
Wynne also shuffled her cabinet this summer to bring fresh faces to her front bench, including new Energy Minister Glen Thibeault, as she prepares for another provincial campaign in 2018.
Her party recently lost a Toronto byelection to Patrick Brown's Progressive Conservatives.
Since then, Brown has faced his own controversy over a 2015 email to a social conservative supporter, in which he said he would repeal Ontario's sex-ed curriculum. Brown denied during the byelection campaign that he would scrap the curriculum.
Still, Angus Reid Institute noted in the poll summary that Wynne's approval rating has declined steadily since her Liberals captured a majority government in June 2014.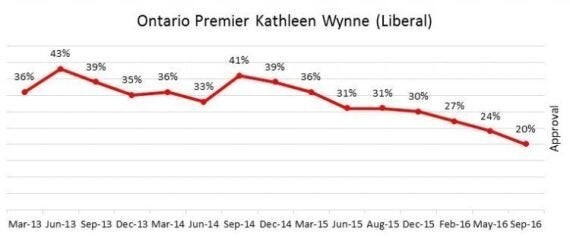 As has become old hat, Saskatchewan's Brad Wall remains the most popular premier with an approval rating of 57 per cent. Yet, the firm says that represents a slide of nine per cent since May after a summer that saw his deputy premier charged with impaired driving.
Manitoba Premier Brian Pallister, perhaps still in a honeymoon period after capturing his own majority government in April, sits at 53 per cent.
British Columbia Premier Christy Clark saw her job performance rating spike seven percentage points after her government imposed a controversial, 15 per cent tax on foreign buyers of Vancouver homes. She called the tax, implemented in August, a move to calm down a "distorted" housing market.
Clark, gunning for re-election in 2017, now sits at 34 per cent support. However, 60 per cent of respondents still disapprove of her performance.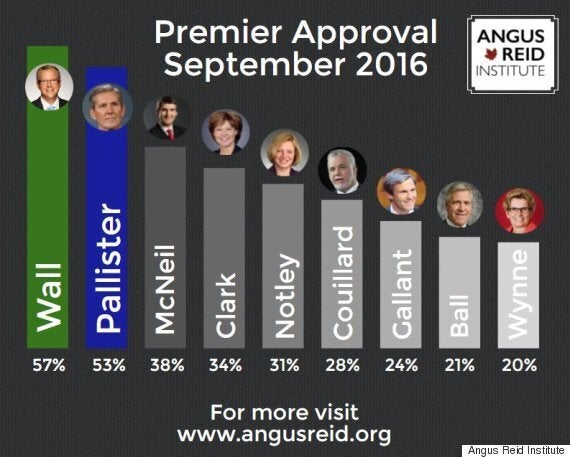 While Quebec Premier Philippe Couillard saw his approval rating dip five points to sit at 28 per cent, things were mostly stable for other leaders.
Alberta's Rachel Notley rating of 31 per cent and New Brunswick's Brian Gallant rating of 24 per cent signify small dips from the spring. Nova Scotia Premier Stephen McNeil, meanwhile, is down three points to sit at 38 per cent.
The Angus Reid Institute does not test the approval rating of Prince Edward Island Premier Wade MacLauchlan because the sample size for the province is too small.
The survey was conducted online among 4,629 Angus Reid Forum panelists between Sept. 5 to 11. Similar surveys have a margin of error of two per cent, 19 times out of 20.
With files from The Canadian Press