Ontario Premier Kathleen Wynne is ending the year as the least popular provincial leader in Canada, a new poll suggests.
The Angus Reid Institute, which measures the approval ratings of premiers each quarter, released numbers Tuesday suggesting Wynne is sitting at just 16 per cent — a dip of four percentage points since September.
Seventy-eight per cent of those surveyed said they disapprove of Wynne's performance.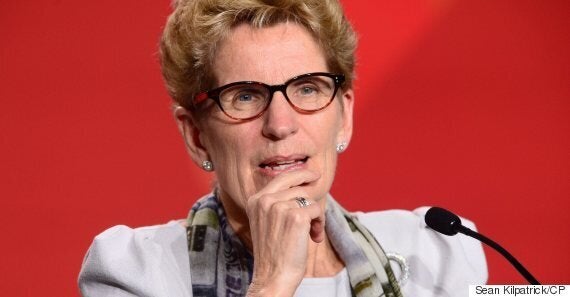 "There's no amount of ginger or spice or sugar plum coating to put any kind of Christmas glow on Kathleen Wynne's holiday season," Shachi Kurl, executive director of the firm, told The Huffington Post Canada.
Wynne's numbers are the lowest they've been in an Angus Reid Institute survey since she came to office in 2013.
Kurl said premiers who reach such depths typically start thinking about how much longer they want to stay in politics, pointing to the example of former Alberta premier Alison Redford who called it quits in the face of similar gloomy numbers.
Though Wynne has never boasted a sky-high approval rating, Kurl said this "has been a long, slow descent" that has only trended in one direction. If backbenchers nervous about their own re-election prospects in 2018 start calling for change at the top, Kurl suggested, Wynne could decide it's best to step down.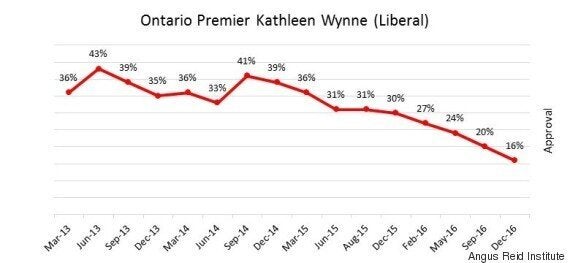 "If we start to see a fraying of caucus unity or solidarity… that will be something that can make the difference as to whether she stays or is able to turn it around," Kurl said.
"This level of disapproval can spell the end of the road."
Wynne has faced backlash over her government's sale of Hydro One and sky-high electricity rates that are hitting rural Ontario particularly hard.
In a speech to Ontario Liberals last month, Wynne conceded that those high electricity costs were her "mistake" and pledged relief for struggling families. Her government will bring in an eight per cent rebate on electricity bills on Jan. 1.
Wynne took the ignominious title of Canada's least popular premier from Newfoundland and Labrador's Dwight Ball last quarter. Ball now sits at 20 per cent approval.
Story continues after slideshow: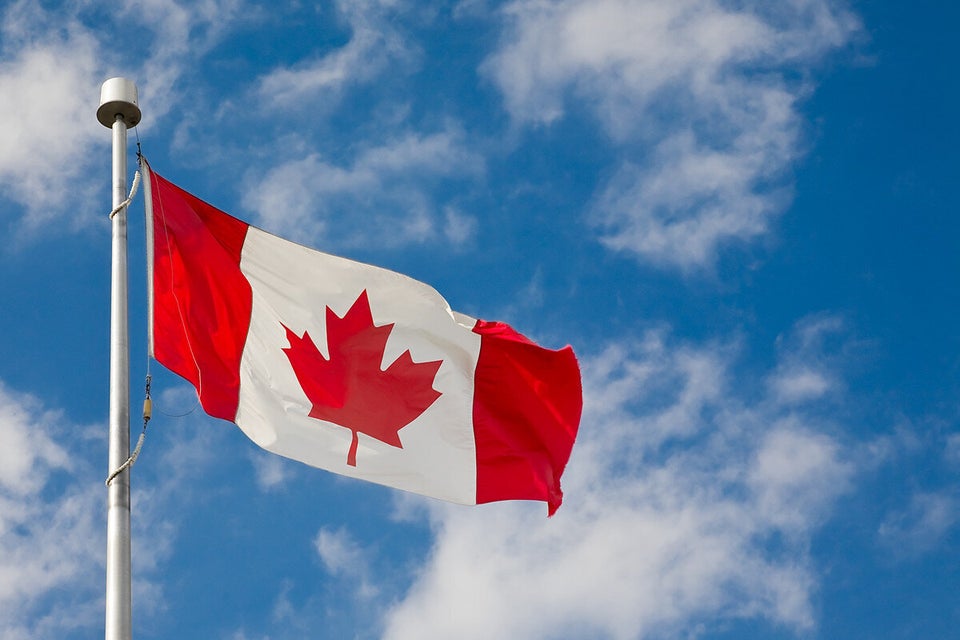 Least, Most Popular Premiers (Dec. 2016)
On the other side of the coin, Saskatchewan Premier Brad Wall remains the most popular provincial leader with 58 per cent approval.
Wall has vowed not to sign on to Prime Minister Justin Trudeau's plans to implement a national carbon tax, something the Saskatchewan leader believes will hurt his resource-dependent province. Wall and Trudeau openly squabbled at a press conference after a meeting of first ministers in Ottawa last week.
Another holdout to the federal government's climate plan — Manitoba's Brian Pallister — has the second-best approval rating at 50 per cent.
Nova Scotia Premier Stephen McNeil suffered the biggest drop of the quarter. He now sits at 31 per cent approval, compared to 38 per cent just months ago. McNeil appears to be losing some political capital thanks to an ongoing, nasty labour dispute with teachers in his province.
The 31 per cent approval rating of Alberta Premier Rachel Notley is unchanged from the last quarter, despite heated debate over a $20-per-tonne carbon tax her government will institute on Jan. 1. At a recent rally outside of the Alberta legislature, some in the crowd chanted for Notley to be "locked up" over the plan.
But Notley scored a big win to cap the year when the Trudeau government greenlit the controversial Kinder Morgan Trans Mountain pipeline expansion project, something the premier lauded as "very good news for Albertans."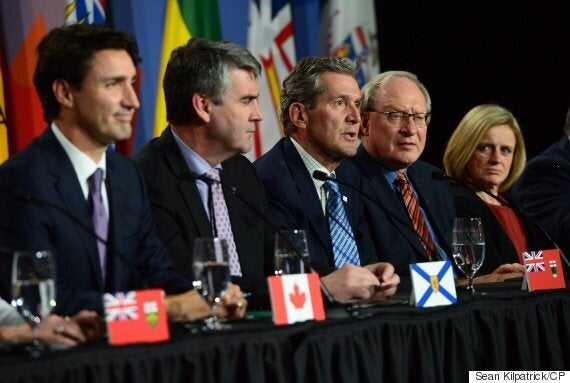 That pipeline will run through suburban Vancouver, which means it will be a key issue for British Columbia Premier Christy Clark next year as she prepares for a provincial election in May. Clark's approval rating of 35 per cent makes her the third most popular premier in the country.
New Brunswick Premier Brian Gallant's approval rating of just 29 per cent may not seem like much to write home about, but that represents a five-point spike from last quarter.
Gallant is hoping for a pipeline win of his own in 2017 — Energy East — which would carry Alberta oil to a refinery in Saint John.
And that pipeline, if approved, would run through Quebec, where Premier Philippe Couillard sits at 30 per cent approval, up two points from September.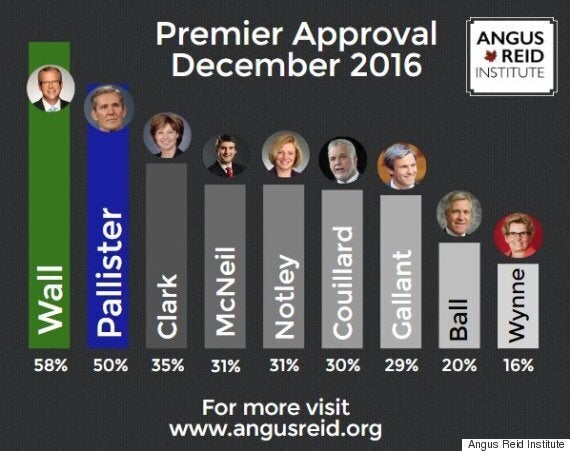 The firm does not test the approval rating of Prince Edward Island Premier Wade MacLauchlan because the sample size for the province is too small.
The online poll was conducted between Dec. 5-12 among a representative, randomized sample of 5,300 Canadians who are part of the Angus Reid Forum. The firm says that, for comparison purposes, a "probability sample of this size" would have a margin of error of 2 percentage points, 19 times out of 20.