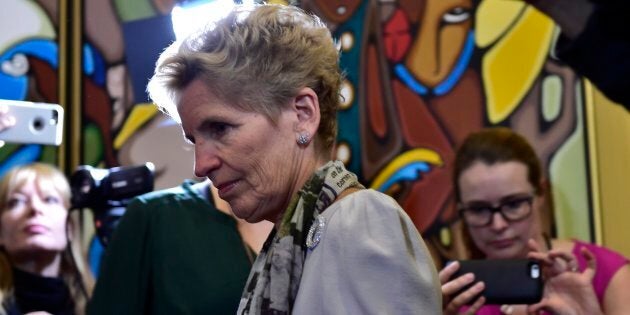 Ontario Premier Kathleen Wynne says now isn't the time to discuss the shifting political landscape in light of the stunning resignation of Patrick Brown as Progressive Conservative leader.
Wynne expressed support for two women who told CTV News that Brown acted inappropriately toward them, saying it is the responsibility of all people to "shine a light" on unacceptable behaviours.
"It is really, really important that we understand how deeply troubling this is to human beings," she said.
Trudeau comments on Brown's resignation:
But Wynne was asked several times to comment on the incredible circumstances she now finds herself in just months before Ontario voters head to the polls.
A provincial election is currently set for June 7. The PCs have consistently lead in both public opinion polls and fundraising. Though Brown's face is plastered on the front of the 2018 PC platform, his party is now scrambling to sort out who will carry the party banner.
Wynne ruled out the possibility of calling a snap election.
"This is not about the politics of the situation," she said. "This is a human situation that is all around us and we need to sort it out."
But Wynne was also asked if she'd consider moving voting day back to "level the playing field" for Ontario voters.
'The political fallout will be what the political fallout will be'
"This is not what this conversation is about this morning from my perspective," she said. "I really think, when I came in this morning, I wanted to talk to people who around the province are reading this and wondering: 'what? What is going on? What is happening here? Why am I reading about this? What does this mean for me and my own community?'
"And so, whether the election happens in June or some other time, really I don't think that's germane to this issue. We're going to go ahead and ... the political fallout will be what the political fallout will be."
Wynne would also not comment on whether she thinks Brown should be welcome in the legislature.
"He's resigned as leader. I'm not going to comment on what he will or will not do," Wynne said. "That is up to him to deal with his own conscience and his own political environment."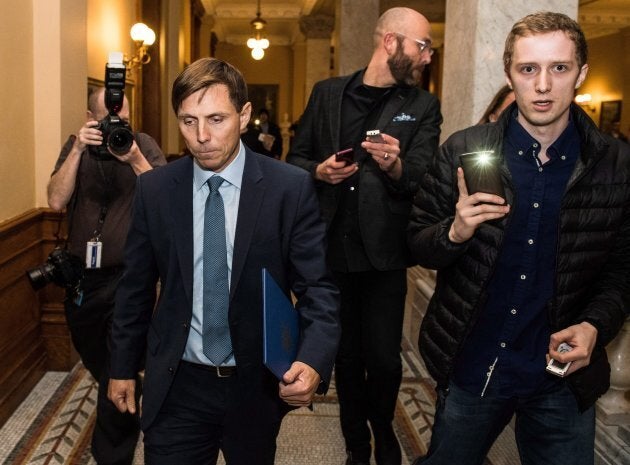 NDP Leader Andrea Horwath was similarly reluctant to discuss whether the disruption in the PC ranks could help her campaign.
"This is not about me and it's not about my campaign. This is about women coming forward and calling out behaviour that they experienced," Horwath said. "I have to say I was pretty disgusted by what I heard in terms of their stories."
Horwarth said she "obviously" won't be running against the same two leaders she was expecting and it's up to Tories to sort out what they will do next.
"That's their bailiwick," she said.
But Horwath did suggest Brown should step down from his seat.
"If he was in my caucus, he would not be sitting as an MPP any longer," she said.
More from HuffPost Canada:
At a press conference in Queen's Park, Jones expressed "shock" over the controversy but also attempted to downplay the challenges now facing PCs. She even described Brown's resignation as a "hiccup."
"We have the largest fundraising, we have a great team, we have over 90 candidates already nominated. We're ready to fight this election," Jones said. "We need to get over this, we need to appoint a parliamentary leader, which we will do as a team tomorrow."
But it remains to be seen if that interim leader will lead the party into the spring election or if a leadership race will be called before that date, allowing any number of candidates to toss their names in the ring. Jones said the PC caucus and executive will make that decision by Friday.
With files from The Canadian Press