In 2003, Oscar winner Kathy Bates was diagnosed with ovarian cancer, but not many people knew about it.
In an interview with WebMD, the Hollywood legend revealed her agent told her not to tell anyone about her diagnosis, believing it would have an impact on her career. "Even my gynecologist, whose husband worked in the business, warned that I shouldn't come out with it because of the stigma in Hollywood," she continued. "So I was very careful."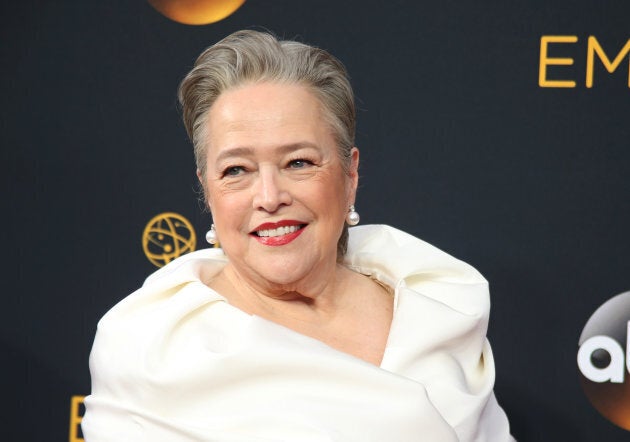 But Bates didn't stay quiet for long. Following her stage II breast cancer diagnosis in 2012, the actress was inspired by none other than musical genius Melissa Etheridge.
"I saw Melissa Etheridge doing a concert and just wailing on her guitar with her bald head, and I thought, 'Wow, I wanna be her!'" she recalled. "So when the breast cancer diagnosis came, I knew I wanted to be honest about it."
Shortly after the breast cancer was discovered, Bates underwent a double mastectomy and had 19 lymph nodes removed.
"I was in a lot of pain for weeks and weeks — and I was very angry," she said about the surgeries. "It was an awful time."
But it got much better. Shortly after the surgeries "American Horror Story" creator Ryan Murphy reached out to Bates to play serial killer Delphine LaLaurie, a role which would garner her an Emmy in 2014. Bates has also gone on to star in two more seasons of "American Horror Story" and is working on a new Netflix series called "Disjointed" in which she plays the owner of a weed dispensary.
Bates has also become an advocate and spokesperson for the Lymphatic Education & Research Network. Following her mastectomy, Bates noticed extreme and painful swelling, which was later discovered to be lymphedema.
"My mother had had a radical mastectomy — they took everything — and her arm swelled terribly," Bates recalled. "She was always a very smart dresser and wore very nice clothes, and after the surgery, she couldn't fit into them anymore. It was a real slide into her feeling 'less than.' And so I remember getting hysterical when, even in the hospital, I noticed strange pains in my hands and then discovered that my arms were swelling."
According to the Mayo Clinic, there is no cure for lymphedema. Patients with the condition typically undergo a complex physical therapy program and are advised to cut back on alcohol and salt.